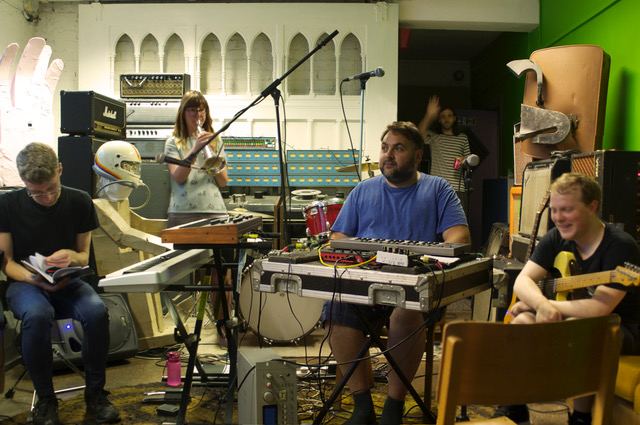 Date/Time
1 Oct 2018 - 7:00 PM - 12:00 AM
Price
£5 advance
Mi Mye // Adam Chetwood // Cowgirl
Live:
+ Cowgirl
Mi Mye is a lush collection of snapshots from the north coast of Scotland, where principal songwriter and lyricist Jamie Lockhart grew up, and Wakefield, the place he now calls home. Though for years a solo project with a revolving cast of musicians, Mi Mye has now settled on one permanent line up, with Jamie joined by Rob, Emily, Chad & Morgan (The Spills, Crake, Buen Chico) who now all contribute their unique influences and voices to this beautiful collaboration. Mi Mye make music which is often tragic but always hopeful, something which has earned them comparisons to bands like Sparklehorse and The National.
Following on from 2016's acclaimed 'The Sympathy Sigh', which was supported heavily by BBC 6 Music, The Line of Best Fit, The 405, Clash & many others, new album 'The Mountain forces the Future, and the Force causes the Rain' takes its name and theme from two mountains very close to where Jamie grew up in Skerray, 'Ben Loyal' and 'Ben Hope'.
Ever an observer, a number of the stories on this record have been picked up from strangers overheard in Wakefield and Leeds – the passenger on the bus losing his temper and revealing he had seen someone die that morning, a young adult showing off to friends and inadvertently ruining someone else's day and in this case, the man whose stroke prevents him dancing with his true love, as Jamie explains:
 "Your Left Side was written after I was chatting to a man who had suffered a stroke. He said the saddest thing was that when he lost the use of his left side, he also lost the ability to hold onto the one he loved when he danced. Shortly after this conversation I fell near Leeds bus station. Falling as an overweight adult, it hurts, it shudders you right to your bones. I landed on my left hand, and the thought passed through my mind about not being able to hold onto anyone again.
This thought was interrupted when I remembered I was laid in the middle of the road, and that the group of men that are always stood around there had come over to help me up.
Their kindness shook me and made me feel guilty that I had always avoided them in the past. This single brings together these circumstances, concentrating on the idea that everyone is scared and everyone is kind."
Mi Mye will also be heading out on tour in September / October to support the new album with tickets available now.
"Each song has a nakedly personal element, yet it never feels self-indulgent" – CLASH
"That cracked vocal draping itself across the swaying guitars like the first layer of snow" – Gold Flake Paint
"Reminiscent of the work of Sparklehorse and Bright Eyes. Think wedding band at the end of a long night playing to a few last stragglers (in the best possible way)" – Killing Moon
"Charming-but-painfully honest narratives set to lo-fi indie rock and lush melodies." – The Line Of Best Fit
Back to the listings.