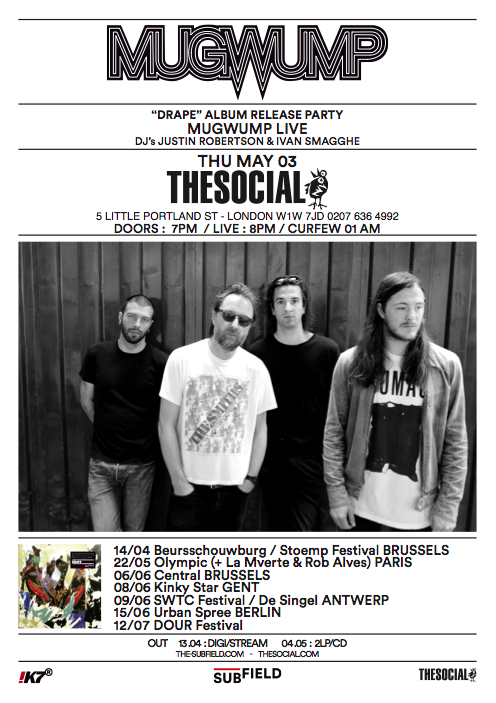 Date/Time
3 May 2018 - 7:00 PM - 1:00 AM
Price
Free entry
Mugwump (live) with Ivan Smagghe & Justin Robertson DJ sets + Lemmy Ashton (Bugged Out) upstairs!
Borrowing his name from a character from William Burroughs' famed novel Naked Lunch, Belgian producer & DJ MUGWUMP  is an elusive presence, a reputation preceded by infamous DJ residencies at Belgian clubs and a long-standing recording relation with Cologne's Kompakt records as well as a large catalogue of electronic 'disco-techno' records, released on leading labels R&S, Gigolo, Cocoon, Endless Flight, Eskimo, Permanent Vacation or International Feel.
He performs an about-face with a new sound and live show within a new band and presents « Drape » out via !K7 (with Republic of Music) on 14/04 : DIGI/STREAM + 04/05 VINYL+CD https://subfield.lnk.to/drape
The result of nine months locked up with musicians Stephane Fedele (bass), Thomas Stadnicki (guitars), Lukas Melville (drums) and a series of live shows in Belgium, « Drape » fuses the electronic with an occasionally heavy rock feel and outstanding lyrics, all topped off with a French-Belgian-tinged vocal and lyrical topicality. Music-wise it spans a breadth of influences from the Interzone between Post-Punk, Indie Pop, Psych & Noise while Geoffroy Mugwump lays down conscious, parlando-style, lyrics over nine songs ''soundtracking our torments in the Age of Laissez-Faire and Aestheticisation''
Mugwump acquaintances Ivan Smagghe & Justin Robertson will support the show with eclectic DJ sets.
FREE ENTRY!
www.facebook.com/MUGWUMP.MUSIC
UPSTAIRS >> >> >
Lemmy Ashton aka Bugged Out's Little Bugger!
Back to the listings.