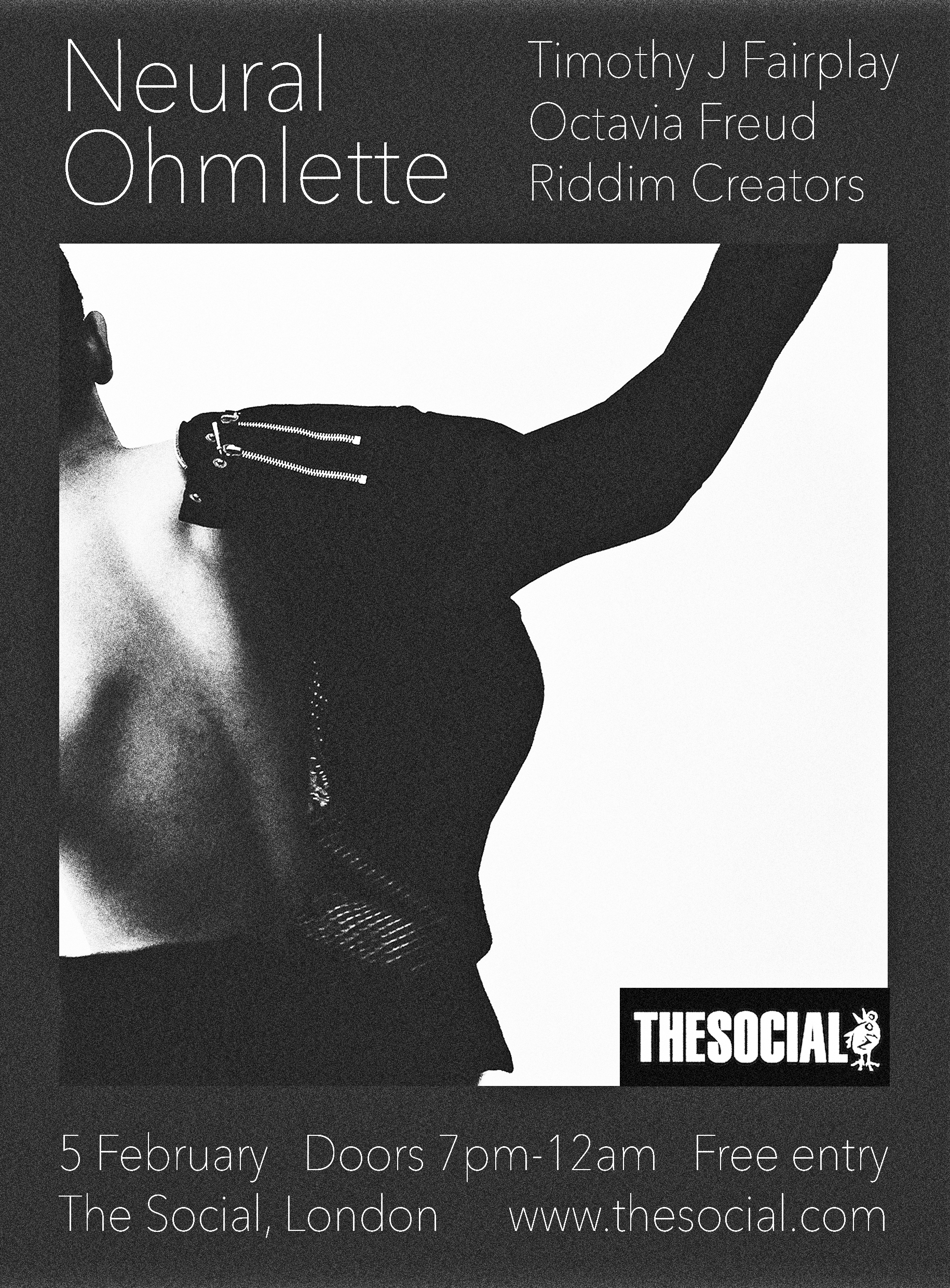 Date/Time
5 Feb 2018 - 7:00 PM - 1:00 AM
Price
Free entry
Timothy J Fairplay DJ set
Octavia Freud (live)
Riddim Creators (live)
plus guest DJs
For several years Neural Ohmlette was the home of cutting edge live and electronic performances at the Social from the likes of Bishi, Steve Mason, No Bra, MFU, Now and Camp Actor,  to name just a few. The night returns for a special one off date with live performances by London's Riddim Creators, Oxford's Octavia Freud and a DJ set by Crimes of the Future Timothy J Fairplay. This is one for the discerning music heads and the romantic hearts.
Riddim Creators 
West London project heavily influenced by dub, funk, garage, trap, drum and bass and lo-fi electronica, featuring vocalist Christina Spacestar.
After a string of self released singles they plan to release their debut album later this year. Check out their riddim n grooves show on ktokradio.com
Octavia Freud 
Oxford based agent provocateur Martin Andrews launches his latest solo electronic project. Martin uses a roland VT-3 to create his vocal alter ego and merges it with cut up beats, stabs of sub bass and guitar riffs to form a sound that is both personal and political. "Echoes of Lydia Lunch and Poison Girls melding with more contemporary sound mosaic makers like Tune-Yards and Solex. It is an oddball treat well worth your investigation.", Nighshift Magazine. His debut album, 'Romance & heartache' is out now. 
DJ Timothy J Fairplay
Whether you know him as 50% of The Asphodells alongside Andrew Weatherall, as co-founder of club night and label Crimes of the Future alongside Scott Fraser or simply for his solo production prowess Tim has become a firm fixture of the electronic music scene over the years. Helping to craft the sound of Weatherall as his studio engineer Tim then joined forces with the man himself to create 2013's 'Fuelled by Passion, Destroyed By Lust, the first full length under their The Asphodells moniker. Critically acclaimed by everyone from The Guardian and The Quietus to Resident Advisor and XLR8R the LP placed itself firmly in the outer edges of cosmic funk, Krautrock and psychedelic weirdness, bringing with it a cult-like status amongst fans old and new in the process. Crimes Of The Future, the joint label and club night between Tim and Scott Fraser, was born in Glasgow's The Berkeley Suite and since then has spawned a monthly residency at London's Corsica Studio. Tim has provided dancefloor material for Fabric, Robert Johnson in Offenbach and Output New York to name a few. Tim has his own label 'Centurians Of Rome' and has a brand new EP, 'An Introduction To Consumer Electronics' out now on Nocta Numerica. 
Back to the listings.