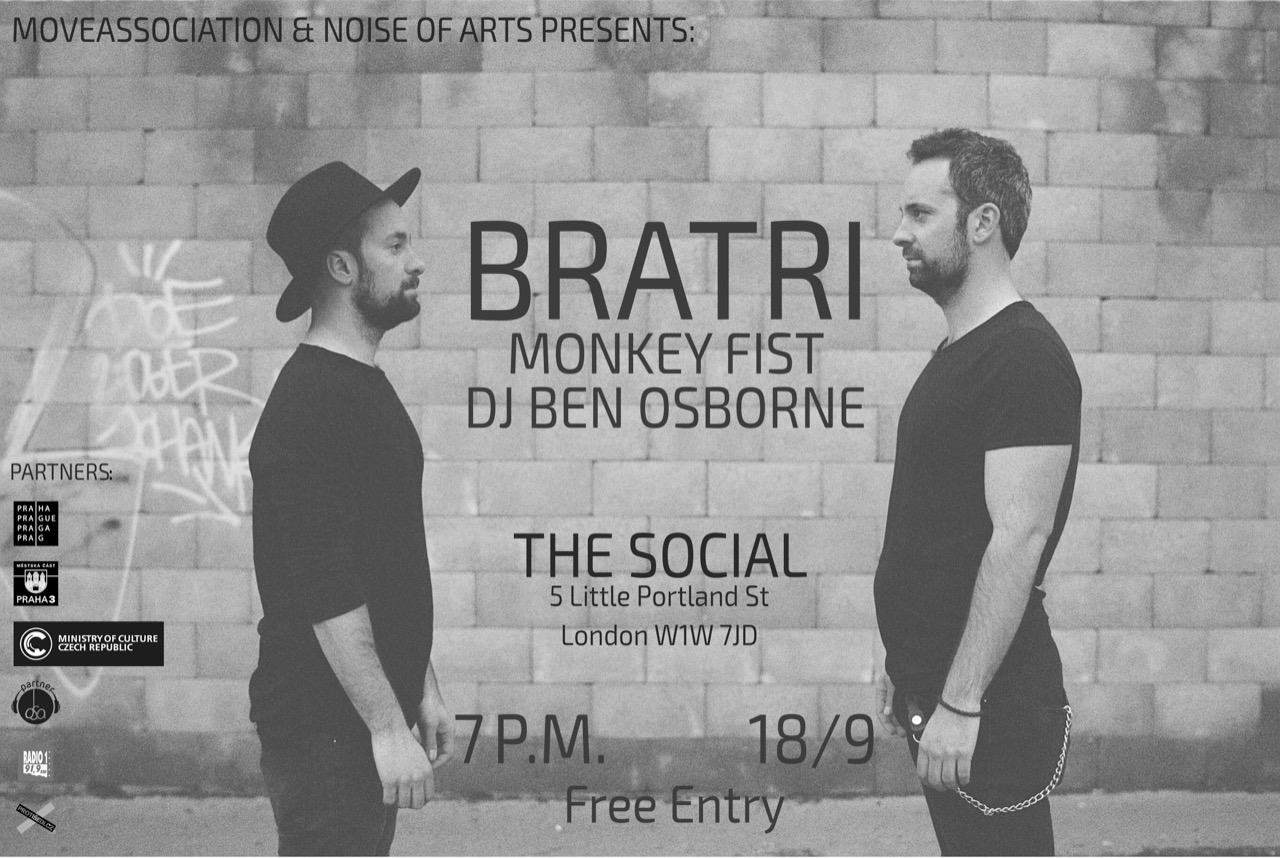 Date/Time
18 Sep 2018 - 7:00 PM - 12:00 AM
Price
Free entry
Noise of Art presents Bratři + Monkey Fist
Move Association pres Bratři (Cz), Monkey Fist, Live, Heavenly Jukebox and host DJ Ben Osborne.
In the run-up to Noise of Art's pan European collaboration celebrating 100 years since the end of WW1 in Prague, Move Assoc presents Bratri's debut London show.
Bratři are an electronic duo from Prague, Czech Republic, composed of twins Jiří and Ondřej Veselý. Both are drummers who share a passion for synthesizers. Their sound is rooted in experimental electronic music and Detroit techno, underpinned by a unique blend of live acoustic drums, electronic samples and vintage synthesizers.
New South London based electronic jazz fusionists Monkey Fist mix punk funk attitude with influences that include klezmer, ska, dub step, breaks, techno, afrobeat and funk – and jazz.
Host DJ Ben Osborne is the founder of Noise of Art. The Guardian describes Noise of Art as an "actual cathedral of sound" and Time Out says his sets span "techno, funk, galactic house, deep down and dirty disco and other dancefloor dynamite".
Heavenly Jukebox is the DJ arm of Heavenly Records, resident DJ outfit at The Social and regular act at festivals up and down the country – including stage hosting at Glastonbury.
Noise of Art and Move Assoc launch their celebration of music and art after World War One with DJ sets by Grove Armada and Ben Osborne on 29 September, events on 10 & 11 November and closing events with Booka Shade on 2 December, including pan European artists throughout.
Back to the listings.