Date/Time
4 Apr 2018 - 12:00 AM - 11:45 PM
Price

Rethink Mental Illness Fundraiser with DIDI / Josh Collins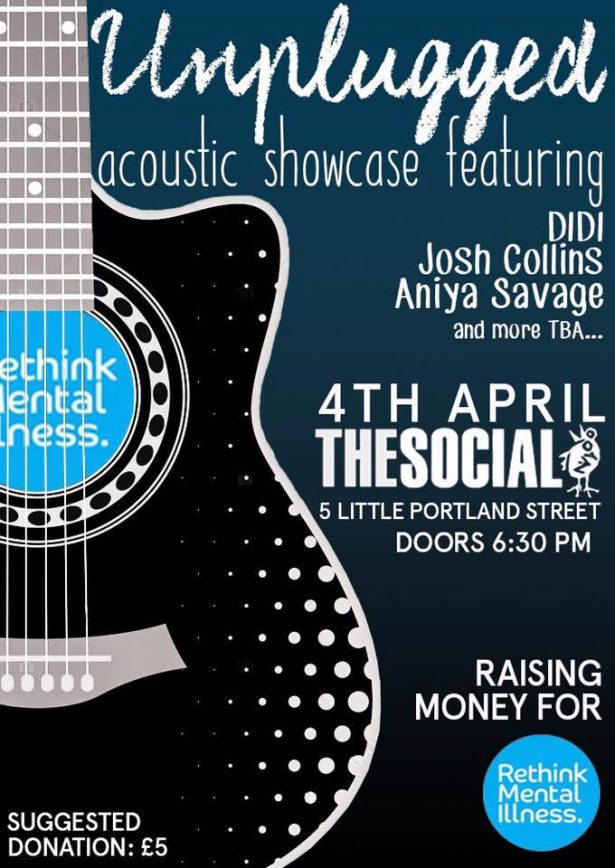 After the huge success of January's fundraiser we are very excited to welcome Carolyn Agger back to The Social for another night rammed full of fantastic acoustic vibes and one of the best raffles you will ever have the chance to take part in – all raising money for the incredibly important charity Rethink Mental Illness
Artists performing on the night include…
DIDI
Raw and real, DIDI aka Lauren Deakin Davies, opens up a new chapter in her musical career, with an upbeat punkish style. The Hertfordshire based solo artist known for her work as a record producer is hitting the ground running with her new single 'Sorry'.
Josh Collins
'Porky Pies' is Josh Collins' debut EP that he has released independently last November. The East London born debutant has a natural ability for creating music. His organic and natural feel for songwriting produces honest and gripping lyrics. Listen to his EP here – https://open.spotify.com/album/4OlUP2k2TUxflr7dxKgGKu
Aniya Savage
Ethereal, haunting vocals paint pictures of Aniya Savage's multi-cultural life. Her songwriting tells stories that are entrenched in vivid emotion, with a voice likened to Joni Mitchell and Aurora.
Harry Quinn
His debut album "Parallels" was released on 7th April 2017. It features a distinctive mix of moods and grooves, delivered by warm soulful vocals, dynamic guitar playing and a group of excellent musicians as part of the Harry Quinn Band.
_____________________________________________________
Suggested donation is £5 but obviously every little helps so please dig deep! Carolyn is running The London Marathon on the 22nd April for Rethink Mental Illness and all of us here at The Social wish her the best of luck!! Please come along and support this incredible event!!
Back to the listings.