sat08jun(jun 8)7:30 pmsun09(jun 9)1:00 amTrojan Records / Rototom Sunsplash London Launch Party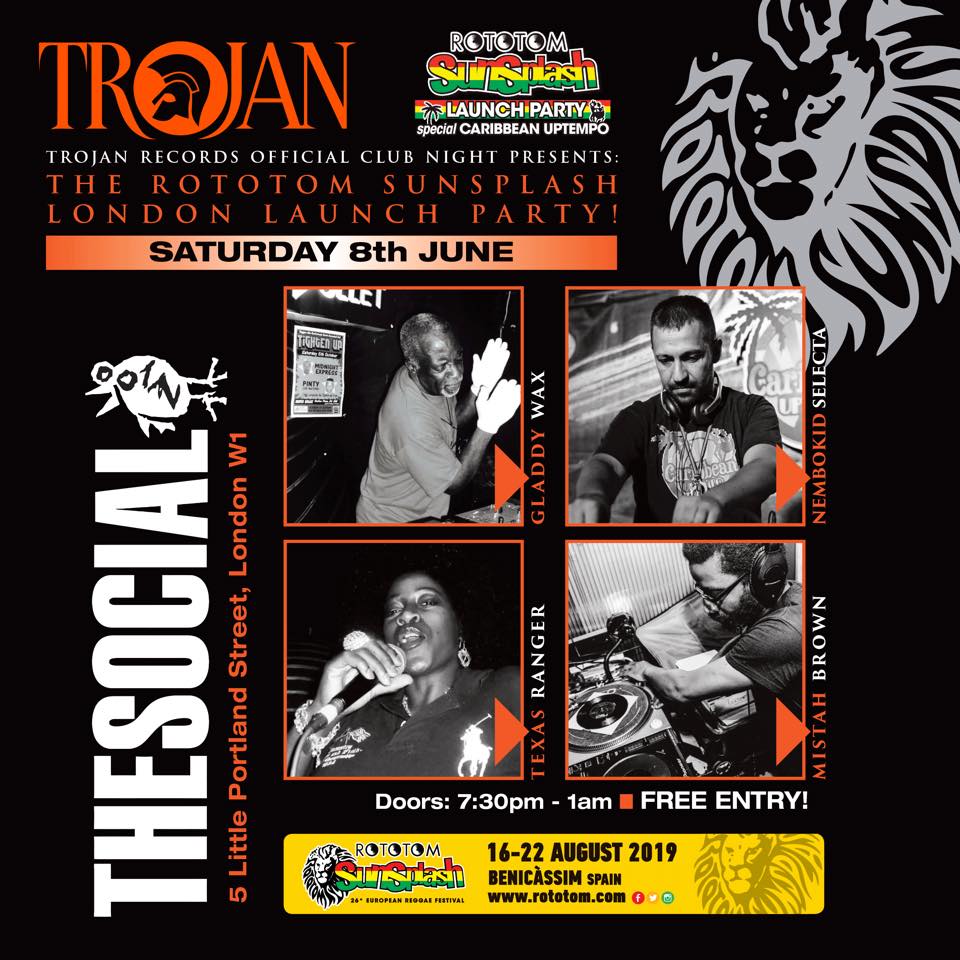 Event Details

T R O J A N

Trojan Records' Official Club Night presents…THE ROTOTOM SUNSPLASH LONDON LAUNCH PARTY!

In June the official Trojan Records Club Night joins forces with Caribbean Uptempo to bring you the Rototom Sunsplash London Launch Party with some very special guests passing through:

GLADDY WAX
(Notting Hill Carnival/Sound System Legend)

NEMBOKID SELECTA
(Caribbean Uptempo Supremo)

TEXAS RANGER
(Clash Cup Winner)

Hosted by:
MISTAH BROWN
(Tighten Up)

Rototom Sunsplash is without doubt the biggest and arguably the best Reggae festival in Europe! They celebrated their 25th anniversary last year and this year, Trojan Records is proud to be hosting a special edition of our official club night in their vintage Caribbean Uptempo arena featuring some of the world's greatest selectors! To mark the occasion we're presenting a special London Launch Party featuring some of our favourite London based DJs alongside Caribbean Uptempo supremo Francesco Nembokid Selecta who'll be flying in for this special event. Dancing shoes, as always, mandatory! REACH!

Since its launch in the summer of 1968, Trojan Records has continually led the way in presenting the very best in classic Jamaican music to fans the world over. During its early days, the company was instrumental introducing reggae into the mainstream, enjoying no less than 36 major UK hits between 1969 and 1975 and, in so doing, introducing the likes of Ken Boothe, Bob & Marcia, John Holt, Jimmy Cliff and The Maytals to a global audience.

With 5 decades of glorious music behind them, Trojan Records continues its long-standing tradition of championing the very best in vintage ska, rocksteady and reggae sounds!
Time

8 (Saturday) 7:30 pm - 9 (Sunday) 1:00 am
Location

The Social

5 Little Portland Street