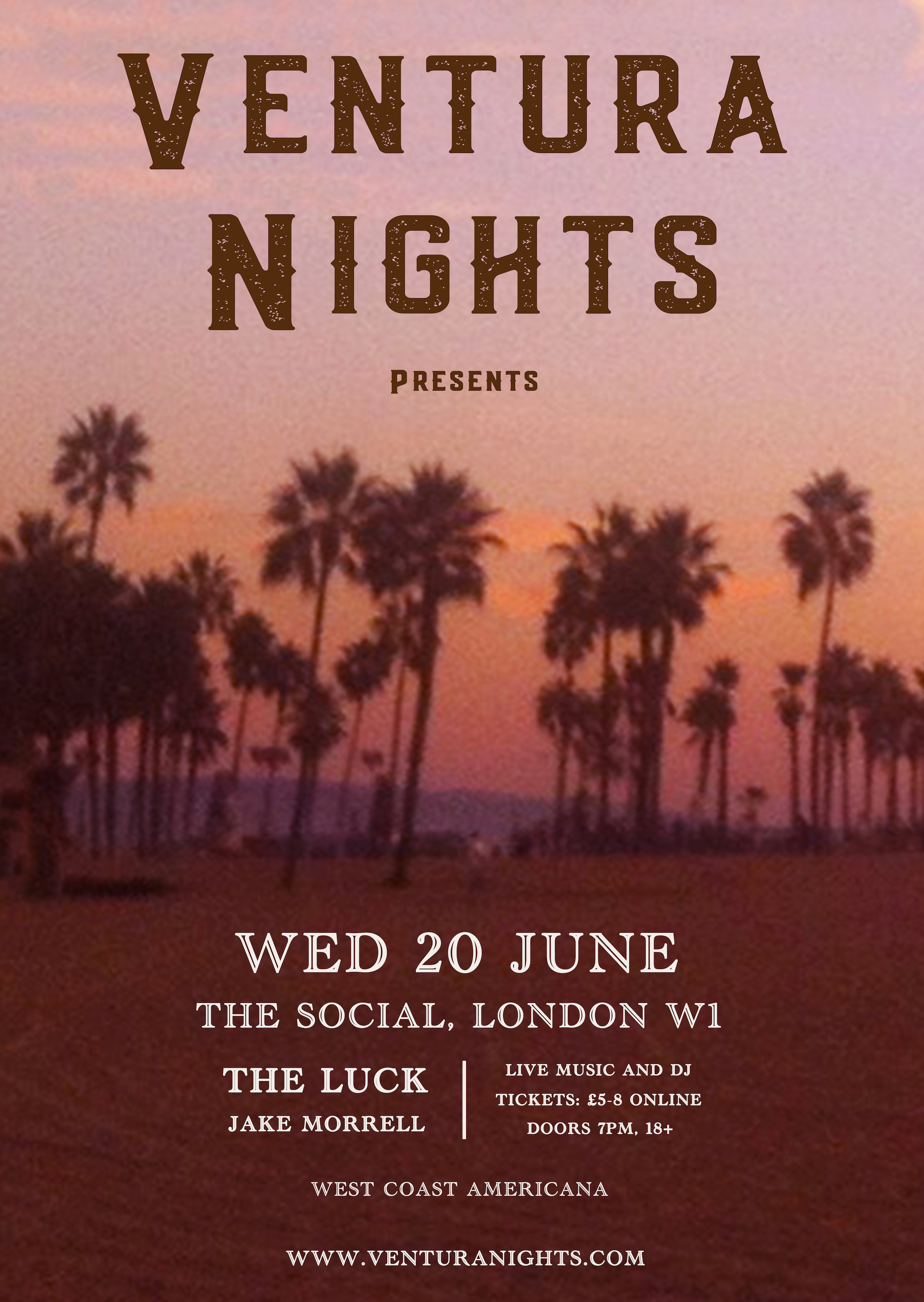 Date/Time
20 Jun 2018 - 7:00 PM - 12:00 AM
Price
£5
Ventura Nights Presents The Luck
Ventura Nights Presents:
LIVE
The Luck
Jake Morrell
DJs
TICKETS: https://bit.ly/2LslpOx
www.facebook.com/theluckmusic
www.twitter.com/theluckmusic
www.instagram.com/theluckmusic
www.facebook.com/Thejakemorrell
www.twitter.com/Thejakemorrell
www.instagram.com/Thejakemorrell
THE LUCK
The Luck are London born brother and sister duo, Max and Esmay Luck. Their songs are influenced by their childhood musical heritage, listening to bands growing up from Fleetwood Mac and Simon & Garfunkel to Joni Mitchell and The Eagles. Based out in California for a couple of years, they came back last year to London to play and release their new music. Out there they worked on an album with Paul Broucek, President of Music at Warner Brothers Pictures, three-time Grammy Award-winning engineer/mixer Ed Cherney (The Rolling Stones, Eric Clapton, Bonnie Raitt) and three-time Grammy Award winning musician/engineer/mixer Paul Hicks. With over a million and a half Spotify streams they are releasing singles this year and announcing the release of the album soon. Their latest track is called 'Leave Your Light On': https://open.spotify.com/album/0UgQNMUjAgfmhAyTT5wvpr?si=O6TLryDJRy2rwGqC8j4T4Q They also host the California inspired monthly Americana club night 'Ventura Nights' and are touring across the UK this year.
JAKE MORRELL
Jake Morrell could have come straight out of Nashville, or even from the Californian sunshine, as his music suggests; but Jake is from Norfolk, England! Jake was 'discovered' by Dermot O Leary, who featured him on his Radio 2 Show. One influential listener just so happened to be Glastonbury boss Emily Eavis, who immediately asked Jake to perform at the iconic festival.
"It's great to see Jake Morrell flying the flag for British country music" – Dermot O'Leary, BBC Radio 2
Jake recorded his debut single with London based producer Brett Shaw (Florence & The Machine, The Kooks & Dry the River). The song entitled "Wire and Thorns" reached No.2 in the iTunes country charts on the first day of release. This led to Jake being invited to perform at this year's Country 2 Country festival, London's Country Music Week and being invited out to Nashville.
Now working with several top industry writers including the Grammy-winning writer/producer Kipper (Sting, Gary Numan), Jake's songs and sound are attracting attention by all who listen.
With a gig history that reads like a road atlas, Jake and the band have truly honed their craft and always leave you feeling joyous and wanting more!
Back to the listings.