We are super stoked to be a part of Independent Venue Week 2019! With this being our 20th year as a music venue we have pulled out all the stops for this momentous collision of occasions.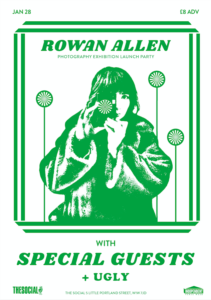 Monday – Rowan Allen exhibition launch with Special Guests & Ugly
To kick things off for the week we have a new exhibition launching in the upstairs bar, exhibiting the phenomenal photography work of Rowan Allen. She has been a documenter of the scene of new bands and beyond in the UK including Goat Girl, Shame, Gurr, HMLTD, IDLES and much, much more. This is her debut exhibition of prints and she's helped to curate a special guest headliner and Ugly to come rock the basement for us!
TUESDAY – Creation 23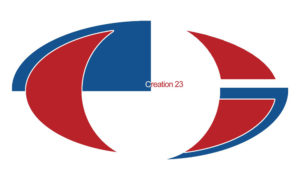 On Tuesday we have Alan McGee's Creation 23 records hitting up the basement for a big Tuesday night party! Stay tuned for updates.

WEDNESDAY – Horsey & LL Burns
Horsey are purveyors of a truly original blend of glam, punk, prog. General musical geniuses, they are joined by LL Burns, a favourite among Londoners near and far.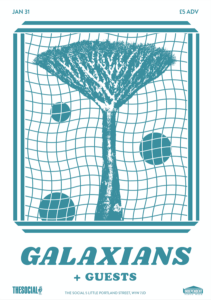 THURSDAY – Galaxians & Terravi
Galaxians, northern house-funk disco champions are coming to The Social for the first time just ahead of their tour with ESG to show off their unique style to all of us in central London. Terravi join in support, with their world music psychedelia to the basement once again!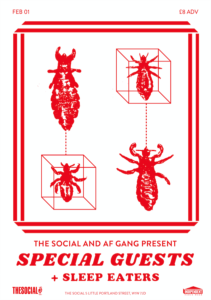 FRIDAY – AF Gang Presents: Special Guests & Sleep Eaters
If you've been following Idles rise this year you might have heard about their beyond loyal fan group, the AF GANG. We have teamed up with these maniacal super fans to bring you a gig! Special Guests are headlining, to be announced very very soon and they are joined by bonafide cow-punks Sleep Eaters.

SATURDAY – Pama International Album Launch
Following up on their critically acclaimed (⭐⭐⭐⭐ ) Mojo album Love & Austerity and hugely successful Trojan Records songbook tour, Pama Int'l return with their much touted soul album – "The Altruistic Soul sounds of…" and 9 piece soul revue and bring their album launch party to our humble little basement!