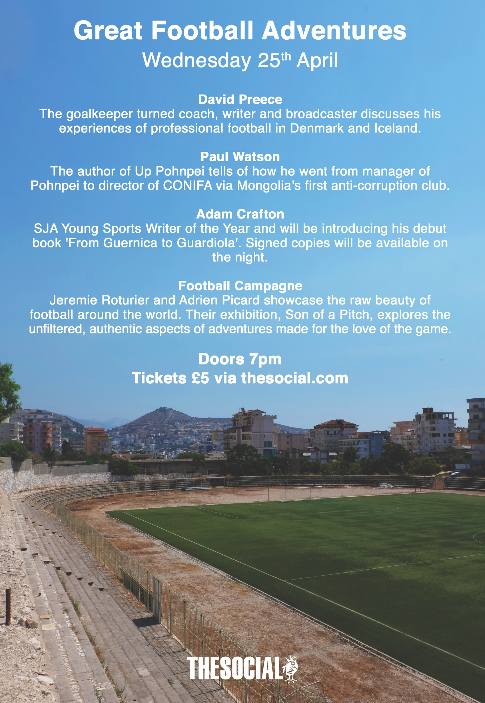 Date/Time
25 Apr 2018 - 7:00 PM - 11:00 PM
Price
£5 advance
A remote island in the Pacific. War-torn Lebanon. The heart of football's spiritual home. Join us for an intimate look at the beautiful game in some of the world's most unique places.
The goalkeeper turned coach, writer and broadcaster discusses his experiences of professional football in Denmark and Iceland.
The author of Up Pohnpei tells of how he went from manager of Pohnpei to director of CONIFA via Mongolia's first anti-corruption club.
Jeremie Roturier and Adrien Picard showcase the raw beauty of football around the world. Their exhibition, Son of a Pitch, explores the unfiltered, authentic aspects of adventures made for the love of the game.
SJA Young Sports Writer of the Year and will be introducing his debut book 'From Guernica to Guardiola'. Signed copies will be available on the night.
CONIFA's Head of Media analyses the last CONIFA World Cup and looks forward to London 2018
Back to the listings.