Various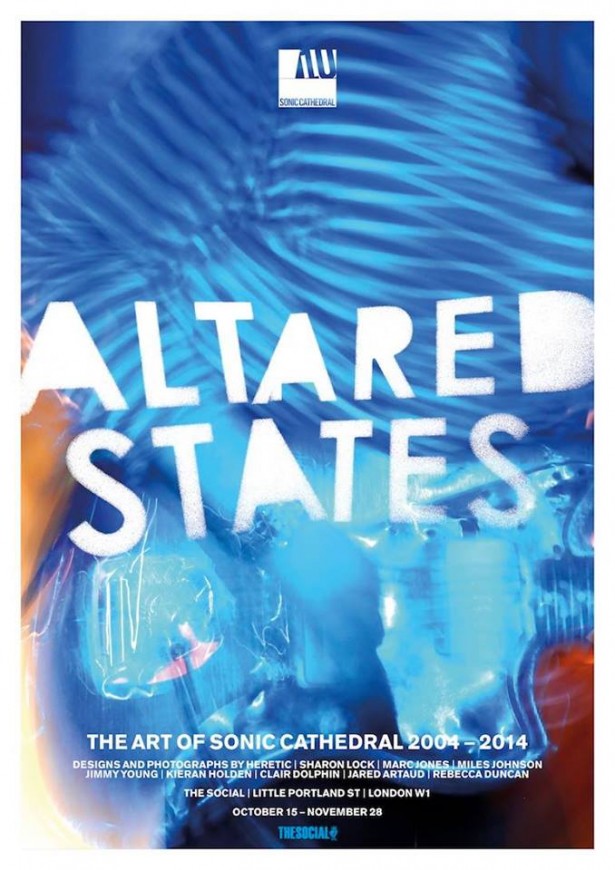 15 October 2015 - 28 November 2015
We are pleased to announce an exhibition of Sonic Cathedral artwork as part of their ongoing 10th anniversary celebrations.
'Altared States: The Art Of Sonic Cathedral 2004-2014 will take place at The Social, London W1 and takes a more detailed look at some of the incredible images that have adorned Sonic Cathedral releases, posters and T-shirts over the past decade – including designs by Heretic, Sharon Lock, Marc Jones, Kieran Holden, Miles Johnson, Jared Artaud, Clair Dolphin and Rebecca Duncan.
We've always been proud of the fact that, even though (from SCR012 onwards at least) there is no Sonic Cathedral house style, everything from record sleeves to flyers has been beautifully, painstakingly designed – andwe've been lucky enough to work with some amazingly talented people in order to make this happen. The 13 pieces selected for this exhibition only serve to prove that we've followed nicely in the footsteps of Elektra, Factory, 4AD, Creation, Heavenly and all the other labels that inspired us to begin with.
The exhibition opens from 6pm on Wednesday, October 15, so come and join us for some celebratory drinks before heading over to the 100 Club for the 10th anniversary show featuring The Early Years, Younghusband, Spectres and guest DJ Andrew Weatherall. (It looks like the unofficial afterparty might take place back at The Social too!)'
The artwork will be on display until November 28, after which it will be sold at the Independent Label Market which takes place at Spitalfields in London the following day (Saturday, November 29)