Behind The Sun
Opening on October 5th at the social, Behind The Sun is an exhibition of graphic art and illustration, featuring works from the USA, Canda, UK, Germany and Ireland.

Featuring work from Chris Harnan, Daniel David Freeman, Ellie Andrews, H.Y.T, Nejc Prah, Noah Butkus, Rob Whoriskey, Tylor Macmillan, Tim Head, Paul Camo Roberts

The title is drawn from the Bert Jansh track 'October song'. "Quite simply the song was the reasoning for the show as well as being a great opportunity to to collaborate with other artists and designers," explains John Slade of H.Y.T. studio, who has organised the show with frequent collaborators and infamous central London music venue, The Social, on Little Portland Street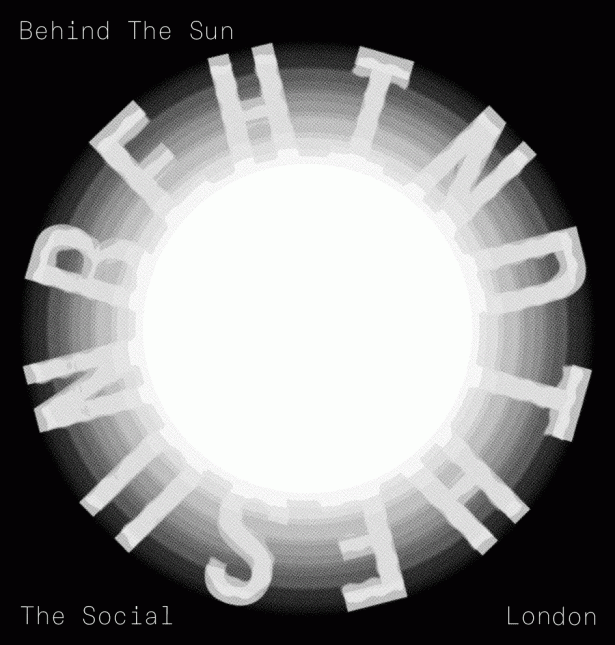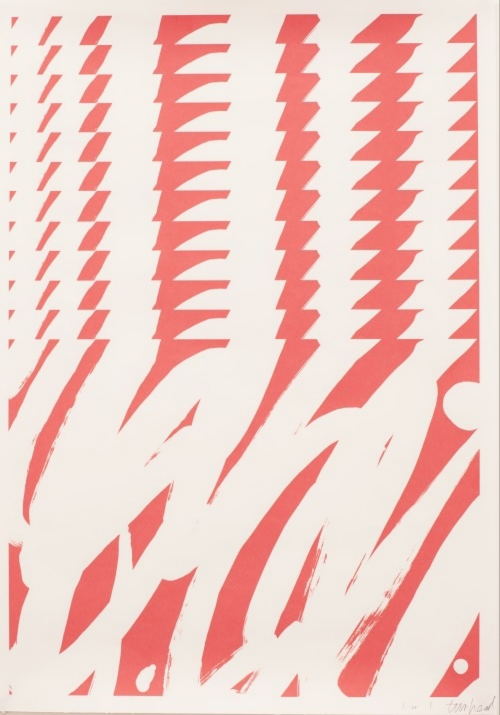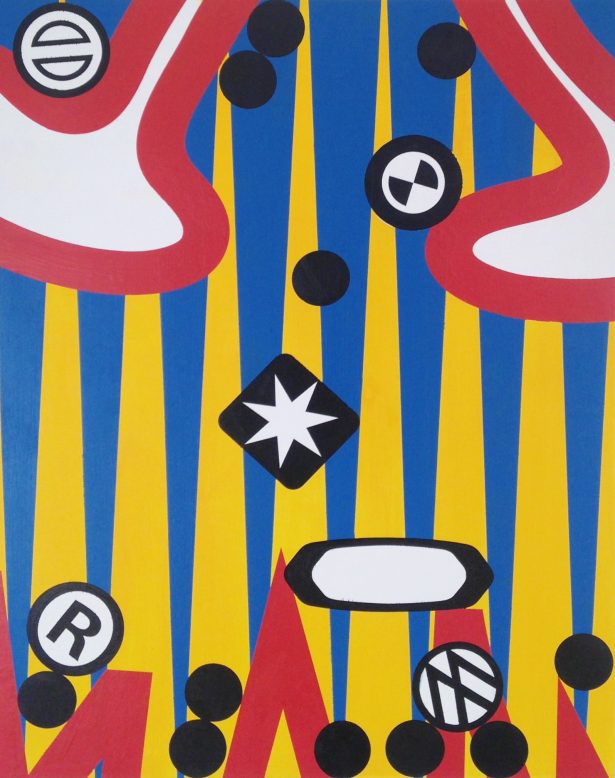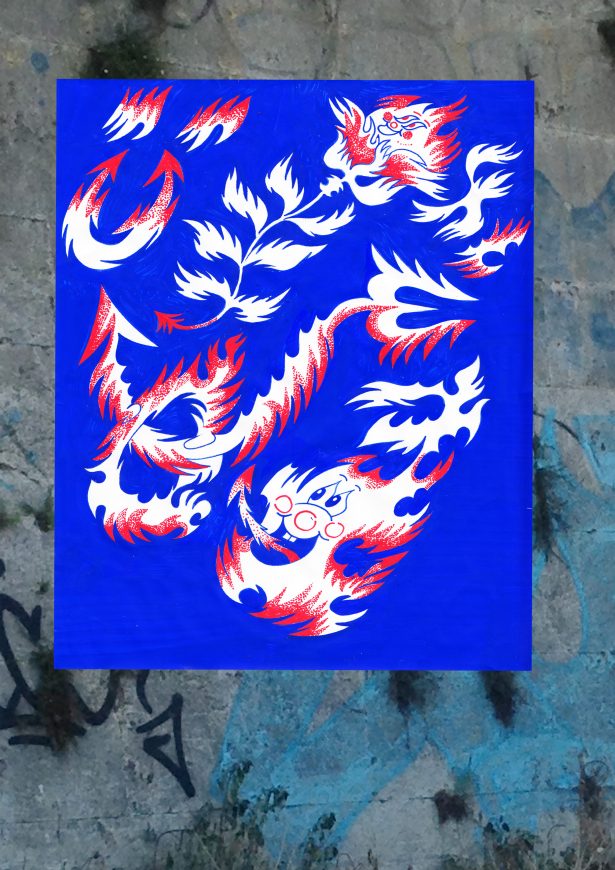 5 October 2017 - 26 October 2017
Artists include:
Chris Harnan. A 'Berlin and London-based image maker Chris' style is process driven and he putting an emphasis on "play and experimentation", forcing himself to "follow tangents that develop from accidents". His works are a hybrid of handmade elements with computer created imagery.'
Daniel David Freeman. 'Daniel David Freeman is an artist and designer from London. He has worked commercially for clients including Vice, Dazed, Uniqlo, Puma, Adidas and Converse. He has exhibited in group shows across London, New York, L.A and Hong Kong as well as solo shows at Beach London. "His drawings work to shrug his arts education and imagine himself as an outsider who draws from imagination, influenced purely niche communities that other people rarely, if ever, get a glimpse of."
Ellie Andrews. "South London graphic artist Ellie Andrews'
work is as bold and distinctive, partly due to her repetitious use of a "particularly satisfying" hue of royal blue, but also down to her cheekily cute characters. "I really enjoy designing logos and typefaces for branding, so whenever I get the opportunity I love to put my own concepts together." she's worked with big brands like Urban Outfitters Fred Perry, MTV, New York Times, Bloomberg Vew, The Debrief, Lazy Oaf, Business Week".
H.Y.T. is a graphic and illustration studio that was established as an avenue for artist and designer John Slade to showcase his commercial work. Since it began in 2009, the studio has grown an impressive client base that includes Nike, Tate Modern, Transport for London, Lazy oaf. According to the studio, the stylistic output of H.Y.T. is an extension of Johns' enjoyment
for "bold, striking, conceptual graphics and illustrations." H.Y.T. studio keeps it's approach fresh by working across a variety of techniques and mediums whilst still experimenting with styles to suit particular briefs and create impactful outcomes.
Nejc Prah. Graphic designer Nejc Prah works with vibrant colours and crazy shapes creating work that combines 80s club typography with fourth dimension landscapes. The Slovenian- born, New York-based designer has produced work across print and digital that is disruptive, vibrant and unique. By day he works in the creative team at Bloomberg Business Week. His personal projects include poster series for musicians, hardware store catalogues and identity and publication designs.
Noah Butkus. Growing up, Noah found himself spending all of his time with skateboards and comic books. This is where he found all his inspiration, and for the most part still does. Aside from art and design for the band Death Threat, his first widely recognised output appeared on graphics for Burton Snow- boards. This work was followed by commissions for posters, ads, catalogues, and product applications from a wide variety of companies. now living in Manhattan. At 32, he has already paid considerable dues in the art world. No longer tied to a company desk he spends his days at his studio, balancing commercial and personal work. In recent years he has also begun exhibiting his work in both solo and group exhibitions.
Rob Whoriskey. Rob is an illustrator, printer, painter and visual collaborator living in Dalston, London. Robs' work depicts London culture in pop art style. His subjects range from chicken shop logos, images of the band Crass, cigarette butts, pigeons and many more subjects that are icons of the city. Apart from interesting personal work he also has an impressive commercial client list including Fred Perry and Dover street Market.
Tylor Macmillan. Tylor is a designer and artist living and working in Vancouver, Canada. His work is a hybrid between drawing and graphic design where his one-page creations become neatly composed formations of illustrations and graphic icons. Throughout Tylor Macmillens' work is a focus on how the mediums he uses interact with experimental printing processes. This means the sharp, cartoon aesthetic to the different components is offset wonderfully by the grainy texture and tone of Tylor's chosen printing method. This adds another dimension to his posters and zines. The symbols and icons Tylor creates are full of pop culture references that hark back to old video games, familiar toys and the internet. As a result the visual language he's created feels familiar but still cryptic enough to engage viewers.
Tim Head. Tim is a British artist living and working in London. Working across a wide range of mediums Tims' work has persisted to maintain the highest standard, weather design, art, film making, illustrating, curating, photography, etc. He has produced work for brands such as Carhartt, Champion, Law magazine, Converse, Warp and NTS Radio.
The exhibition poster is designed by Paul Camo Roberts,a graphic designer who has exhibited drawings in London and Japan, made short films for Raindance Film Festival, co-founded clothing brand Crossover and was an integral part of setting up the London based trainer store Slamminkicks. He is also known for his work with Plastic People, Werk Discs and most recently MIC Records. Paul is also the founder of the legendary 'We Are…' show, an infamous radio show now running bi-weekly on London's NTS Radio.