On February the 18th 1956, Tutti Frutti hit #21, its highest position in the US top 100. Or rather, the original version did. It's so hard to recapture Little Richard's explosive impact, but listen to Tutti Frutti in the chart of the time and you get the idea. It's obvious that nothing like it had ever been heard before.
In early 1956, Rock'n'Roll hadn't yet hit with full force. No Elvis on the charts yet. To be sure, Bill Haley and Comets already had several big hits, the biggest of which was We're Gonna Rock Around The Clock – number one for eight weeks throughout the summer. Sounds like a takeover, but it wasn't: Haley's band was basically a Western Swing outfit with a heavier beat, while the Black American originators of the style found it difficult to cross over to the mainstream or, even worse, found their progress stymied by whitebread covers by Georgia Gibbs, Pat Boone and the like. Chuck Berry had a top 5 hit with Maybelline, but that was pretty much it until Richard came along.
At any given moment, there is The Pop Sound of the day. In February 1956, it was easy listening: songs that began with a brief, sweet choral or orchestral sequence, moving into standard romantic scenarios delivered by 'good', recognisably adult singers with adult themes. A tune like Go On With The Wedding by Patti Page is a typical example, developing the loser persona of The Tennessee Waltz into a strange, war-haunted recitative. Dean Martin's Memories Are Made of This is surprisingly sparse, featuring just an acoustic guitar and bass, a soft back up chorus, and Martin's mellifluous voice taking the listener through the addictive melody.
There are travelogues – Nelson Riddle's Lisbon Antigua – and close harmony groups: the Dreamweavers, the Four Lads, the Crew Cuts. The number one of the day was the more authentic doo wop number, the Platters' The Great Pretender, but even that fit within the close harmony template, albeit with more depth. Even the more teenage styled records, moving ever closer to Rock'n'Roll, lack a basic fire: Gale Storm's cute cover of Smiley Lewis' I Hear You Knocking, Kay Starr's Rock'n'Roll Waltz, and, yes Pat Boone's version of Tutti Frutti, sitting at #12 – a force of nature turned into a polite novelty.
But Richard was not to be denied. With its famous opening chant, Tutti Frutti arrives as a rude rupture in this collective swoon. His voice is as abrasive and rough as the production, a thick, muddy sound from the Deep South – New Orleans – with Richard's obsessively pounding piano and Earl Palmer's pounding drums. Richard makes short work of the necessarily bowdlerised lyrics and then lets rip with a few screams and hollers – 'woooooo!' – and you can hear the fifties dreamscape beginning to fade. The whole effect is abandon, of something that had been suppressed but had been suddenly permitted to be released into the population.
We now know that Richard was, if not actually gay, then bisexual, that he had worked selling snake oil, that he had toured the South as a drag act, that he used to hang out at the public toilets at the Greyhound Bus Station in Macon looking at men's cocks. We know now that the original lyrics of Tutti Frutti were about anal sex. We know that he influenced all the greats in white pop music – the Beatles, the Rolling Stones, Bob Dylan et al down the line – and we know that his mass success with such libidinous material troubled him to the extent that he gave it all up to join the ministry.
But in 1956, Tutti Frutti was an explosion, a record that opened the floodgates. And Richard had his revenge. In early May, Elvis was at #1 with his first RCA record, Heartbreak Hotel. Carl Perkins was at #4 with Blue Suede Shoes, Frankie Lymon and the Teenagers #11 with Why Do Fools Fall in Love. Teenage music was here to stay. Richard's second record, Long Tall Sally, had been recorded with deliberately garbled lyrics to stymie Pat Boone, to make him look stupid. The proof was in the pudding: Richard at #14, Boone at #23. Let us never forget, Richard was determined beyond all apparent reason to be heard, to be the star above all stars. God bless him.
Jon Savage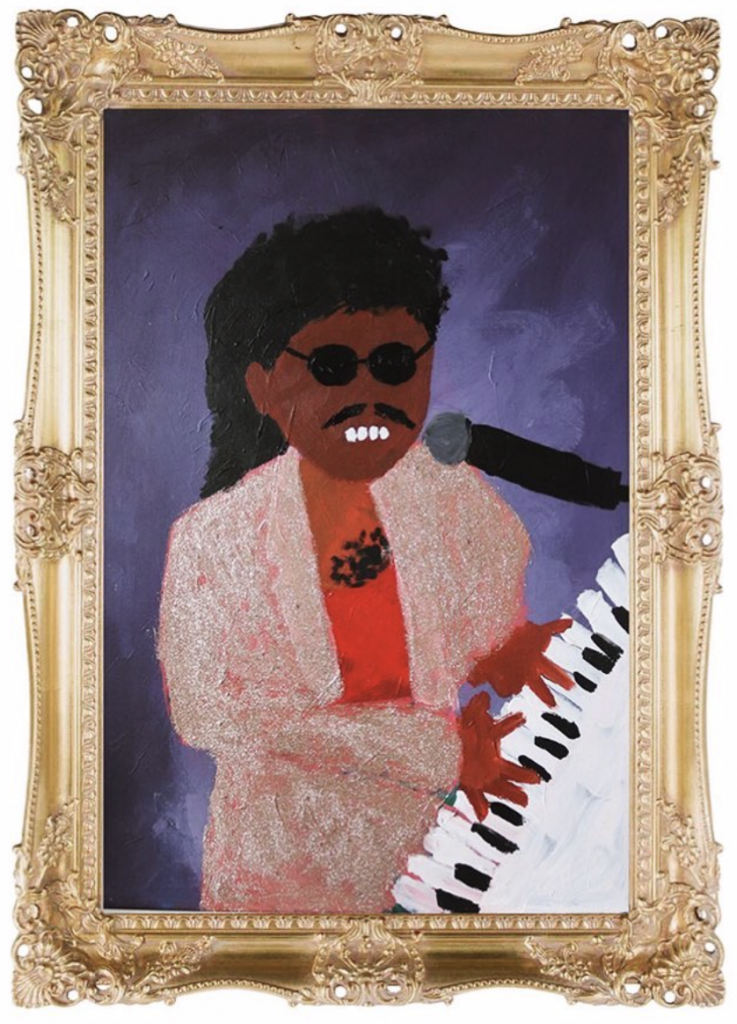 Painting by Marta Morientes – find out more about the painting here, it's being auctioned now to raise funds for London venues by the artist