In September 2019 (a properly different world it was then!) the Birmingham Museum and Art Gallery approached Cold War Steve to work on a commission based around their amazing Digital Image Resource. The idea was to dig deep into the archives and give some of their fantastic pieces the CWS treatment, and in doing so to emphasise the unique brilliance of the collection sat online, a collection that anyone can access at any time.
Little did we realise then that we'd be sat here 8 months later, the gallery closed and all of us pretty much barred from the outside world – galleries, pubs, cinemas, schools and most shops shut and us all trying to figure out 'what next?' and how to cope daily during this mad weird time.
Cold War Steve's work resulting from this project (Cut, Copy, Remix) was supposed to be launched in the gallery (in room 23) today. There no doubt would have been red carpets, roped off areas, fizzy wine (and Red Bull), a fancy curtain with gold drawstring readied and an array of the world's press in attendance to mark the occasion. Or at the very least the very good people from the museum and gallery and all our friends and family together.
We're delighted here at The Social Gathering to be able to host this amazing project on loan until it can be installed on the walls of the gallery where it deserves to be. This is the official unveiling of 'Benny's Babbies', Cold War Steve's biggest and most ambitious piece to date, a joyous celebration of his city Birmingham!
Download the full high resolution artwork below and enjoy these contributions inspired by the work from Kit De Waal, Jonathan Coe, Joe Lycett, Dr Pogus Caesar, Stephen Duffy, Emalee Beddoes-Davis and Christoper Spencer aka Cold War Steve.
Free super-high-res download version of Benny to keep here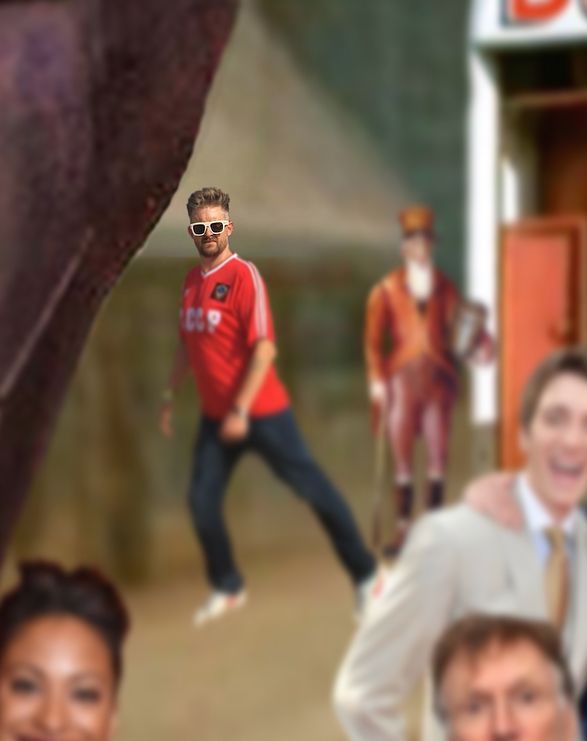 Birmingham is never championed or celebrated for its contribution to British cultural history. It's that ugly city between London and Manchester, where everyone sounds thick and probably smells of crisps and Bullseye. Countless programmes, books and magazines extoll the swaggering brilliance of Manchester – which is fair enough; it's a great city, which has produced shit-loads of seminal musicians, bands and artists. Birmingham doesn't have that self-assured, bandy-legged gait thing (like what Liam Gallagher still insists on doing). We take the piss out of ourselves. Mancunians wax-lyrical about The Hacienda – Brummies wax-lyrical about Mr Egg (a greasy spoon cafe that was open when everyone left the pubs and clubs in the early hours… and was called Mr Egg). That's not to say we haven't had culturally significant music venues or clubs – we'd just prefer to celebrate Mr Egg.
Outside of London, I feel that Birmingham is unparalleled in the sheer diversity of its contributions to British culture. A multicultural city, where the influence of so many heritages has enriched our lives immeasurably – be it in the music, the art, the food – and this is what I am most proud of about Birmingham. This collage was certainly the most time consuming piece of work I've ever done – but it was also the most fun to research and execute. The final composition is a massive celebration of the diversity of the city.
I remember the first time my parents took me to Birmingham Museum and Art Gallery – I must have been four or five. There was a big T-rex that roared (and made my little brother cry), an actual mummy and huge, foreboding paintings with severed bearded heads on platters. I loved it. I went there a lot – initially heading straight for the dinosaurs and mummy, to slowly developing a fascination with the paintings (not just the ones with severed heads).
I've taken each of my three young daughters for regular jaunts around the museum – besides being a fun experience, it's also free.
Walking around the magnificent building, for all those years, I never dreamt that my work would adorn one of the display walls. It is a huge honour and the pinnacle of my life as Cold War Steve.
Christoper Spencer aka Cold War Steve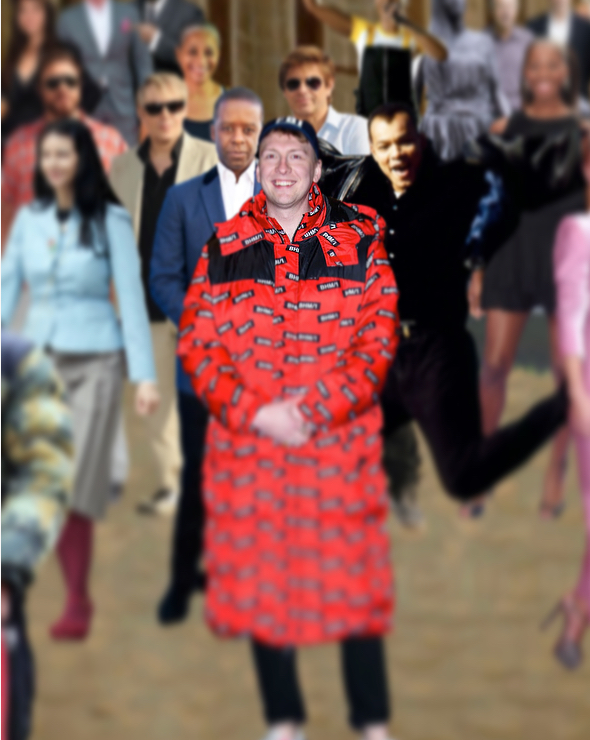 I think a well written joke, however bleak, is beautiful. It doesn't matter what it's about – it can be death, genocide, or fresh turds tumbling out of your gaping arsehole – if it skewers a truth, if it connects, it is beautiful. Brummies are bleak and brummies are funny. And therefore brummies are beautiful.
It's no coincidence that Cold War Steve emerged from here. His work embodies the beautiful Birmingham bleak. It resonates because the bleakness is totally recognisable. We've seen a thousand melancholy men like Steve McFadden in our city. We live in a bleak city, in a bleak country, in a bleak world. There's loads of unbleak stuff too, of course, but we don't really bother with that.
When London, Manchester and others gas on about how excellent they are, often ignoring the whole areas of their cities that are absolute swipes of piss, they miss a trick: the magic is in the bleak. There's loads to shout about in Birmingham – the food, the music, the art, the comedy, the people, the fact that we are a blueprint for how different cultures can live together – but what's funny and beautiful about that? How crass.
Our city is a totally bleak fucking dump. We love it.
Joe Lycett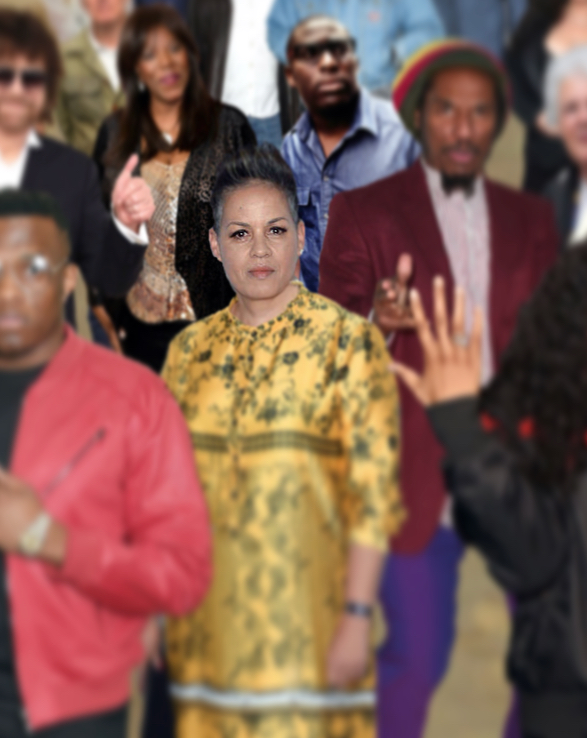 I don't want to be vain but bloody hell it's great to be included in this picture by one of my heroes, Cold War Steve. I've followed him for ages on Twitter, loving and 'liking' his irreverent poke at politicians and celebrities, posing them out of context and somehow into a sort of truth, showing us who they are or could be and always with the addition of Phil from Eastenders. Why him? I don't know.
Take January 5th's offering of Boris Johnson on Blind Date picking from Putin, Harold Shipman and a redneck Trump with Phil as camera man. Cilla is braying with laughter and so are we, imagining the show, the fools, the set up.
In this picture of Birmingham I recognise so many people I've danced to, sung with, worshipped, admired, people I never knew were from my home town but am delighted to find them here. There's a Rotunda sized Benny from Crossroads, my childhood soap opera who drank in Digbeth with my sister and friends. Actors, musicians, politicians, sportsmen and women, people off the telly and some off the planet now, dead and missed.
But what made me smile the most were the landmarks, the Mr. Egg café, only a Brummie of a certain age would know that one, the huge Mosque in Balsall Heath, Spaghetti junction, the HP Sauce Tower in Aston and the brutalist Central Library bulldozed for one that can barely open because of government cuts.
In this picture are my trips to school and the places we passed on the bus, here are my teenage years, Mr. Blue Sky and the shops I found when I wagged school at thirteen. Here is my now and always, Chinatown, St. Martin's Church, Sikhs, Muslims, Christians, all nations standing together always.
This is my Birmingham and my tribe.
Kit de Waal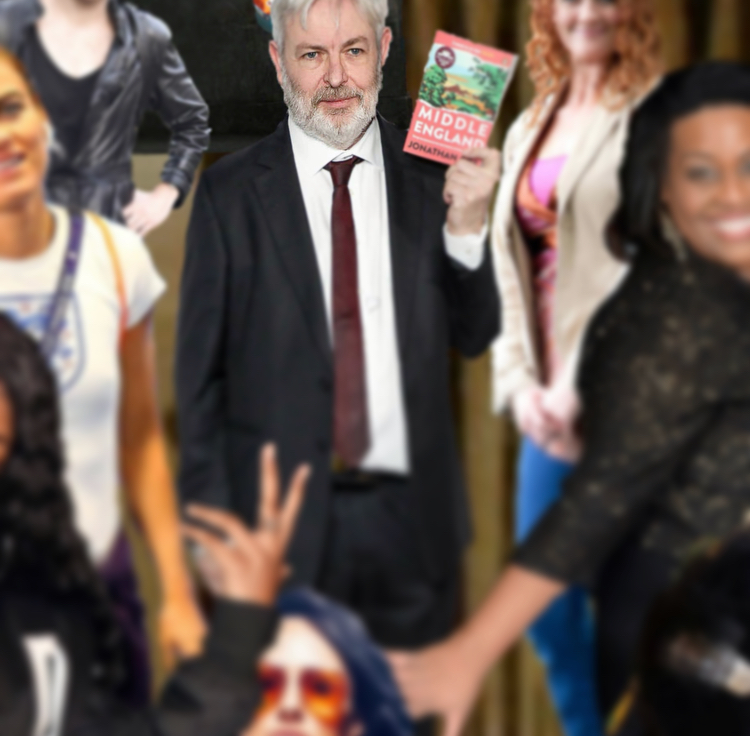 It's immensely moving to find myself included in this artwork.
It's quite a few years since I lived in Birmingham but everything that the city gave me in the 1970s still lives inside me and informs everything I do.
It was at John Madin's Central Library that I discovered the books and the music that have shaped my writing ever since. It was at MAC and the Arts Lab that I saw the films that I still love and that gave me my first sense of what narrative art could achieve.
It's hard to express the extent to which the Birmingham of my teenage years was such a creative, nurturing, vibrant, inspirational place. So many great musicians, writers, artists, curators, programmers … I could not have asked for a better start in life, as an author.
In my memory, the Rotunda loomed over my emerging consciousness just as it does over all the manifold, diverse, brilliant sons and daughters of Birmingham in this illustration.
As I said … Immensely moving.
Jonathan Coe

Emalee Beddoes-Davis, Curator of Modern and Contemporary Art, Birmingham Museums Trust talks us through some of the artists featured in Benny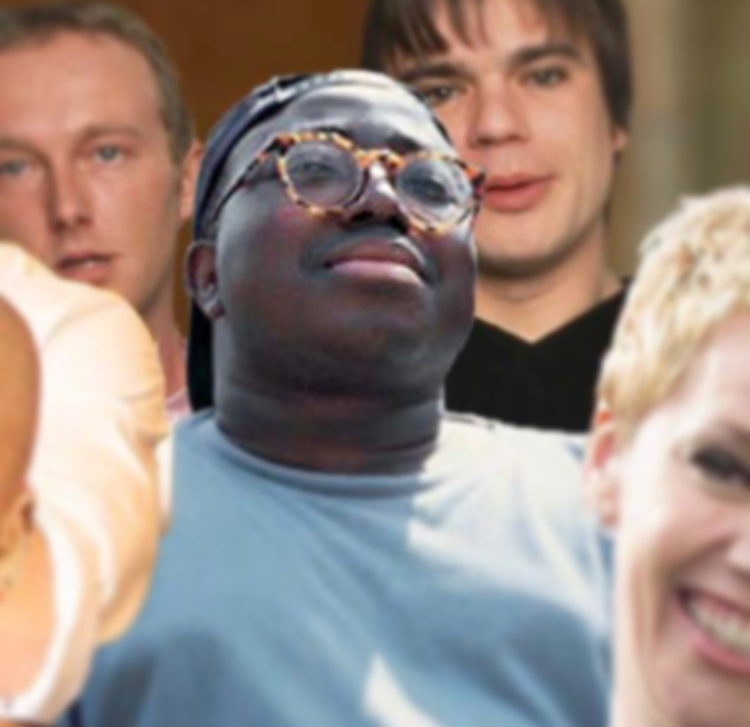 Donald Rodney (1961–1998)
Rodney's art practice used a wide variety of media in making his work, including automaton and his own skin, and appropriated popular culture and art history to explore issues of racial identity and his experience of Sickle Cell Anaemia. In the early 1980s Rodney was a founder member of the BLK Art Group alongside Keith Piper, Marlene Smith and Eddie Chambers, which proved to be a seminal moment in the history of British art.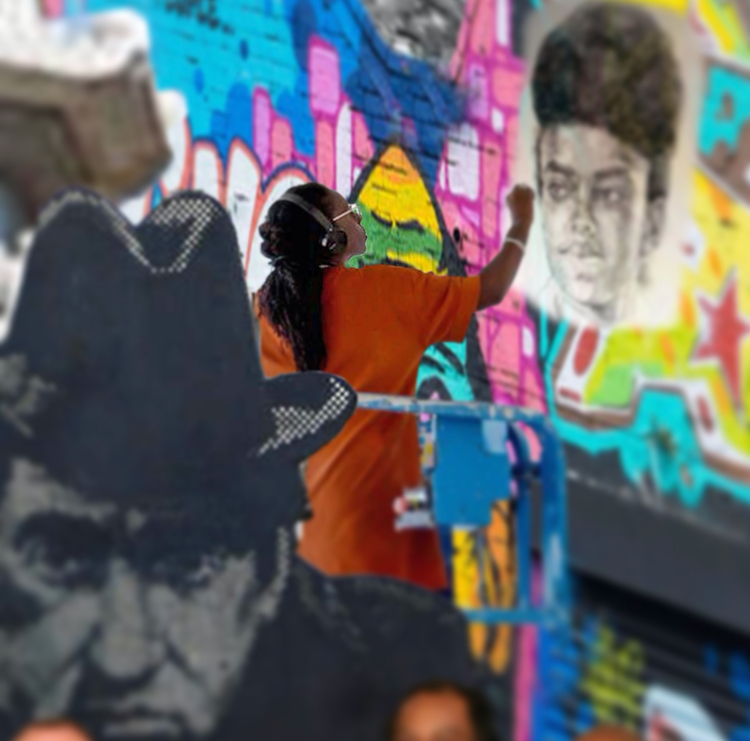 Barbara Walker MBE
Barbara Walker's art is both figurative and conceptual, using her exceptional ability as a portrait artist to create often temporary works informed by the social, political and cultural realities that affect her life and the lives of those around her. Walker's work was selected for the first Diaspora Pavilion at the 57th Venice Biennale 2017. Most recently she exhibited in the Lahore Biennale and was awarded The British School at Rome's 2020 Bridget Riley Fellowship. Walker was awarded an MBE for services to British art in 2019.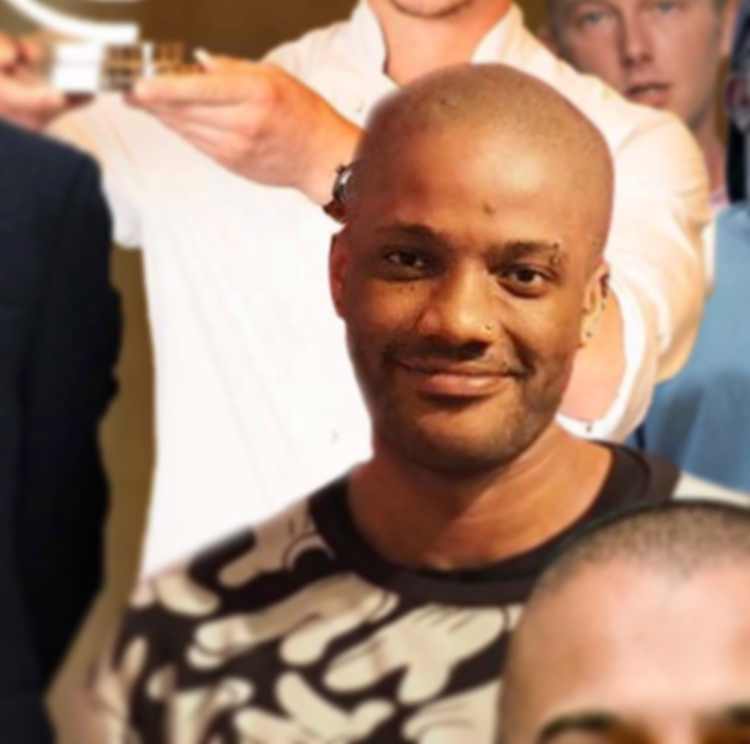 Antonio Roberts (Hellocatfood)
New media artist and curator Antonio Roberts is best known for Algoraves – music and visual spectacle developed from algorithms and live coding – as well as glitch art which uses digital errors to create visual art. His practices explore what ownership and authorship mean in an age impacted by digital technology. Roberts' work has been shown across the world in exhibitions and festivals from Green Man festival in Wales to Whitney Museum of American Art, New York.
Sue Austin
Austin is a multimedia, performance & installation artist of international acclaim. Her joyful and awe-inspiring work challenges the 'otherness' associated with living with disabilities, and represents her experience as a wheelchair user in a brighter light. Austin's most famous piece, Creating the Spectacle!, a film work in which she uses scuba diving equipment and a specially modified wheelchair to move underwater, was performed as part of the London 2012 Cultural Olympiad.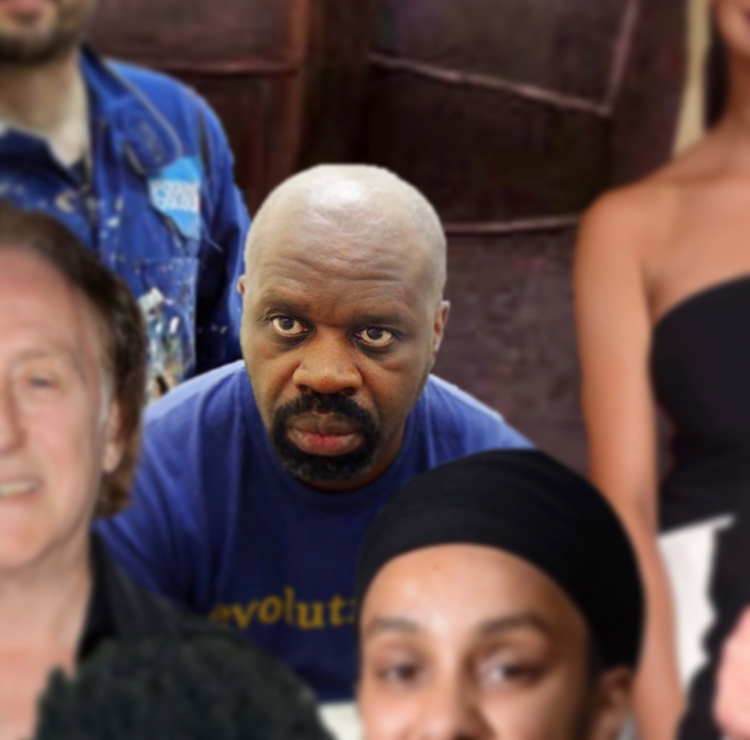 Keith Piper
Piper is a leading contemporary British artist, curator, critic and academic and was a founder of the BLK Art Group alongside Donald Rodney. His work, spanning across four decades, encompasses painting, photography, installation, and video. He was also an early adopter of computer-based interactive art. Piper's practice explores the issues of racial, gender and class identity by presenting the viewer with what the artist describes as an 'open-ended and contradictory puzzle of elements'.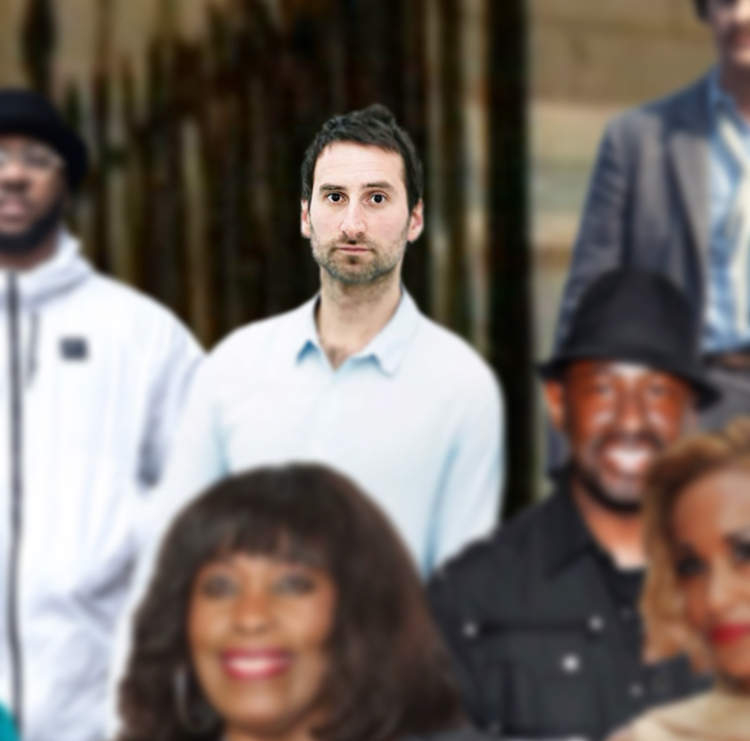 Idris Kahn OBE
Kahn is an abstract artist whose work creates new visual languages to explore his wide range of interests including classical music, the history of art, literature, philosophy and religion. His creative process is a constant cycle of creation and erasure, adding layers upon layers, concealing and revealing.
Kahn has created a number of significant public commissions including a monument in Abu Dhabi, a public sculpture in Blackfriars, London, and a site-specific installation at The British Museum. Kahn was awarded an OBE in 2017 for services to art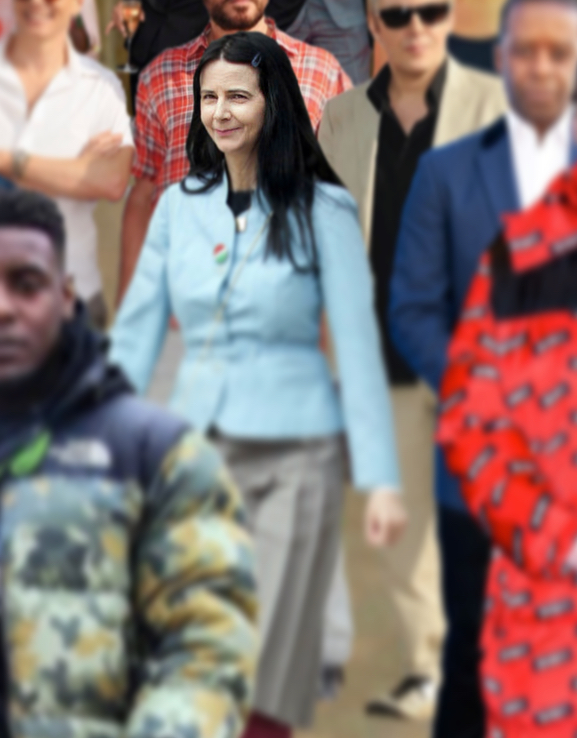 Gillian Wearing CBE RA
Wearing is a conceptual artist who became known as one of the Young British Artists. She won the 1997 Turner Prize and was elected as a member of the Royal Academy in 2007. She was awarded a CBE in 2011 for services to art.
Wearing's early works, often film and photography, explored the differences between public and private life, the individual and society, and fiction and fact. More recently Wearing has become known for portraiture and public sculpture such as A Real Birmingham Family, which is on display outside the Central Library, and a statue of Suffragist campaigner Millicent Fawcett was revealed in Parliament Square in 2018.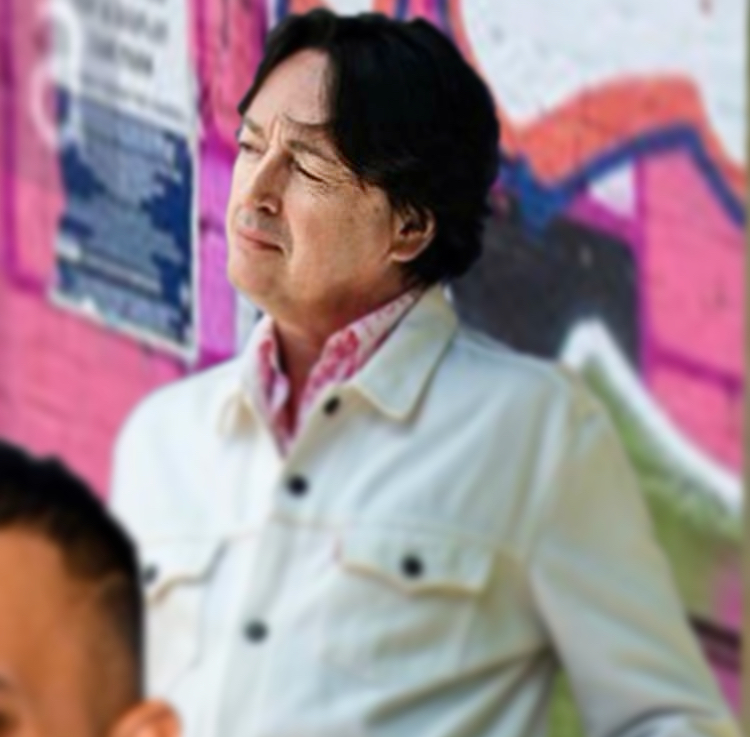 Benny, An Appreciation – Stephen Duffy
I've been writing and trying to write about Birmingham forever. Since I was 14 with a typewriter and a roll of paper just off the Bromford Road. Spontaneous prose that could've have fitted on the back of a corporation bus ticket. Since I was 17 with a bass guitar by the Selly Park Tavern on the Pershore Road. And then Chris comes along with Benny and says it all in one go.
There's Bob Carolgees and Spit the dog. I never met him. Terence Michael Joseph "Geezer" Butler of Aston. And Jeff Lyne who I met once. We had dinner. He attended Alderlea Boys' Secondary School with Paul Henry who would later play Benny Hawkins in Crossroads. We didn't talk of Benny, but quickly we discovered that we both had visited the same careers office in Burney Lane, he in 1963 and me 14 years later. I was born in Highfield Road Alum Rock and Jeff said that just before leaving the house he had super imposed a wedding group in front of the Rock cinema, presumably using a photo shop prototype. To think, if he hadn't decided to produce The Beatles he could have been Cold War Jeff.
I saw Let It Be at the Rock and dinner Los Angeles that night seemed a long way from Alex's Pie Stand and the El Sombrero Coffee Bar on the Horsefair. Likewise The Apollo Cinema Tyburn Road, the Arts Lab Summer Row, and the Atlas Ballroom and Bingo Hall Stechford. The Balsall Heath Labour Club, the Belfry Wishaw. Billy Pond's Dance School and the Boggery. The Bournbrook, Bromsgrove Baths, the Bull's Head Moseley, and the California Pub Weoley Castle. The Cedar Club, where Dexy's would film the performance scenes for the Geno video. The Chateau Impney Droitwitch, Chetwyn's Navigation Street, the College Arms Kingstanding, the Continental Club Soho Road, the Co-Op Ballroom Nuneaton, and the Cromwell Street Working Men's Club Nechells where the Vikings used to play. Colin Tooley lived next to Hodge Hill Common. He played bass in my cousins band Bobby Valentine and the Valets. He changed his name to Carl Wayne, joined the Vikings, before the Move and married Miss Diane from Crossroads. Jeff and I never discussed this.
Nor the Crown and Cushion Perry Barr, the Gay Tower Ballroom Edgbaston, the George Clay's Accordion Centre. Or the Crown at the bottom of Hill Street where we all played. All of us from the Sabs to the Swell Maps. We didn't recall the Delta Metal Social Club (my mom worked at the Delta Metal). Digbeth Civic Hall where, as a family, we saw the Singing Stewarts from Trinidad via Handsworth, Britains first gospel group. Jeff and I didn't mention the Diskery Hurst St or the Dogpool Stirchley, the Dunlop Sports Social Club, or the Golden Eagle at the top of Hill Street. The Golden Eagle was an Art Deco beauty, where Spencer Davis met Steve and Muff Winwood, started the Spencer Davis Group and played there every Monday. Home of Shoop Shoop and Killing Time.They knocked it down in 1984. We didn't talk of this crime. Or Elmdon Heath Village Hall and the Englebach Youth Club Turves Green. The Forest Lickey End, the Glebe, the Hollybush Quinton or the Hopwood Caravan Club. I didn't tell him about us banging on about Constantin Brâncusi in the Hunters Moon shortly before becoming art students and Marc Chagall in the Jewish Club Holloway Head thereafter.
Would he have had tales of the Jug O'Punch and Kay Westworth's Cannon Street?La Dolce Vita on the Smallbrook Queensway or the Laura Dixon Dance Studio? The Lea Hall British Legion, the Locarno Ballroom Hurst Street, the Mackadown Kitts Green, or McKechnies Social Club Aldridge. I didn't tell him about Duran Duran's second gig at the puppet theatre in the Midland Arts Centre Cannon Hill. Or Mothers, I should've asked him about Mothers in Erdington. Fairport Convention traumatically crashing on their way home. Pink Floyd recording Ummagumma there and when Fleetwood Mac were bigger than the Beatles they flying back from an American tour and driving straight to Mothers. Bedding rugs and cushions are sold there now.
But what of the New Inns Handsworth, or the Nuneaton Co-Op? The Old Stone Cross Dale End or the Parkinson Cowan Social Club Stechford? The Perry Common British Legion, the Plaza Ballroom Handsworth, Rebecca's, the Romulus, the Rubery Social club and the Shakespeare Pub? I wish I'd asked about his band The Handicaps rehearsing at the Shard End Community Centre. Did he ever skate at Silver Blades Ice Rink? Listen to folk music at the Skillet Pot Livery Street? Remember the Swan Yardley and Thimblemill Baths? Tito's on the Soho Road, the Top Rank Dale End, the Tyburn House, the Variety Artistes Aston? What were his memories of Weoley Castle, Wythall Village Hall, Yeats Wine Lodge, and Yenton Boys Club? But then Ringo appeared and I never got as far as the Yew Tree.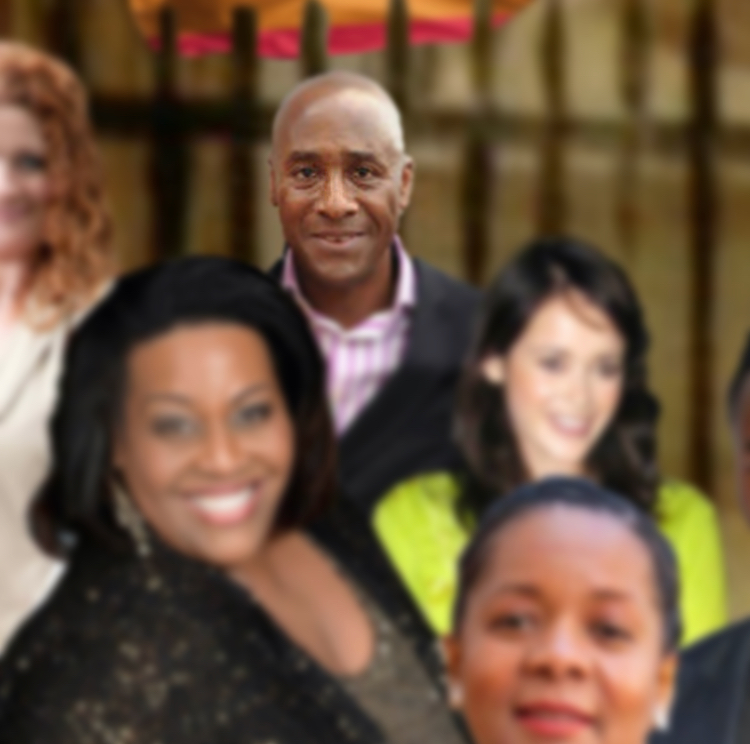 Artist Focus: Dr Pogus Caesar – Emalee Beddoes-Davis
When Cold War Steve sent through his Birmingham work I was taken aback by this representation of the city's incredible wide-ranging talent. One of the many familiar faces I was happy to see smiling out from the vast crowd was Dr Pogus Caesar. Pogus is a Birmingham-based photographer of international acclaim with work in the National Portrait Gallery, Victoria & Albert Museum and Birmingham Museum and Art Gallery among other collections.
On top of photography, Pogus has been a television director and producer and was the first Chairman of Birmingham International Film & Television Festival. He also co-curated a number of seminal exhibitions of black artists' work with Turner Prize winning artist Lubaina Himid including Into the Open in 1984. Throughout Caesar's extremely wide portfolio, music and black talent have been at the heart of his work.
In capturing these socially and artistically significant moments, Pogus has always worked with a Canon Auto Focus 35mm. A straightforward, unpretentious camera that speaks of the DIY punk ethic of art making in Birmingham in the early 1980s. It also highlights that much of what makes these images remarkable is Pogus himself, in his judgment in finding the perfect moment to take the shot that will encapsulate the talent and significance of the people he studies.
Pogus has selected the following works as highlights of his career as a photographer working predominantly in Birmingham, a city ripe for anyone wishing to capture wave after wave of new musical iconography.
She was a longstanding member of Davie Bowie's band, playing bass and providing vocals on Under Pressure. Dorsey now performs with Lenny Kravitz. In 1988 she was promoting her album on the Central TV series Here & Now. I had the opportunity to work with her and asked if I could take a number of photographs, including this beautiful image.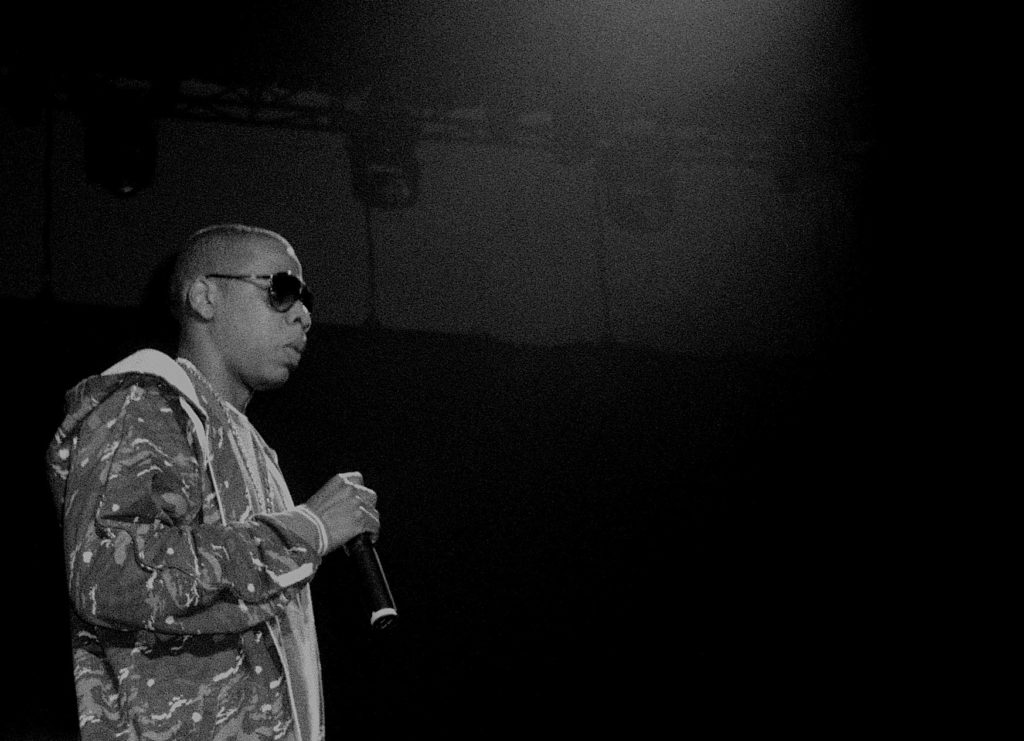 In 2006 he was performing in Birmingham. I knew a few people at the concert venue – they allowed me access to where Jay-Z would be waiting. He saw me but said nothing, however I believe he gave me the shot I was looking for. Using HP5 film allows me to achieve the grain I desire from the print.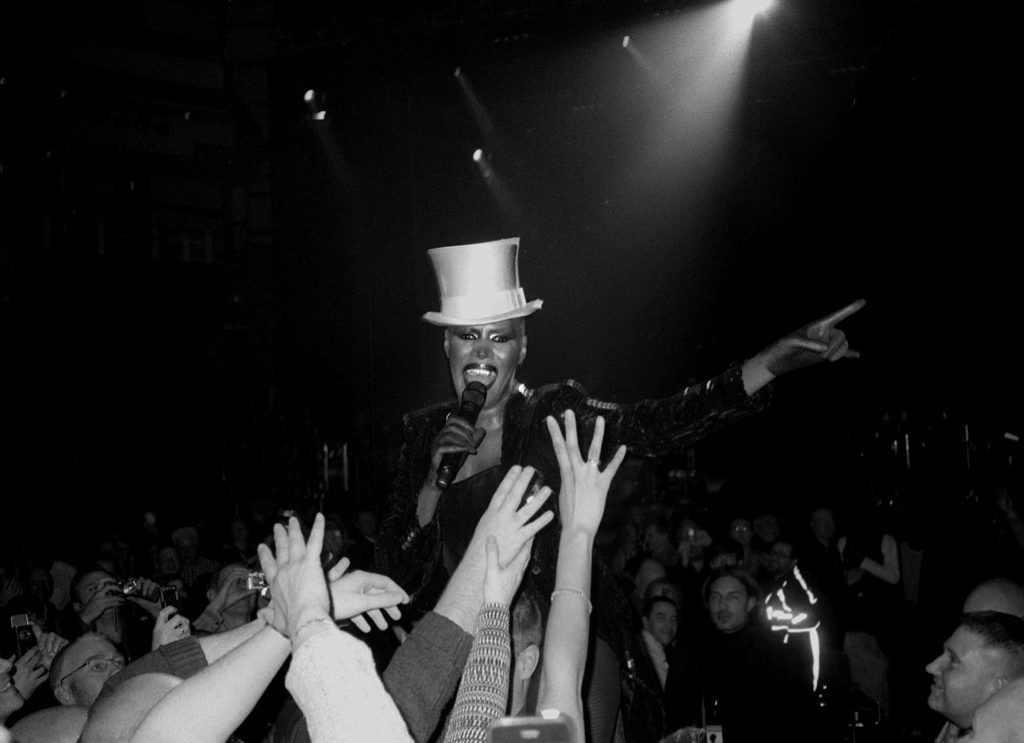 The photograph was taken during her 2009 Birmingham concert. Jones had the audience mesmerised and in the palm of her hands. At one point she jumped off stage and climbed onto the shoulders of a young man; I took out my camera and watched as she edged closer and closer – she then looked straight into the lens, click, and I took one of my favourite images.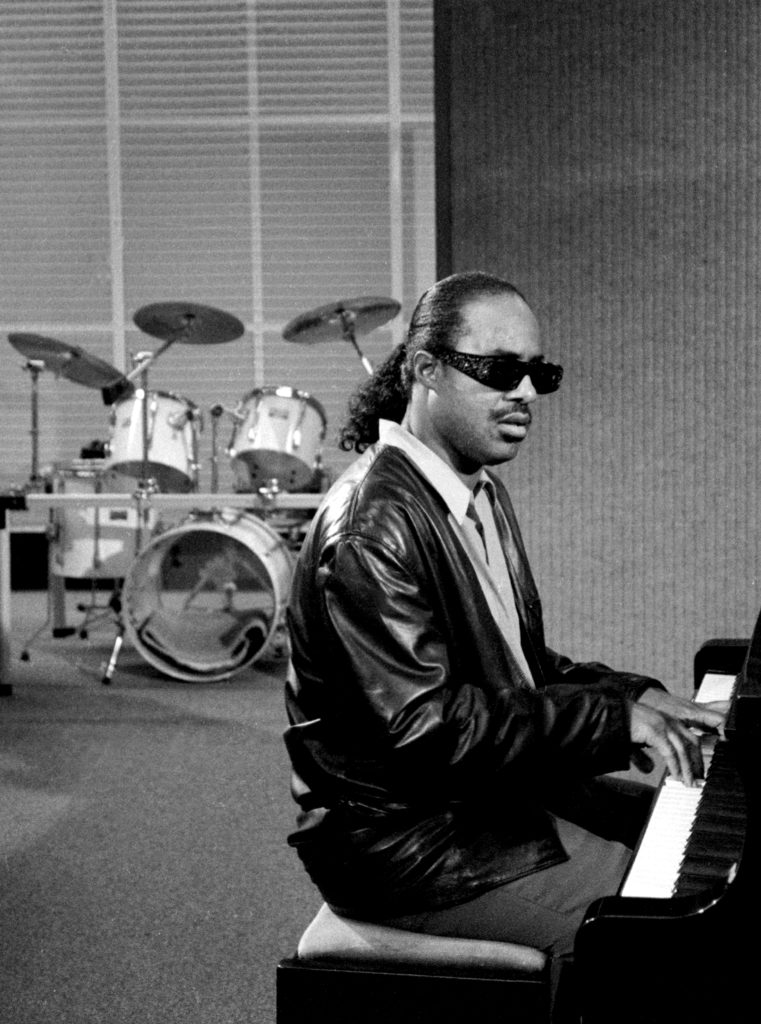 In 1989 while working at Central TV, I had the honour of directing inserts for a Stevie Wonder video. Usually filming after midnight over three days, I was able to spend a considerable amount of time in his company. Observing and listening to Wonder, I was amazed that this living legend was sitting and drinking tea/coffee a few feet away from me. Oh, how his fingers danced over the piano keys!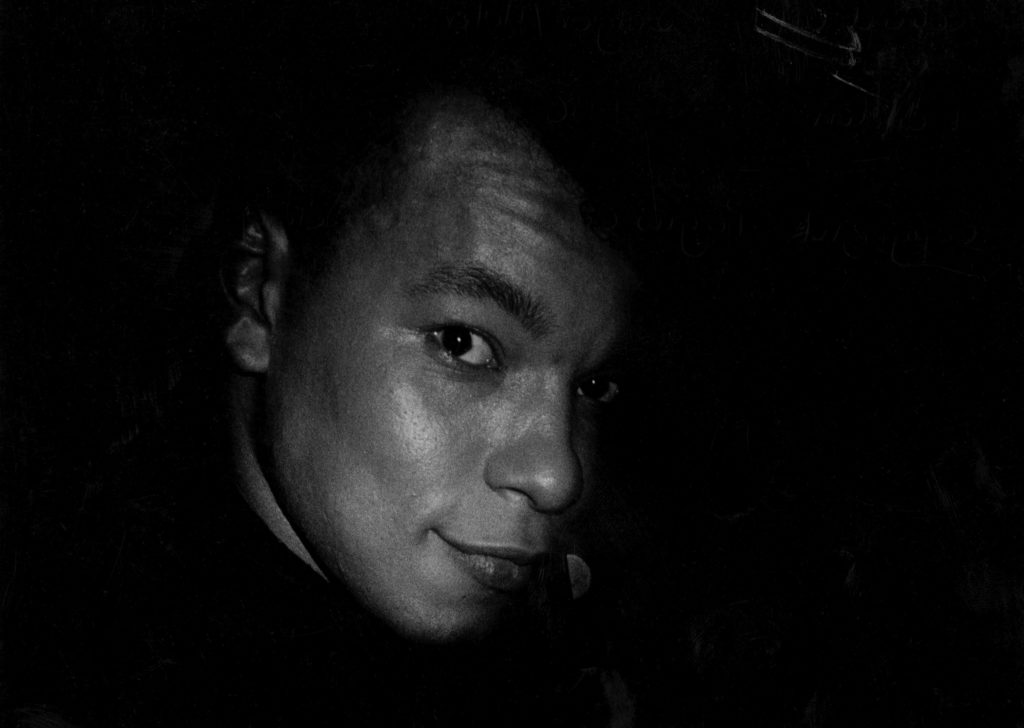 Roland Gift of Fine Young Cannibals: This portrait was taken late at night in Camden, London. I always use a Canon AF film camera; the small flash projected enough light to enhance Gift's striking features.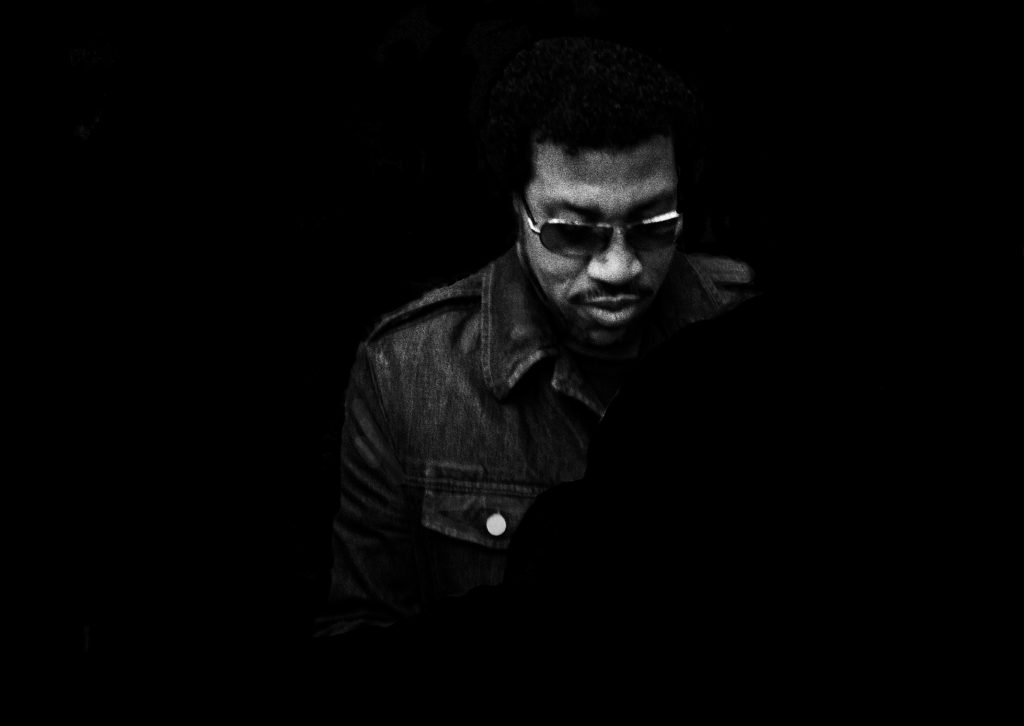 When you have the opportunity to meet someone like Lionel Richie, take your film camera and work quickly. I wanted to capture an alternative image of this musical icon!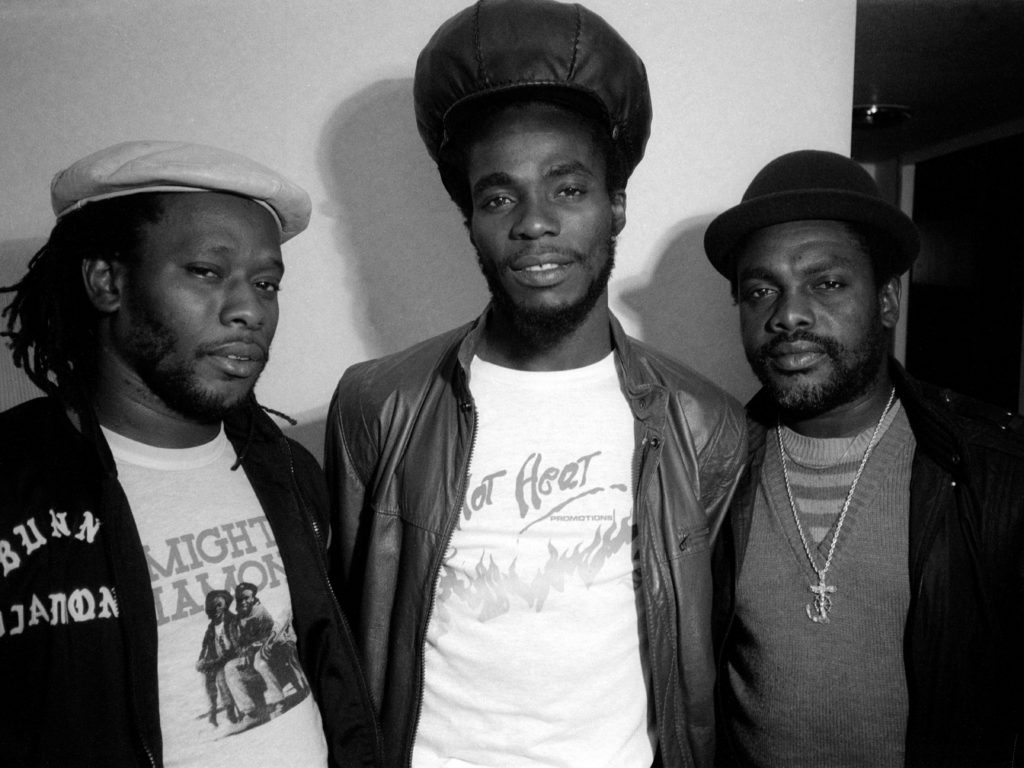 One of my favourite reggae groups, their songs entwined sweet harmonies with religious and Rastafarian influences. In 1986 they visited Birmingham and I was able to spend a few days in their company. As musicians who have influenced generations, their humble attitude was much to be admired. They allowed me to take a multitude of photographs in a variety of locations including Aston, Handsworth and Birmingham City Centre. When photographing musicians, they usually have an interest in my battered 1980s Canon AF with the tiny flash.
Dr Pogus Caesar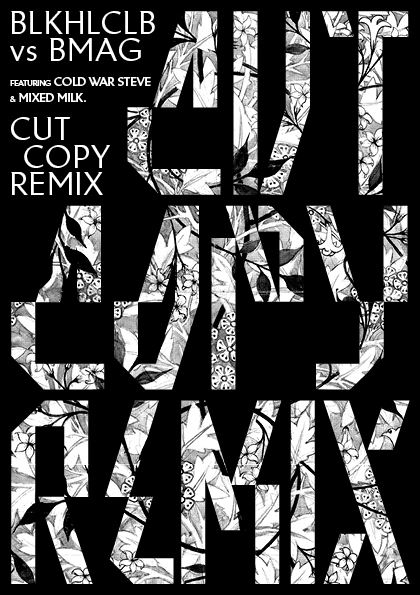 Cut, Copy, Remix
A series of artistic interventions and events in partnership with Cold War Steve and Black Hole Club that we've called Cut, Copy, Remix was supposed to be launched at Birmingham Museum and Art Gallery today (18th April 2020). But with Covid 19 reshaping the way we live in the world, we're now going online. Fortunately, this project had the digital at its core from the beginning, celebrating Birmingham Museums Trust's Digital Image Resource and the fact that the thousands of out of copyright high resolution images it hosts are all free for anyone to use under a Creative Commons licence.
I'd been wanting to work with Cold War Steve for some time after discovering that my favourite photomontage artist and fellow Danny Dyer enthusiast was from Birmingham and we were all delighted when he took up the commission. Chris (Cold War Steve) has been incredibly generous with his time and creative energy, making the most complex photocollage of his career to date, celebrating the city, as well as two hilarious pieces fondly satirising the oh-so-serious Pre-Raphaelite works in our collection.
Following an open-call for artists, we also commissioned Mixed Milk, a Birmingham artist called Martin McNally (don't you love an artist pseudonym?) to make a film about the works in the collection. Black Hole Club then commissioned artists Rosa Francesca and Alis Oldfield to create developmental digital art responding to the digital collection and its data. Over the coming weeks, Birmingham Museum and Black Hole Club will be sharing their works across our various social media and websites (Twitter: @BM_AG, @blackholeclub Instagram: @birmingham_mag, @blackholeclub), both as works in progress and finished pieces, alongside interviews with the artists – so please do follow our accounts for more bizarre and brilliant takes on the museum's collections to brighten up locked-down days.
With a focus on creativity, support for artists, and celebrating the collection, Cut, Copy, Remix has been one of the most joyful projects I've worked on. I hope it makes people feel good about our city, makes people laugh and inspires people to look to the past and to their own creativity in these times. Personally, I think this is what museums are all about and I am incredibly grateful to all of the artists and everyone who has given their time to helping us continue to make this happen when we aren't able to open the doors.
I hope it won't be long until we can show the works on the gallery walls and be reunited with our favourite pieces of the past (see mine below), but for now let's stay safe, make art and keep looking for Cilla.
Emalee Beddoes-Davis, Curator of Modern and Contemporary Art, Birmingham Museums Trust