fri12nov(nov 12)7:00 pmsat13(nov 13)1:00 amDESOLATE SPOOLS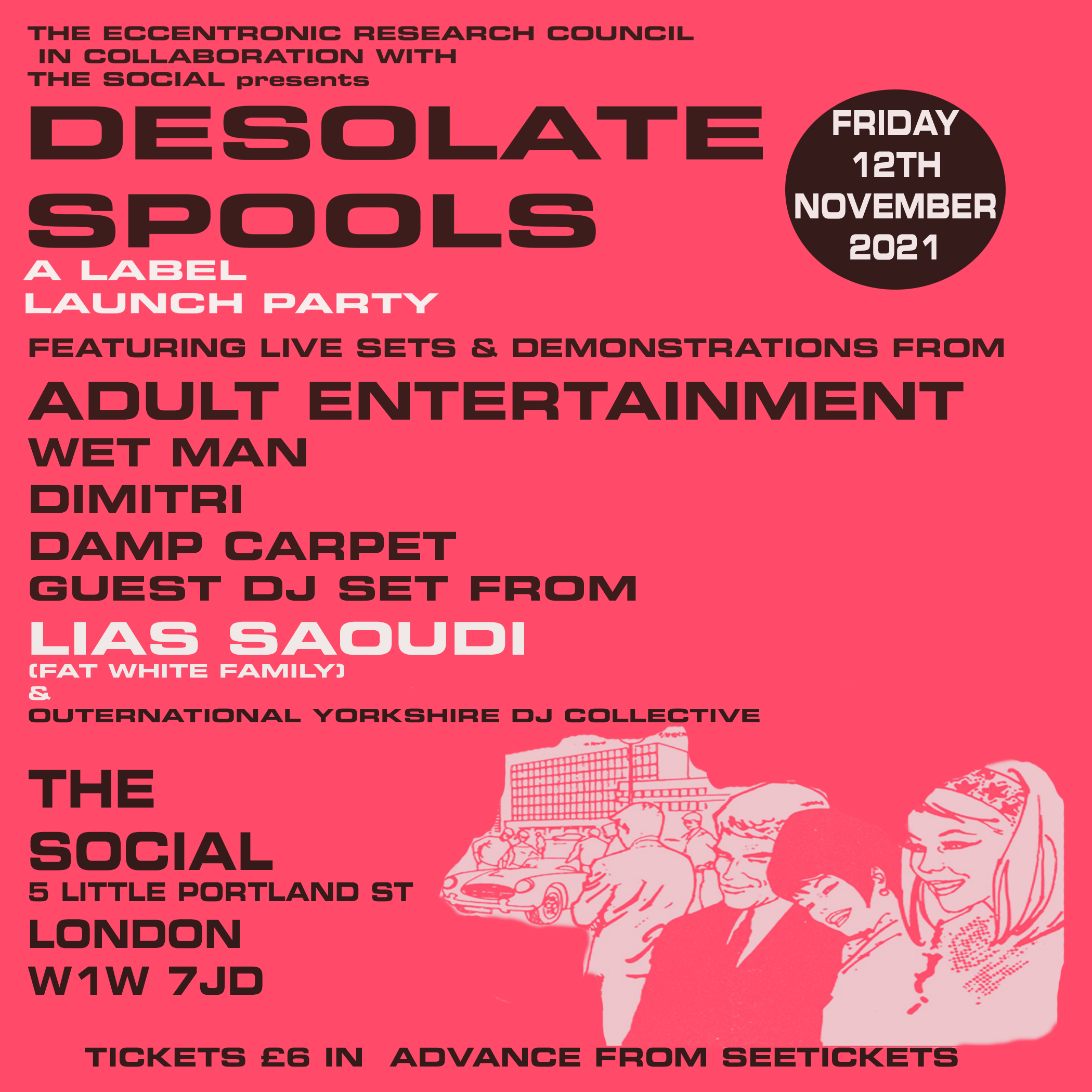 Event Details

Live: ADULT ENTERTAINMENT, WET MAN, DIMITRI, DAMP CARPET + SPECIAL GUEST DJ: LIAS SAOUDI (FAT WHITE FAMILY/THE MOONLANDINGZ)

Desolate Spools – is the DIY record label of critically acclaimed pioneering electronic art collective the ECCENTRONIC RESEARCH COUNCIL from where they have released bespoke limited edition records direct to fans.

Over the past few months ERC producers Dean Honer (all seeing I/I monster) & Adrian Flanagan (The Moonlandingz ) have invited a handful of new eccentric electronic pop artists to their analog lair in Sheffield to produce up some tracks for them – and to answer the question – where have all the Pop art eccentrics gone? This question will be answered in November when the collective will unveil their finds by releasing a compilation album featuring a whole host of ERC produced wayward troubadours & to celebrate its release they will be hosting some Desolate Spools showcase events featuring this great new artists.

Their first London party will be at The Social in the heart of Fitzrovia on Friday November 12th

Featuring new psychedelic acid house duo – ADULT ENTERTAINMENT who were described as 'if Twin Peaks had a late night acid house band playing in the black lodge – Adult Entertainment would be that band!'…

PLUS

WET MAN: Jack Clayton is Wet Man, a Sheffield born artist with Sheffield music history running like Henderson's relish through his blood (his dad played in post punk band Artery (A big influence on a young Jarvis Cocker) and who also had a short stint playing in the mighty Cabaret Voltaire). Wet Man merges jerky nervous energy with tales of science fiction, the stupidity of mankind via the gnarly sonics of Nag Nag Nag, Suicide and the Legendary lost, Fat Truckers .

DIMITRI: Is an enigma , a crooner, a lover, a philosopher and a East European man of no confirmed location. The original 'night time driver' will take you on a sonic journey of great electronic romance, then beat you at Chess before trying to sell you a nightclub in the township of Rotherham.

DAMP CARPET: Putting London on the eccentric electronic pop map we have desolate Spools resident eccentric – Micky Milky Graham. A man who lives on a boat off Canvey Island and a man so lyrically dour and melodically sweet you'll immediately want him to be your Mad Uncle. Musically he resides somewhere between a lo-fi electronic  Go Kart Mozart and Kilburn and the high road. Embrace Mad Uncle Micky.

PLUS SPECIAL GUEST 2 hour DJ set from the greatest frontman of our generation Mr LIAS SAOUDI (Fat white family/the Moonlandingz/Decius and soon to add the word 'Author' to his passport).

Also playing eccentric global sounds from the underground in between the live music will be the OUTERNATIONAL YORKSHIRE DJ COLLECTIVE.
Time

12 (Friday) 7:00 pm - 13 (Saturday) 1:00 am
Location

The Social

5 Little Portland Street