mon29nov7:00 pmmon11:00 pmOpen Pen Presents Awkward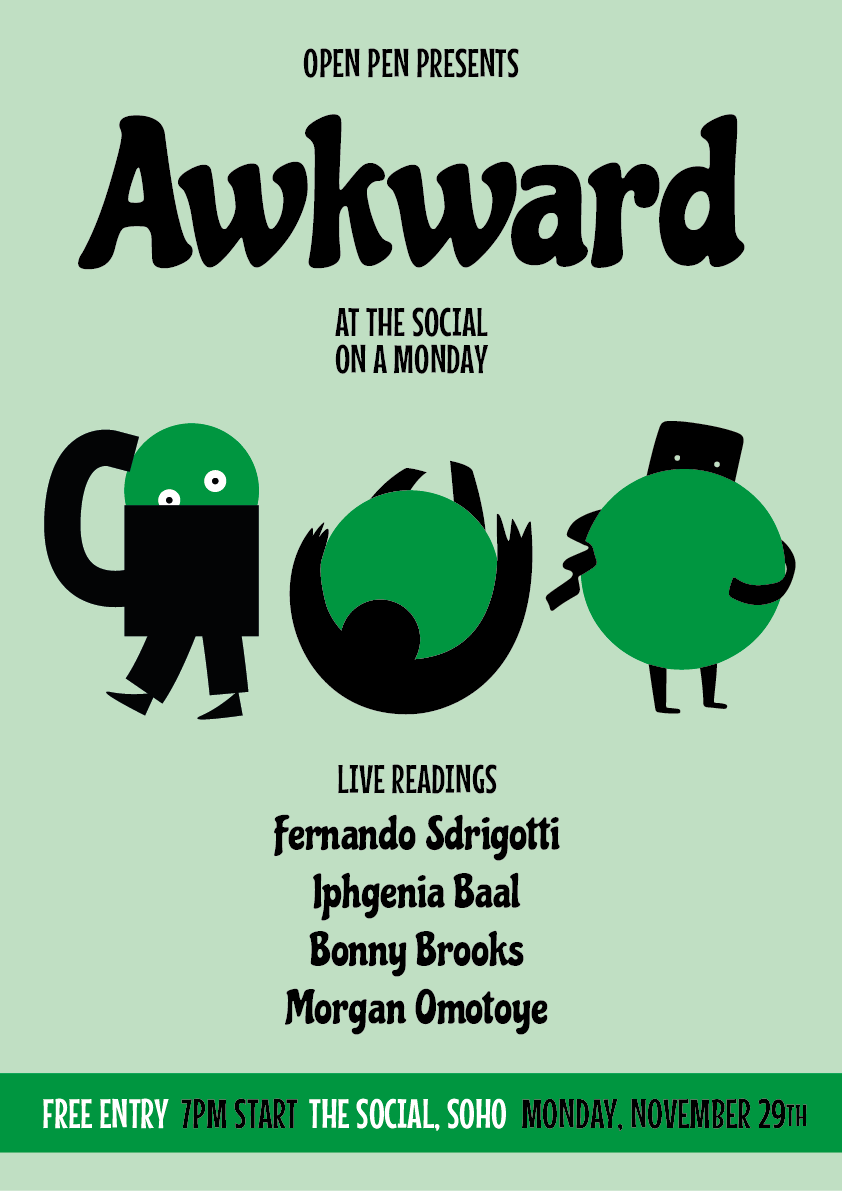 Event Details

Open Pen Presents Awkward, a new sorta-semi-regular fiction residency at The Social. Hear from new and established fiction writers from the Open Pen stable and beyond. Open Pen embraces the kinda weird, the is that publishable?, the downright odd, the downtrodden sods, and anything with a tongue firmly planted in its cheek. We are the best and bravest of new writing around. Come see us at our most awkward.

Iphgenia Baal is a writer who lives and works in London. She is the author of several fiction books, including The Hardy Tree (Trolley Books, 2011) and Death & Facebook (We Heard You Like Books, 2017), and Man Hating Psycho (Influx Press 2021).

Bonny Brooks is a fiction writer, journalist, and researcher. Her short fiction has been shortlisted for prizes like Fish and she has won Arts and Humanities Research Council Awards. She has appeared on the BBC World Service and her poetry has been broadcast on BBC Radio 4. Her journalism has appeared in The Independent, The Huffington Post and others, and her novelette Good Choices is out on Open Pen very soon.

Fernando Sdrigotti was born in Rosario, Argentina, in 1977. His fiction and critical writing has appeared widely online and in print, and has been translated into French, Italian, Turkish, Norwegian and Spanish. He is the author of Grey Tropic (Dostoevsky Wannabe), Jolts (Influx Press), and novelette Shitstorm (Open Pen).

Morgan Omotoye was a bright, happy go lucky sort of chap, fighting all manner of Monster 'n Ghosts 'n Zombies with his friends like there was no tomorrow. Glory days. Then the fiasco in Harrow, the loss of his cursed Samurai sword… ghouls… screaming… shadows, oh the shadows. Morgan writes now. His debut, Here Is Where, is now out with Open Pen.
Time

(Monday) 7:00 pm - 11:00 pm