sat06aug(aug 6)7:00 pmsun07(aug 7)1:00 amWonky Acid House Disco V.2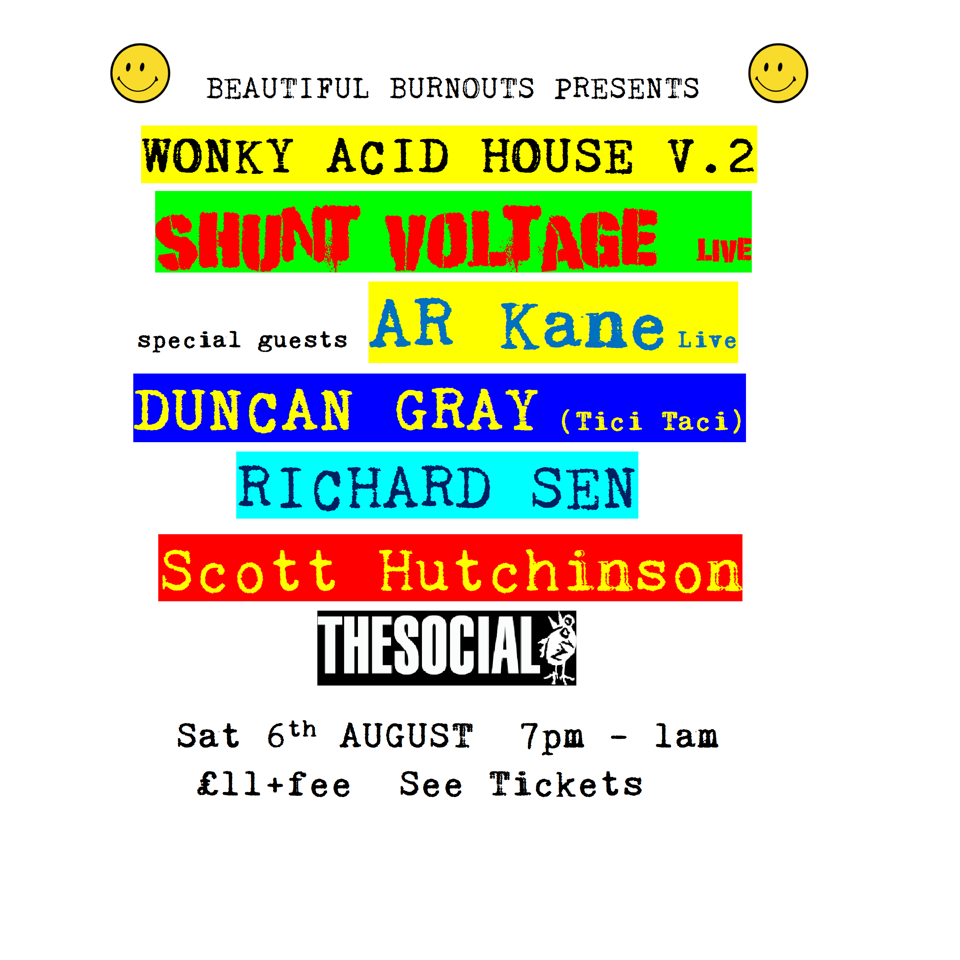 Event Details

AR Kane (live) what can we say about AR Kane that has not been said before? Critic Jason Ankeny described them as "arguably the most criminally under-recognized band of their era". They were an important progenitor of such musical developments as dream-pop, shoegazing, trip hop, ambient dub and post rock. The Guardian has called their work "some of the 80s' most extraordinary music". AR Kane have undoubtedly influenced My Bloody Valentine, and artists such as Slowdive, Seefeel, and Dubstar have cited them as an influence. Fact Magazine described them as "A cult dream-pop act".

Shunt Voltage (live) hail from the hinterland of northern Manchester where once goods for the world were manufactured. Now Shunt Voltage manufacture beats, a combination of grooves, textures, effects and samples jammed together against a backdrop of danceable industrial sounds. Tracks are mixed live on the fly resulting in something unique every time they play. (Live show).

Duncan Gray (DJ) label boss at Tici Taci, master of chugg and all things disco shaped. 'The label has soundtracked A Love From Outer Space and more' (Ransom Note).

Richard Sen (DJ) 'Sporadic, wild and free he has never been one to be tamed, placed in a box and told how to play. From his youthful days spent painting the mean streets of London through to his acid laden take on old school club music he has amassed a reputation as one of the best in Britain' (Ransom Note 2018).

Scott Hutchinson (DJ) chief echo button presser at Feed Your Head (Kane FM). On late Sunday mornings Scott can be found serving up a top-class menu of Wonky Acid beats with regular guest mix slots from some of the best on the scene.
Time

6 (Saturday) 7:00 pm - 7 (Sunday) 1:00 am