"Wow, it's just two corridors on top of each other".
Thats how I described The Social to a mate, the first time we stepped in. the year was 2007, Dan Le Sac Vs Scroobius Pip were tearing through radio and Myspace with their debut single, Thou Shalt Always Kill. Their biggest supporter, a DJ called John Kennedy off XFM (now Radio X) had asked them to play his night, and Scroobius had asked me to do a poem in his set. At that time, it was the smallest venue I'd been to, literally two run ways on top of each other, like two rectangular legos stuck on top of each other, the bar on the ground floor and the live space below. As it to make things a little trickier, the "dance floor" was divided in half, and the right side had rows on immoveable concrete benches. The toilet was behind the DJ booth, which was next to the sound guy, and the sound guy was this greyed-out, tall and lean fella with a voice I can confidently describe as 'Gnarly Snarky English'. Add low ceilings and low lights to the mix and let's just say the atmosphere is gonna get really cosy very fast.
Which is what you always want as an up and coming act, I reckon; I don't think it takes more than 70 people to pack the space out, so you get your mates to bring their mates and boom, sardine show. Not that Le Sac and Pip needed it: their debut single was such a runaway hit, I only got in because I was literally performing. Support came from an fairly unknown singer-songwriter called Adele. I had called her "Ade-le "when I first read her name. Really good set, I thought. Afterward, I tried to book her for my poetry night. She told me to contact her on myspace. later that week, I did, no response. Next thing I heard she was supporting Dan Le Sac and Pip on their US tour. She might go far, I thought.
As I performed my poem during Pip's set, my mind blanked out for a sec, I had forgotten my next line, and said "blah blah blah" out loud. Fellow performers and IT staff know this to be a "hard reset". It worked, I continued as if nothing was out of place. I got a big 'ol applause and pats on the back. No one had noticed, I told myself.
My then-girlfriend said "great poem. Did you forget your lines in the middle when you said blah blah blah?'
We broke up the next morning.
At the end of Pip's set, I went up to John Kennedy, who'd been hosting and DJing. I thanked him for the opportunity and we briefly jousted about new music. I told him about this band I'd discovered on iTunes called Metronomy. He nodded, and as I walked back to dance floor, You Could Easily Have Me, roared out the speakers. I shot a look back at him. He grinned, briefly, then duck back under the dj booth. he's been a mate ever since.
Months later, I would perform in the same venue, with Benin City. We had a drum kit, two saxophones and a trombone,  and that pretty much swallowed up the stage. My mic stand was plonked down in the dance floor. We must have had twenty people in the space total; not exactly a packed night, but fun nonetheless. The headline act was a band called Sound Of Rum, fronted by a spoken word artist called Excentral Tempest, then Kate Tempest, Then Kae Tempest. They'll go far, I thought. I was only half right.
Months later, I watched a swedish band I'd been light-stalking ever since I saw them at Latitude Festival, Wildbirds and Peacedrums. Imagine Dave Grohl going back on drums and making an percussion and voice only album with Bjork. The room? heaving, if you blinked too far sideways, you got an armpit in your face and an elbow in your ribs. Wildbirds And Peacedrums made relentless, shamanic experiences, at one point Marianna (the singer) was so absorbed with her performance she got tired of banging her floor drum and starting hitting her sticks on the speakers above her. I have bought every album they've ever made since.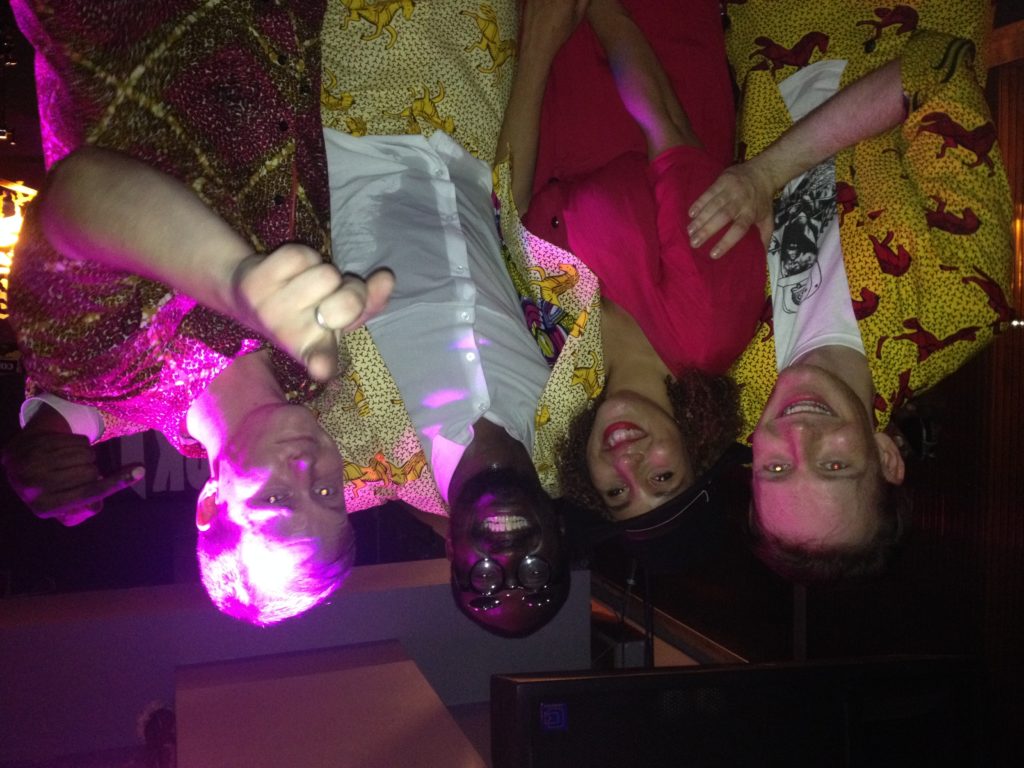 Years later, I'm performing with Hugh. We wanted to bring our best sound so we came with a drummer and our own mixing desk and sound guy. Unfortunately the mixing desk refused to go on just before our set, and we had to revert to the house desk, which wasn't prepared. It was not the best sounding set we've ever done to a room full of industry folk. Turned out our mixing desk had an internal power plug that'd been yanked out. Oh, well.
Years later, I'm performing with Benin City. We'd just done amazing show at All Points East, and the promoter invited us to headline their end of year Christmas party. We'd learned this new trick of performing our best song first to really hype the crowd, and it worked every time. And what a crowd. 2018, a year that includes SXSW, Great Escape, numerous other festivals, and a tour with Portugal. The Man, felt like the stars were finally, finally aligning. My Swedish date, who I was trying to impress at the time, said I was 'nice'. I was a thirty eight year old man, living the cliche. Anyway, our first child was born in July, and we're getting married next year.
2020, I had stuck two fingers up at London, at Brexit, at my shitty flatmates in Honor Oak Park, at my depression, at the utter lack of bicycle lanes, and left to Sweden. I got an email, from some fella named Carl. Blah blah blah, would you like to write an article for me, it's for an online site for the nightclub Social. Trying to keep themselves busy while the lockdown runs. Only til I read the bottom line – we'll pay you money – does my interest pique. Okay, I thought. Just the one. It is The Social, after all.
Joshua Idehen