We first met Steve and Kavus at Glastonbury in 2016 when they played to the biggest crowd we have ever seen at our tent (Stonebridge). It was quite the sight, inside and out. Actually as far as the eye could see pretty much. When they started, people really didn't have a clue what to expect. What followed was two hours of absolutely brilliant, strange and magnificent left-field bangers. I barely knew a record and loved every single one. Kavus led the dancing from stage; no one else that weekend matched their enthusiasm and energy behind the decks as they lashed out Squarepusher and Beefheart at teatime. It was fantastic.
Since then they've joined us at Festival No.6 and have played twice in the basement of The Social in Little Portland St, each time packing great records. A lovelier pair of people you could not wish to meet. We can't wait to welcome them back again next year, keep reading below for more on that. But before that, it gives us enormous pleasure to announce their forthcoming book. Over on Twitter, we're welcoming Steve and Kavus to celebrate the announcement at our afterwork drinks at 6pm tonight.
I think we all need good people and a healthy dose of Medical Grade Music in our lives right now. No need to look any further.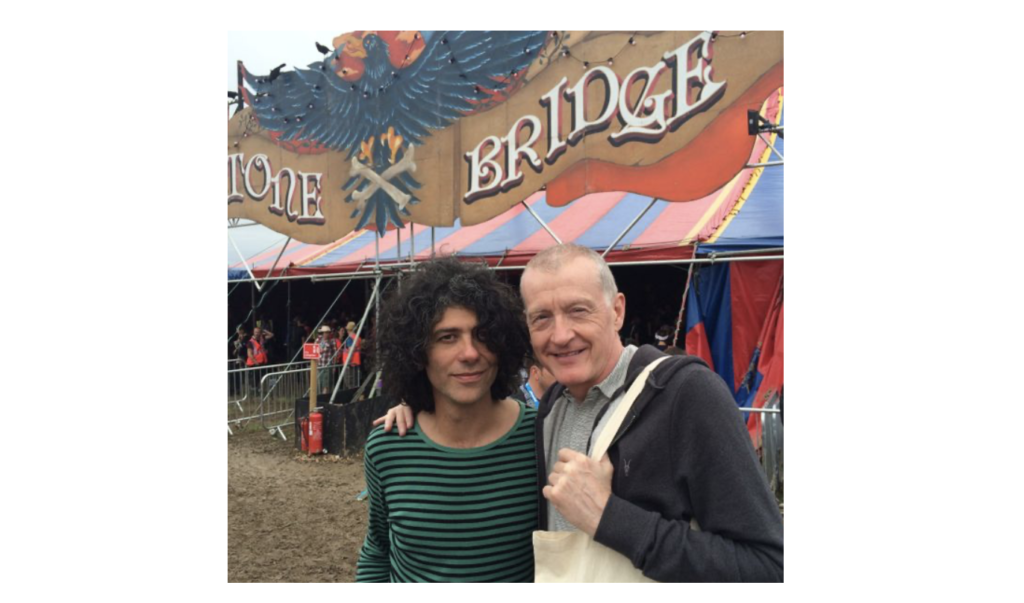 "Why Medical Grade Music? Because we feel the music we listen to and are now actually involved in making together is the good gear. You know, the stuff the shop keeper keeps under the counter that you have to ask for…". Steve Davis
Steve Davis first met Kavus Torabi – guitarist with Gong, Guapo, Cardiacs and Knifeworld – in the mid-2000's at a Paris gig by French underground rock legends Magma. Over the next decade and a half, this unlikely duo's shared affinity for visionary psychedelic music would become the foundation of not only a firm friendship, but also the most infectiously inclusive broadcasting style since the much mourned death of John Peel.
In their weekly radio shows (first for Essex community station Phoenix FM, then on a monthly basis for NTS under the Fire Shuffle banner) and one-of-a-kind live DJ roadshow, Steve and Kavus mapped out a musical landscape of rare enchantment, where the only passport needed was a pair of open ears. No-one, least of all Davis and Torabi themselves, was expecting the 6-time former World Snooker champion and a British-Iranian underground rock musician 15 years his junior to become one of the most trusted brands in British alternative music, and the improbability of this evangelistic alliance only magnifies the sense of surprise and delight which animated the resulting musical conversation.
"Steve and I have very similar tastes", Kavus explains, "and we have spent the time since first becoming friends turning each other onto the music we know the other will love. We aren't driven by fashion or perceived coolness, and although this is the music by which we define ourselves, we know it's not for everyone. When we DJ at clubs and festivals, we play music that, for the most part, no one has heard before, or ever expected to hear in that context, yet after almost every set we do we will meet one, two, sometimes even more freaks who will come up to us and say 'That was the best music I've ever heard'".
"It's a lovely feeling", adds Steve, "when you've brought people something they never knew existed that then becomes a big part of their lives".
It's this sense of friends letting each other in on a secret that can easily get lost amid the pretentiousness and elitism which all too often characterise upper echelon rock criticism. Steve and Kavus' approach is entirely free of such affectations, combining the infectious enthusiasm of the hardcore fan with the bottomless knowledge-base of the life-long practitioner.
Part of the challenge of translating this rare chemistry into print was how to do justice to two richly distinctive voices which are also one voice. To help them do this they enlisted the aid of award-winning music journalist and ghostwriter Ben Thompson.
As Steve and Kavus were starting to get to grips with that challenge, events took a further unexpected turn. Suddenly they found themselves in a band together. And not just any band … as two thirds of Britain's – if not the world's – leading harmonium, guitar and analogue synth power-trio, The Utopia Strong, the two friends found themselves plunging into a vortex of spontaneous compositional excitement. Nothing new in that for Torabi, but for Davis (erstwhile housewives' choice of the Pot Black epoch and one of Britain's leading light entertainment personalities) to establish himself as a respected presence on the wilder shores of improvised electronic music is the most improbable and heartening act of celebrity self-reinvention since former Man Utd and England midfielder Paul Ince became a professor of post-structuralist philosophy.
How Steve and Kavus pulled this off is just one of the many stories Medical Grade Music will tell. Part sonic memoir, part Socratic dialogue, part gonzo mission to the heart of what makes music truly psychedelic (in the original Greek sense – psyche/delios, meaning "mind-revealing"), this book is the first work of joint autobiography to ever trace the evolution of a life-changing friendship through the discographies of Gentle Giant and Voivod. From the chip-shops of Plumstead to the wildest shores of the Plymouth thrash underground, it's a funny and fearless buddy movie of the soul, with a soundtrack that will make your eyes bleed.
Steve Davis and Kavus Torabi with the assistance of Ben Thompson
Preorder Medical Grade Music here
Limited edition signed copies are available and also the first 50 books come with two free places to a launch party in April (all being well) here at the Social!