Between February and August this year, I listened to all Andrew Weatherall's Music's Not For Everyone shows broadcast on NTS Radio between 2014 and 2020. Seventy-three shows, from which emerged five playlists and thirty hours of music. My self-appointed task, originally embarked upon as an expression of grief, was done. But then I found it wasn't. Bereft again, I returned to the beginning like an addict terrified of her last fix. Why not a playlist of the playlists: thirty hours whittled down to five and a half to reflect the five and a half years Andrew played the shows.
Recently, tired of the familiar topography where I live westwards, I decided to go east and take a walk from Shoreditch to Gillett Square in Dalston, a pilgrim journey to the home of NTS Radio. I set out circling Arnold Circus, the focal point of the Boundary Estate, one of Europe's earliest social housing projects. The three-tiered circus with bandstand atop feels like a sacred, ancient place, perhaps one where lay lines meet, though the truth is it was built from the rubble of the slums demolished to make way for the new estate. The slum residents, moved to temporary residences while the estate was built, were not invited back in – it's a familiar story. Then I turn north up Hoxton Street, past graffitied buildings and shuttered shops to the far end where, glancing back, I can see the sun-gleamed skyscrapers of the City, all the more incongruous in their apparent inertia. A right at the canal takes me along the towpath and under bridges which the street artists have emblazoned with creatures from yet other worlds.
Back up on the street, I avoid Kingsland Road with its bus lanes and traffic until the last minute and then turn left onto Gillett Square, originally constructed on the site of an old carpark and opened in 2006 as a new public space. At the far end is Vortex, a club I recognise from a night already long-lived when a friend and I stumbled on a wild scene with two deejays reggae toasting. I should be missing the happenstance of a night like that more than I am, perhaps this is some kind of survivalist amnesia, or they're putting a brain version of bromide in the water. Down the left-hand side of the square are metal hoardings behind which are remnants of the old NTS shack, iconic for the many photographs of famous DJs standing behind its stickered hatch. It was bulldozed only a few weeks ago. Meanwhile, whatever the plan might be for future regeneration, the skateboarders are back, the weed and the crack are back. If you take a seat, a conversation will start. A dapper old man in a grey three-piece suit and matching fedora approaches me with a brown paper bag out of which he gently pulls a bottle of rum. He asks me to open it for him. Behind us, a black shipping container, the temporary home of NTS – it looks across the square at its former site, but once they are moved out, will they be let back in?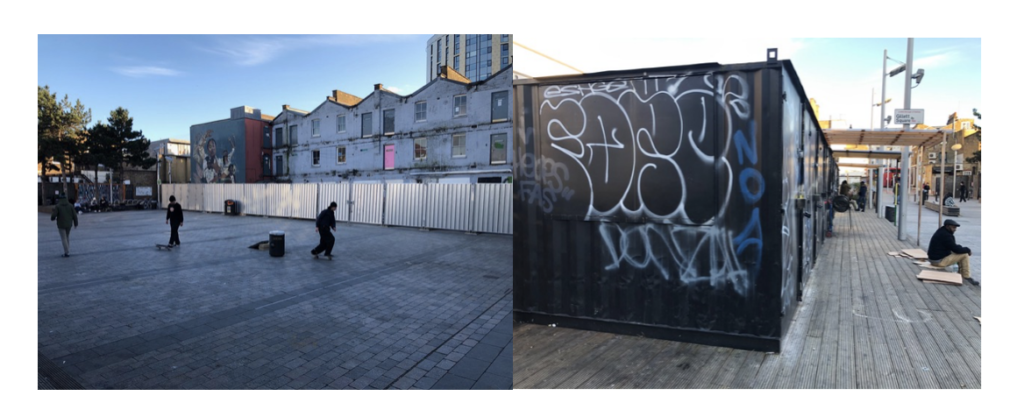 The default name of this playlist of the playlists finalised on my walk to Gillett Square to pay homage to both a man and a shack no longer around, is that of the first track, Mentally Naked. It's too good to replace. No better way to undress the mind than to launch into these sounds broadcast out of a recently departed booth in Dalston.
Throughout my MNFE explorations, I've speculated about how different the playlist selections would end up in other hands: where curation meets a body of work there will be randomness, also uniqueness. How I would like to find someone else on the planet who has spent as much time this year with this music as I have and hear what they have come up with. But where there is chance there is also order: the tracks remain in the (reverse) sequence Andrew played them on the shows, which throws up new juxtapositions. Here, Jon Hopkins' crescendo sound in Light Through the Veins is followed by the gentle meandering of Hampshire & Foat's Galaxies Like Grains of Sand; More Ghost Than Man's hypnotic Everything Impossible is Far Away is wrenched away by the insistent beat of Negative Lovers' Faster Lover (Jags Kooner Dub), which makes the classic Weatherall move of truly revealing itself only in the last minute.
A few artists turn up more than once: Vox LoW with Now We Ready to Spend and The Hunt, their intense energy makes me dance; Moon Duo with The Death Set and Ice, which is interesting as they were cast aside a few times and always found their way back in, old-school rock beats overlaid with psychedelic instrumentals made them irresistible in the end. The Young Fathers with two very different offerings: Shame, and I Heard which closes the playlist like the slow dance at the end of a disco. And Lee "Scratch" Perry. Might Andrew have borrowed the manic trills in Perry's Noah's Ark for the frenzied insect riff in his remix of Eyes of Others' I See You in the Shrubs?
And the exclusions. Why wouldn't I keep the Weatherall remix of New Order's Restless, when that's the band that really got me into music? Nostalgia and bias are left at the door, it all hangs on which tracks sustain themselves, often over seven, eight, or even ten minutes, like the dub remix of Noel Gallagher's It's a Beautiful World. A song I keep returning to is Hollie Cook's Ari Up, its English folk roots vocals backed by a dub beat, which says as much about Andrew's taste as the deep-dive dance tracks Jackwasfaster's Massolit, Neil Diablo's Colorado or Vridian's Knowobot. There's a lot in these five and half hours to think about.
Maybe this is the end of the road for the Music's Not For Everyone's playlists. We'll see – there's another idea germinating: is it possible to capture the essence of MNFE with one quintessential track?
I'll be back to you.
Catherine Eccles November 2020