There's a Sleaford Mods song called Elocution on which Jason Williamson announces, in the kind of mock-posh voice the hard kids at school used to put on when they were about to duff in a Walter The Softy type: "I'm secretly hoping that by agreeing to talk about independent venues, I will then be in a position to move away from playing independent venues."
The secret of the Windmill's success, if success is what survival against all odds can be called, is that this scruffy, welcoming, flat-roofed council estate pub at the top of Brixton Hill has always managed to stop the kind of careerist types Williamson is mocking at the door.
For almost three decades, the Windmill has operated as an unofficial 'care in the community' centre for otherwise unemployable people who are for the most part incapable of co-existing peacefully within herdlike humanity. Presided over by a taciturn Irishman called Seamus McCausland and a series of scary dogs on the roof—Ben the Rottweiler's mid-noughties reign is the most celebrated—the Windmill has seen plenty of artists who have gone on to big things, but few who could ever really be described as conventional or well adjusted.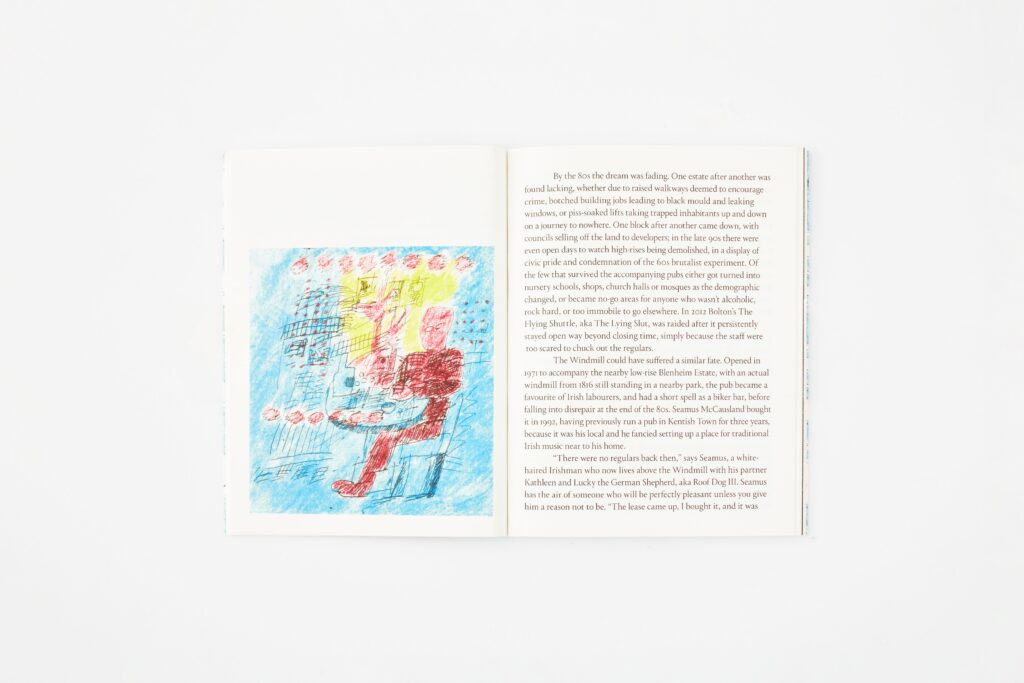 Much of this is down to Tim Perry, a former music journalist who for almost two decades has been booking acts according to a set of rules that exist within the byzantine workings of his own troubled mind. In the noughties the bleakly funny country/punk/rockabilly band the Country Teasers were always welcome, however sparsely attended their shows. The kind of landfill indie band who would guarantee a sell-out before going on to great things were not. Fat White Family have been regulars since 2011. Daniel Johnston played there in 2007. Mica Levi, who went on to soundtrack Under The Skin, practically grew up in the place. These are people who are far better at art than they are at life, in particular a professional one.
"It's simple, really," says Tim Perry on the Windmill's booking policy. "I don't want bands who come with the baggage of a big manager and a record label, who are only using the Windmill as a stepping stone. It's the difference between people like Black Midi and Black Country, New Road, who will get involved with the place and make friends and exchange ideas, and the kind of band who start handing out free CDs the minute they finish their set. We like people who will hang around and get involved, rather than the kind who just think about their Spotify stats or some such shit."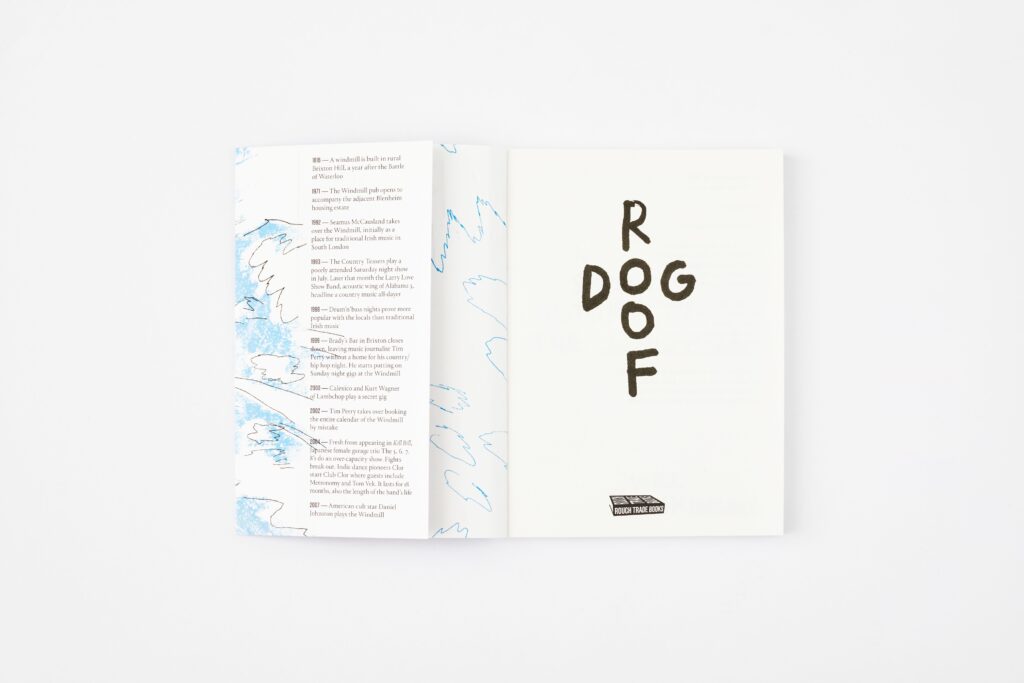 All of this made the Windmill rich material to capture in words, which is where Roof Dog comes in. Back in the summer of 2019, I was talking with a friend about putting on a Brixton Windmill showcase at South By Southwest in Austin. The plan was to take a few of the Windmill's current crop… Sorry, PVA and Black Country, New Road among others, out to Texas in March 2020, as an unusually dishevelled version of a cultural exchange programme. Nina Hervé of Rough Trade Books heard about the showcase and suggested writing something to accompany it. Aided by the drawing skills of my son Otto, a Windmill regular then in the last year of secondary school, the plan was to do an illustrated book on the Windmill to accompany the SXSW jaunt, which we would then come back from in a blaze of glory with a launch at the pub itself. We all know what happened next.
Nonetheless, Roof Dog came out and the Windmill, at the time of writing, is still with us. And its chaotic, no-frills, non-corporate reality has worked in its favour. Last year, when very few venues opened at all, the Windmill put on gigs before 30 or so people, giving kids who would previously have been delighted to get a booking at the bottom of the bill a chance to headline the place: Sam Akpro and Josef Kurtz are two young, strange, inspiring artists I saw there during the altered state of summer 2020. It was a glimpse of hope, and it was possible because the Windmill operates so much on its own terms.
Now, like every other independent venue in Britain, the Windmill is hobbling along at best. A combination of local grants, live streams and fundraising events is keeping it alive, and if we can keep on supporting it for just a few months we should be out the other side and back into its malodorous underground world once more. After all, it is our civic duty to do so. There is a whole community of maladjusted people out there who depend on the place.
Will Hodgkinson
Illustrations by Otto Hodgkinson
Roof Dog: A Short History of The Windmill by Will Hodgkinson is out now on Rough Trade Books