Me and Robin were chatting the other morning about how the festival this year has been stolen from us. We've done fallow years before but I don't remember them feeling like this. No doubt the sense of loss is definitely magnified by every fucker having been stuck inside for three months not seeing anyone. And also by the fact that this would have been the big one: 50 years of the best festival on earth.
And that's no exaggeration. There isn't another event that compares. The sheer madness of scale. It really seems like an impossible thing. Sometimes I find myself thinking very early in the mornings when I try to sleep for an hour or so that I can feel the whole bloody thing moving. Or maybe it too is settling down for a couple of hours rest about 6.30am. Closing its eyes. Maybe that's down to those phantom basslines which seem to emanate from somewhere at all hours, even though everywhere's closed. In a state of semi or heightened consciousness, I once plugged into one of them through my thoughts, laid out on the mattress in the caravan. For 30 seconds or so, I succumbed and became part of the festival itself. Then I needed a piss of course so had to get my wellies back on and head back to the toilets.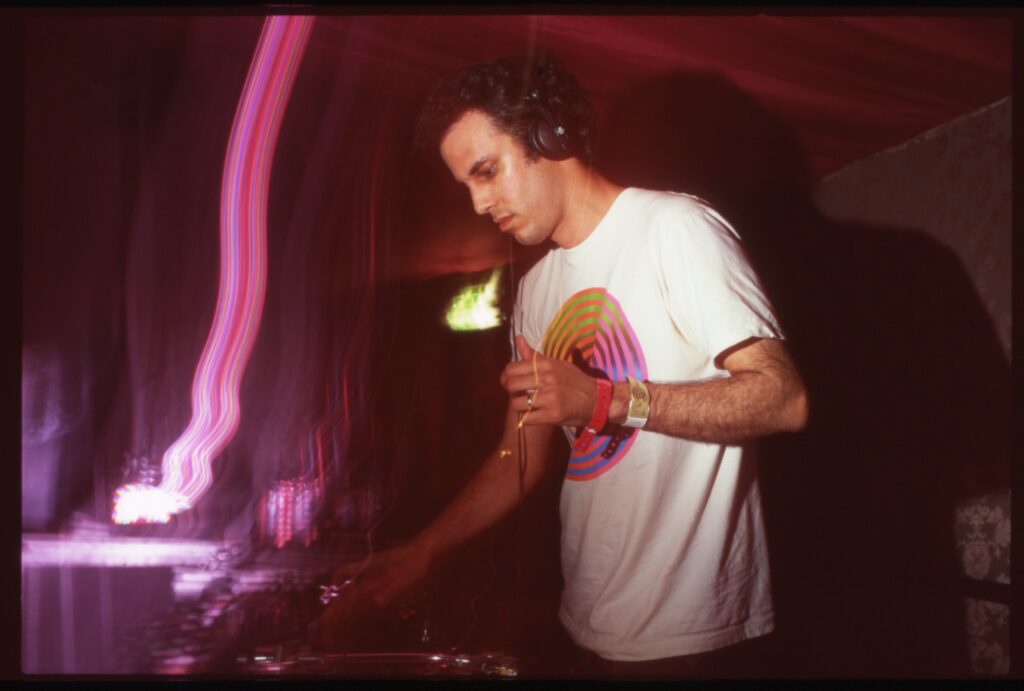 Stonebridge started life in the same big red and blue tent it took place in last time out in 2019. It's a pub with a stage thrown in the corner and big set of speakers. The Social were asked to programme DJs in there when the Park began. The first couple of years was very much friends and family, all the people we love came and played records and us lot headlined the Sunday night. The backstage area was a patch of grass and 4 slabs of Red Stripe. Musically we wanted SB (it's been affectionately initialised) to be a dance tent with difference. We always asked people to pitch it left, bang out the rave gear but don't forget to turn left again and again. Basically going round in circles like a mad excited dog. Four Tet coming on board from the first year was a huge influence on the stage. His first set was on a Friday lunchtime (his and his friend/agent Tom Baker's idea) and that set the tone. We can put anyone on whenever we like can't we? Great. His first late night headline set a year later was also part of the blueprint. Watching him lay down garage and jungle alongside mad Krautrock and Afrobeat jams and fucked up jazz but it never not being anything other than a total brilliant rude boy carve up. Well that blew my mind. That's not to say that everything is now like that, KH (also fondly initialised) is unique, but the line ups are a proper broad church. Jarvis Cocker and Optimo, J Hus and Steve Davis, Joy Orbison and Fatboy Slim, Fabio and Grooverider, Superhans and the Black Madonna, Annie Mac and Mark Ronson, Moxie and Vynehall, always and forever Hip Hop Karaoke and Baggy Mondays, Greg Wilson and Bradley Zero (I'm not sure how many of these people actually shared a bill, but they could well have done, very easily), Erol Alkan and Madam X, Julio Bashmore and Shanti Celeste, Suggs and Rudimental, Randall and CC Disco, Jackmaster and Floating Points, Toddla T and Kevin Rowland, Fleetmac Wood and The Heatwave, Stefflon Don and Steamdown, Ben UFO and Denis Sulta, DJ Die, Inja and all the lovely Gutterfunk crew, Irvine Welsh and Protoje, DJ Pierre and Kurupt FM, Craig David and Hot Chip . . and all of the other really nice people who came to play records and hang out with us every year. This ain't the quarter of them.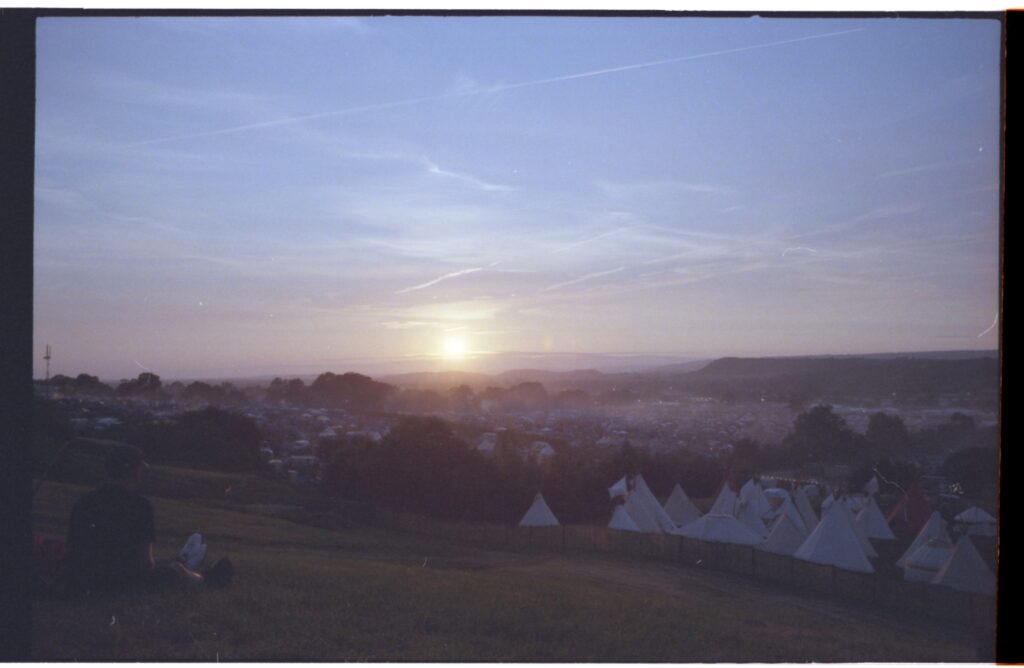 When the festival was still on the horizon back in March, lots of this year's Stonebridge line up was already locked in. That was very early for us! In truth we probably leave it later than most stages to sort our final bill, things start to take shape as we find out about people being on site playing bigger tents. I like to leave it in the lap of the gods slightly. We start to get word out and chat to people about doing takeovers, or daytime sets, secret bits and bobs or back to backs. I like doing blocks where we list all the DJs for 6 hours but no set times so people have to just come and see what happens, and often we aren't exactly sure ourselves. We have to work with DJs who are into it, it is a favour when they play for us, there are no proper fees involved, but SB now has a rep for being a no nonsense all day dance tent – low production, heavy vibes.  This year's line up was already shaping up to be a big one for us in our blue and red tent. (Actually rumour has it our usual stripes were going to be replaced for something darker and bigger in 2020. Never quite know what will be what though until we pull up on the Monday evening and stroll over the brow of the hill, out of backstage Park onto the dusty (hopefully) road and see the tent appear. So we'll never know on that). But we'll be back better than ever next time out. Tonight, we'd have been gearing up for a heavy Saturday night session with Special Request. I'm really happy that we can share the brilliant Sherelle mix with you today (on BBC Sounds), she would have been on after midnight with Paul and would have smashed it to pieces. I would have turned round a spare monitor so people backstage right get the full force of the sound. I'd have made SG, Caroline and everyone come in to watch from the caravan, proper big smile on my face, it would have been one of the moments where I tell everyone how much I love this and love them, this is wicked, I love this record, I love this vibe. Punters would all be a mixture of jumping gun fingers and arms over the barrier coming up.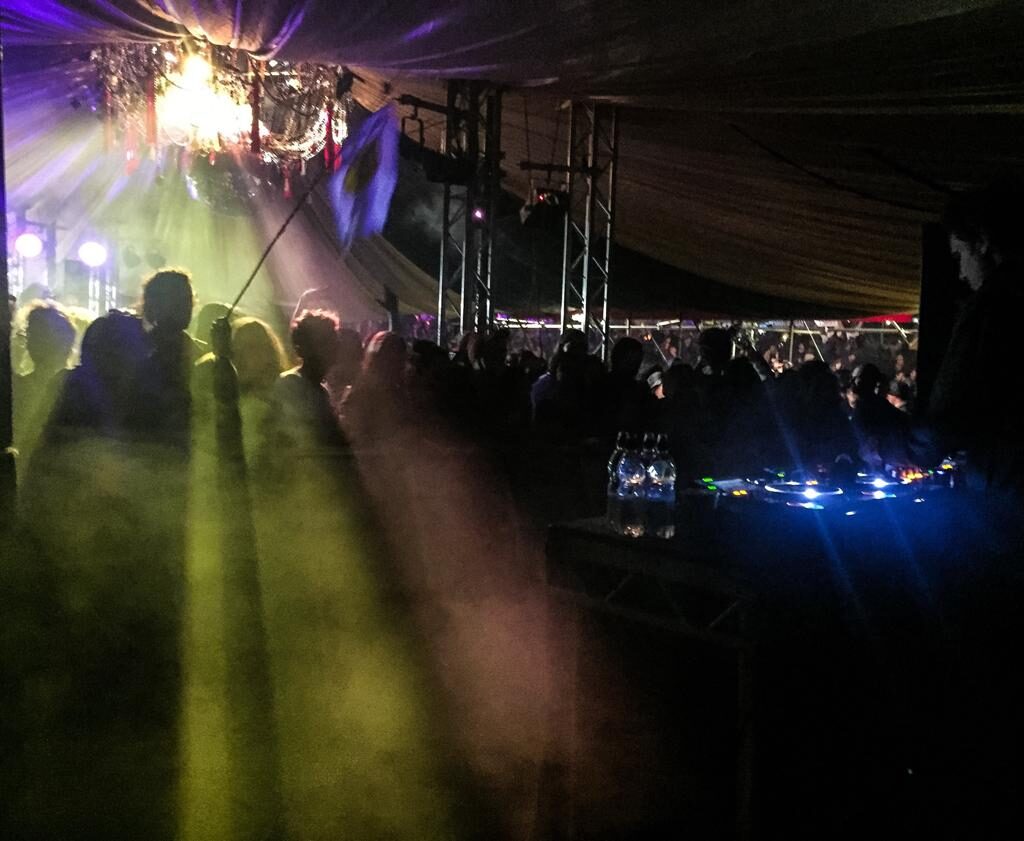 My body is breathing a sigh of relief. Each festival knocks about eight months off my life I suspect. Last year's heatwave was brutal in parts and these last two days would have been pretty mad behind the tent. I don't get to sleep that week, maybe just into double figures from Wednesday through to Monday. I eat a lot, God knows how many calories a day in sweets, double meal times, beer and crisps. I am asked on average 2400 questions a day – the most popular of which are, 'Can I have a wristband for my friend' and 'Can I grab a beer' (always 'grab'). Set times, safety concerns, fire stewards, bar leakages, scrim, sharpies, faulty decks, artist ETAs, orange carpark, the red carpark, hang on where's my mobile (20 times a day), security concerns, revised set times, gates, new needles, beer run, food runs, batteries, mics and Park Stage trips. It can be exhausting, not just for me of course but the whole SB crew (I love you all). But we're putting on a show, on that little stage in the blue and red tent, there are DJs and MCs coming through and playing because I asked them to and its not cool to be tired. Good vibes always, and cold beer, never run out of either or you're fucked. The artists have got from one side of the site to the other almost always totally on time and with no aggro and they play wicked records off a little USB that hold 1000s. It's madness really. On occasion – every hour or so – we stand there and get to soak up that energy, see the people in the crowd absolutely loving it with their mates and it does make total sense again. And then someone needs a wristband, or a beer.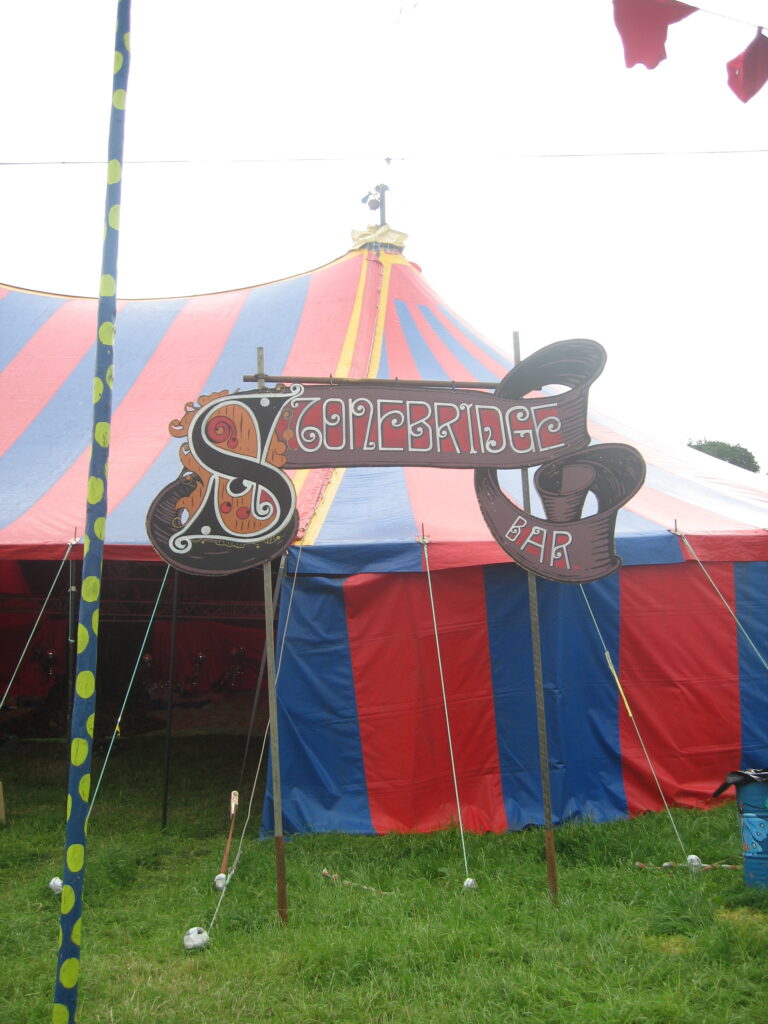 Late at night, once it's cooler the backstage bit clears a little and it becomes ours again. That's my favourite bit. All the DJs are here, or we've seen them and they know us and we know them. I like to stand on the corner of the stage then, up on the same level as the DJs and see the simple smoke and lights over the heads in the tent. Watch whole sets. Rarely dance, head down nodding, becoming fully focussed on that bit of the stage. Make sure the DJ knows I'm there so I can sort anything for them. I think at the point I am happiest.
We're incredibly lucky to have our own tent in that field and to be able to put on whatever we want for 4 days and nights is an honour, pleasure and responsibility. That is our festival. There is no Pyramid Stage, no Other, no anything but SB. We have our own pub backstage, a caravan/office, Rachel and magnificent bar team, some bogs and some seats. You can see the top of the Park Stage and lights and sounds from all over site and the whole thing is a mindmelt isn't it? I miss it very much tonight, sat sweating whilst writing this and I suspect I'll probably struggle to get to sleep again. I can hear that phantom bassline somewhere in the distance, a generator hum. I think I'll just shut my eyes for a couple of hours and try to rest at least.
Carl Gosling
Thank you to everyone involved in making Stonebridge happen, all the SB crew family, sound, Boxpub, security, bar, fire stewards and bigger Park and Glastonbury family Xx
Big thank you to Zane Cunningham for these photos from the early years