"I have come to rescue all of the disappeared, to reunite all true loves, to turn history to dust." – Frater Jim, Monument Maker.

I started writing Monument Maker in 2008 (back when it was called The Tomb of the Song) but stopped after a year as I felt myself descending into the book like an abyss. I didn't know what it was about, but I felt like I had raised the dead. The (obvious) toll it was taking on me made my wife suggest that I put it to one side. But I couldn't let it go. A year later I approached it again, crab-like, this time, working in short bursts, and getting out quick. In this way I was able to spend the next eight years writing Monument Maker while not really understanding why, other than I felt impelled to bring it into existence, almost against my will, like some kind of debt was being repaid, or something was being redeemed, more properly.

It's only now, the day after I completed Monument Maker's final appendix, Cathedral of All Summers, that I am struck by what it is that I have done, and the nature of my task. I have come to rescue all of the disappeared, to reunite all true loves, to turn history to dust.

My great aunt's husband, William Ferguson, was one of the disappeared. He went down in a boat that was bombed by the Nazis during the evacuation of Athens in 1941. My great uncle was shot down by the Nazis in a fighter plane and was so horribly disfigured that it terrified me to visit him at his home in Holytown. The only one of the boys who came back in one piece was my grandfather, Joseph, only to lose his young wife to kidney failure at the age of 32, and so he set off, again, across Europe, back to Germany, to witness the 24-hour Passion play at Oberammergau. I have long dreamed of doing this myself. I have been haunted by these men.

My great aunt (who we called gran) held onto the belief that William was still alive somewhere in Europe but had lost his memory. He lived in all of our dreams. If he made an appearance, we would have to relate every detail, in order that we could work out the precise significance. In the 1980s we holidayed in Crete and my gran, who couldn't go with us, asked us if we could try to find a memorial to William that she had heard might be there. We promised to find it and photograph it for her. But we couldn't find it. We spent hours driving around with this taxi driver who barely had any English and who kept taking us to marinas instead of monuments. Then we just gave up. When we told my gran that we had been unable to find a memorial for him, I could tell what she was thinking. There is no memorial because he is still alive.

And now I realise what I have attempted to do, with Monument Maker. I have crossed Europe in the footsteps of the men of my family, travelling from Calderbank, in Scotland, through France and Germany and on, to Crete and finally to Athens, where I have come to rescue all of the disappeared. I think of Frater Jim, one of the main characters in the book, who returns to Calderbank, and to his wife, in secret, for he has been gifted a new face, and he marries her all over again, without ever letting her know that her own true love has returned, and is once more in her arms. I have come to build a monument to all of the sweethearts separated in time, and to the cruelties that tore them apart, and to the summers they once loved in. I have laid William Ferguson, finally, to rest, here, and I have written this book that I might call myself Monument Maker.
David Keenan, Glasgow, January 2021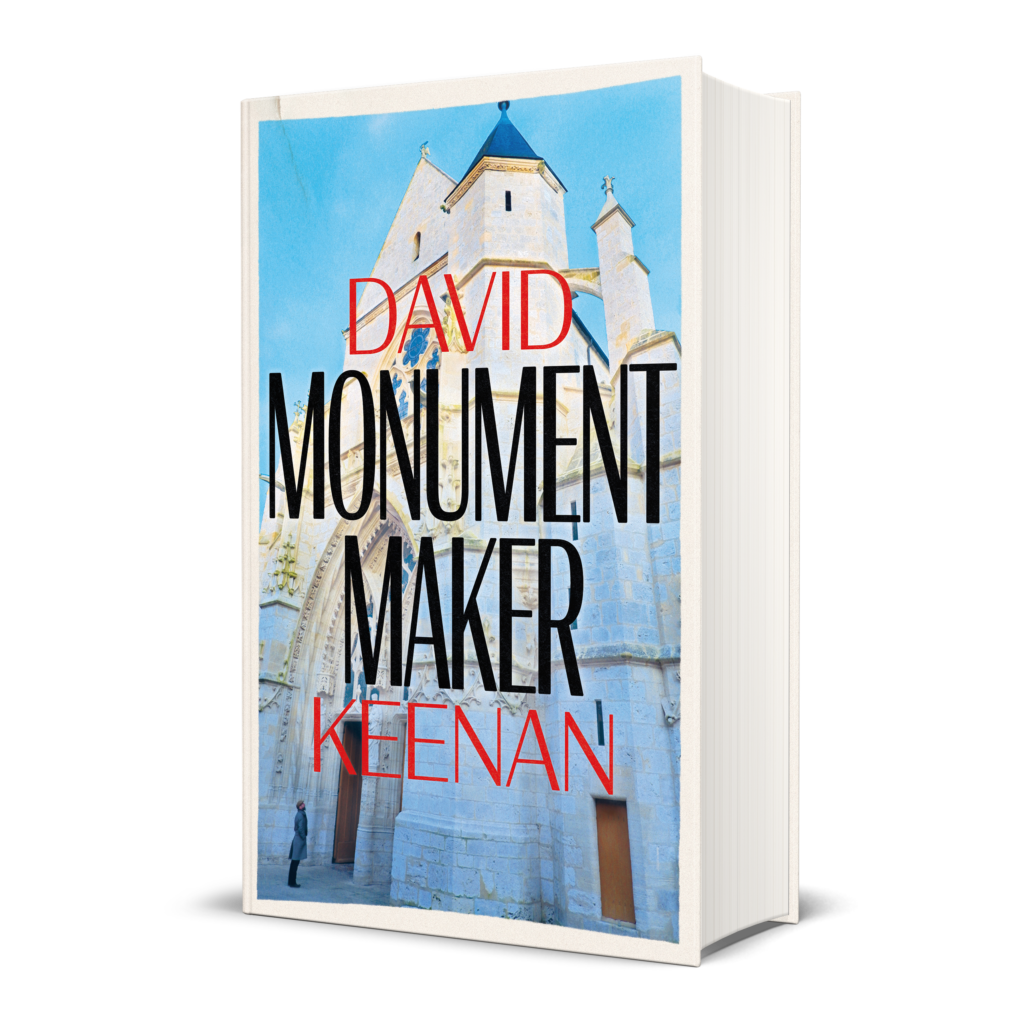 The first 500 readers to pre-order the signed special edition of MONUMENT MAKER will receive an exclusive chapbook containing FULL LENGTH MIRROR, a facsimile edition of the book within the book. Full details here. Selected retailers only.