Introducing our second piece from writer Patrick Ofosu. Going by the name Epytion he describes himself as 'a learner expressing thoughts and feelings in words through poetry, monologues and short stories'. In this piece we find ourselves in another place, perhaps at some point in the future, the offices appear to be back in full flow again, transport still iffy but some good vibes have returned, thank god. Once again artwork supplied by Mella Dee – been loving his recent work so much and we're super happy to host this collaboration here on The Social Gathering.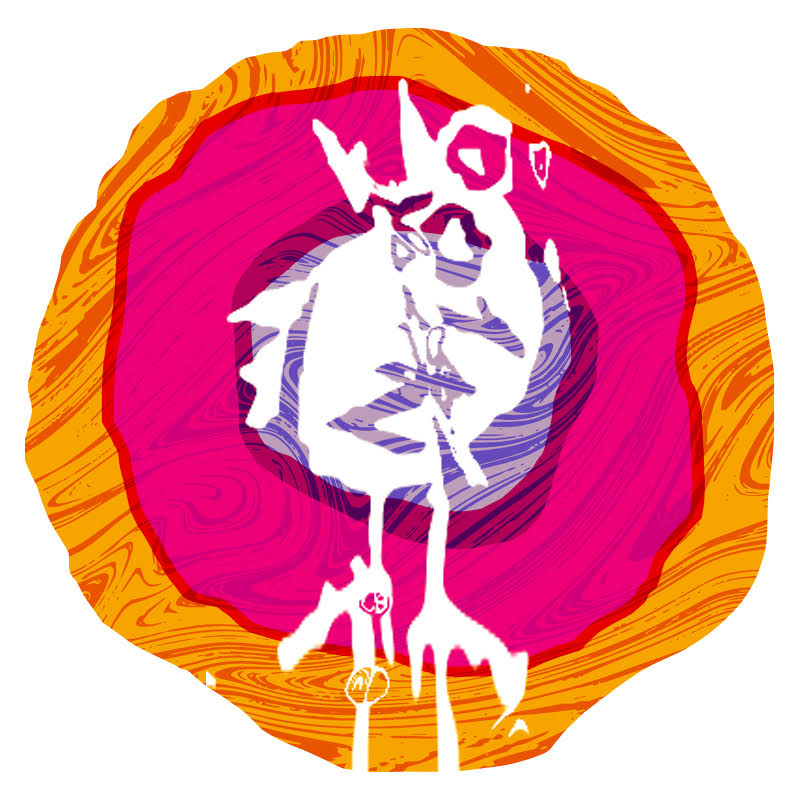 On a thunderous windy day, the sun was beat. The sweltering heat from the whipping blades of the ceiling fan's speed. A hot breeze forgoing the cooling tease. Outside the flat, the forecast read forty degrees. Inside the flat, the thermostat read forty five degrees. A supposed environmental discomfort.
Lingering goosebumpy stress due to a pending panel interview in two hours. Stress, just like unidays late preparations were to blame. This was for a shapeshifting opportunity of work and play, earning moolah whilst at the game. Sheesh! No pressure to bring him to his knees then.
Zigi braved the anxiety building a tidal wave. He stood still, deep breaths using the Wim Hof method. An instant natural release, scaring away the near dependency of pills.
He braced the buses, the only functional form of transport running. Engineering works on the cable cars were afoot and the midground train stations in Sustet, were miles away. His contingency time was peak.
Zigi arrived at Basmiak Hall in Silikan Bay ahead of time. Thirty minutes to be exact, to calm his tingling nerves, prior to any character assassination.
He introduced himself to Maki, the receptionist. Post formalities, Zigi was welcomely told by Maki to take a seat, offering him a glass of SuperMalt. The Kayiko (remember) stool drew him, a symbolic piece of the Nanum people.
Maki gestured, uttering a few words to Seukye the Parakeet, to deliver a message to Ms. Onusska on the twenty fifth floor. Akobaen was an international firm. Educating and supporting all peoples for a more egalitarian society. This was their mission and barter, earning moolah was the firm's side effect vision. Ms. Onusska was one of the many employee partners.
Seukye flew light speed to Maki with a response. Maki liaised with Zigi after some Alikoto (a game with shells) and footie banter. When Zigi is ready, he can go and punch a specific hieroglyphic symbol to open sesame into the pod lift.
A welcoming female voice on entry, a four minute ride to the top. Closing shut, hang on, there's a soundtrack? Stories were rife with jukebox pod lifts, to actually experience it, was an uncanny adventure.
The crackly sound as if a vinyl needle had touched the wax of a record, Deep End by Benji Flow played. Man like Zigi should be on his interview mindset, ting. He was rather on his Azonto ting, and swing. Skanking like no one was watching.
Time passess, open sesame out from the pod lift and into the office space where humans, animals and plants were inhabitants. The cheek too, Zigi was still in the zone, dancing, but abruptly stopped, after reading the room.
Zigi was met by Ms. Onusska. She introduced herself with a smile. "Please to meet you, Mr. Zigi Samuza."
That smile, mmm, that sends a certain mandem giddy inside. It was not the time but a sudden rush of infatuation engulfed him.
Zigi replied to her, erm! "Please to meet you, Ms. Onusska Zuleya."
They headed to the open plan floor boardroom, overlooking the gigantic Cliactic Auzon park. As they walked across, Feelings by Patoranking sounded from the speakers, the Mexican wave of dance swept the floor.
Ms. Onusska salsaed, Zigi out of place, two stepped, asking her hand. Ms. Onusska and Zigi pulled in closer. Intimate moves, coupling smooth.
A career turning interview with awaiting panelists, should be the go to. Nope! The panelists were also in, on the floor party.
This was Akobaen culture not heard and seen on any job specification. The energy of play matches the energy of work. Hand in hand, the wing to span.
Regarding the interview, what?
To be on this frequency is to be in it already. Life's direction is at times never linear. Curveballs, universal responses may come in a maze.
Patrick Ofosu
Artwork: Mella Dee