In my first piece for this esteemed publication, I ended by posing a question: can the Netherlands really survive and prosper with closed borders and a relatively inactive Schiphol?
This question is of direct relevance to the European and trans-continental music industry as it was pre COVID. Things don't look that rosy for the established music business here. I predict that the live circuit in the Netherlands is going to take a pasting over the coming 18 months. To take just one instance to show how dependent things were on this international, travel-driven circuit (often to the point of being embarrassed with riches), we can look behind the scenes.
The Dutch, I believe, have the best production teams in Europe. In the rock and roll touring era (1960-2020) the Netherlands gradually became the first service station on pop music's motorway. What made places like Paradiso so good – or even a squat venue like Leiden's dearly missed SUB 071 – was the constant stream of acts from all over the world, tuning up on a daily basis. Things could be set up and turned around with a minimum of fuss, often enabled by an experienced and internationally oriented production crew. The ease of booking and promoting a tour in the country was a given: a decade or so ago a band could probably, given the right connections, play five or six gigs on the bounce. Even with the festivalisation of the music circuit here, (a development that in my opinion, went a bit too far), two or three shows and a big pay packet for a summer festival slot could mean decent money.
What price those skills or that network in 2020-21?
Most of the (paltry) 300 million euros put aside by the government for the creative industries will be going to the "prestigious" organisations who produce opera, ballet or theatre, or the museums; with a small portion to be dealt out amongst the rest. Despite the international image of the country as one where people cycle naked, erect and unashamed whilst reading Toni Morrison and smoking joints the size of parsnips, this is a fairly conservative land when it comes to state-level, civic fun. And many a Nederlander will accept the value of Amsterdam's Concertgebouw or a free festival in a local park with a Top 40 artist and a kids play area over, say, Nijmegen's wonderful Doornroosje / Merleyn, or Extrapool.
In common with many others, the venue I work at, Rotterdam's WORM (an institute for avant-garde recreation(!), currently known as the Open City) will be scrabbling around to work out where the cash comes from in a decimated events calendar and severely restricted hospitality sector.
I dearly hope WORM comes through, and I have a sneaking suspicion it will, but in a very different form than now. Luckily we've always been something other than a traditional venue. WORM is a dedicated maker and thinker space, a drop in centre-cum-cultural salon for freaks and underrepresented tribes, a performative madhouse, or a pub with toilets that look like the pods Derek Smalls got stuck in. These things – and our hyper-local and international partners, whether manifested online or in small, "culture-survivor" groups on the ground – will be the crutches we lean on whilst the live circuit somehow finds a way to reinvent itself.
So we're trying to keep Brer Wolf from the door. And like many creative organisations in the great city of Rotterdam, WORM must do "something", whatever it is and however we can. We make care packages for Rotterdam based artists and crazies, throw up old radio plays on Soundcloud host online animation "show-and-tells", deejay sets, "artistic object-relays", create colouring books and began a new online radio broadcast; courtesy of snapper, storyteller, nude model, pirate radio legend and great nephew of Mata Hari: Mister Lieuwe Zelle. Elsewhere, on a street level, we've handed out vegan soup on the Dutch Liberation Day. Partners of colleagues are currently wandering the streets of Rotterdam as pop-up performers, inspiring the locals (or driving them mad) with impromptu performance art. The window by WORM's main entrance is also a contact point for Rotterdam's Firemen of the Apocalypse. We are also wondering how to help organisations who didn't win in the (hierarchical) lottery of government cultural bail-outs. That's going to be tough, helping friends who have very little when we have very little to count on ourselves.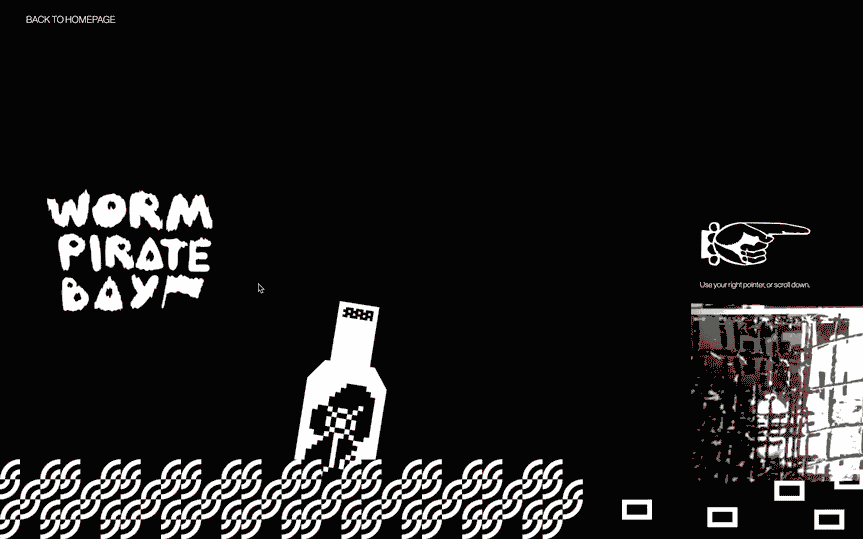 What next, then? The Dutch government's missives on the way forward for cultural institutions has been a set of "shifting" messages. Plans are – currently – for a partial reopening on 1 June, allowing for controlled boozing and maybe some films and art. No head banging or clubbing sadly. Not yet.
Still, even if we do reopen according to government guidelines, how do you successfully run a medium-to-large sized bar for 30 people in total? Who's counting? Who's doing the bouncing at a strict 1.5 metres when things get frisky? What demonic particles are lurking in the airco? Even though all festivals are cancelled until 2021, gigs may or may not start on 1st September. And we still have to work out what to do when we can start cranking out the noise. Contracts have to be honoured for the touring bands we'd wanted to see in Rotterdam in spring. It's a muddle.
One thing, though, does make me wary. In this rush to create an alternative reality of events, I often ask myself, who is framing and monitoring all this activity? Perversely the idea of individual, snooper-proof freedom that WORM openly champions will see another shift as we Zoom, WIX and Twitch our way tentatively and gaminely to a new future, like wallflowers at a Christian Union dance party. I suppose it's just a period of time before a huge corporate rights grab…. Certainly, the world of squats and DIY centres with the graffiti and cold water jakes (which WORM evolved from and, until approximately 2015, was an unseen force in a well-connected alternative cultural network in the Netherlands) feels as close in time as horse drawn fire engines. Or are we entering a phase like EM Forster's story The Machine Stops, where the rebels get outside, get loaded and do what they want to do?
Before I go I should mention one thing, as a token of solidarity. For those going nuts in the UK around people getting out and about, I have some succour. It's "not only your lot". In common with the UK, the messages coming from the government have been obtuse. And people are getting bored of listening. Show a single ray of the sun's light and my Dutch mates are out there, biking, boating and barbecuing with abandon. The Haarlemmerstraat, one of the main shopping streets in my city, Leiden, had to be closed by police this weekend (9th May) due to the crowds walking up and down it.
So no, UK, it's not just you and your 5G/VE/Red Top nutters. I'll let you off fretting about that, just this once.
À Bientôt / Tot Ziens, Richard