When starting The Social Gathering, we sent out a message to friends outside of Britain's big cities asking how our they were getting on in the rest of the world. How does isolation feel outside of our media bubble? What – if any – are the signs of hope that we can draw on?
Our second View comes from Johnny Lynch, aka Pictish Trail. Johnny has been one of our favourite artists for years, playing Social gigs and Caught by the River festival stage numerous times. As the man behind the Lost Map record label, he's responsible for a bunch of mindbendingly brilliant records (personal favourites: Ed Dowie's The Uncle Sold and Alabaster dePlume's recent LP To Cy & Lee: Instrumentals Vol. 1). We were drawn towards Johnny's view because he lives on Eigg, an island in the Inner Hebrides with a population of 105 people. Not only did he respond with words, he recorded us some perfect music too. Happy Easter.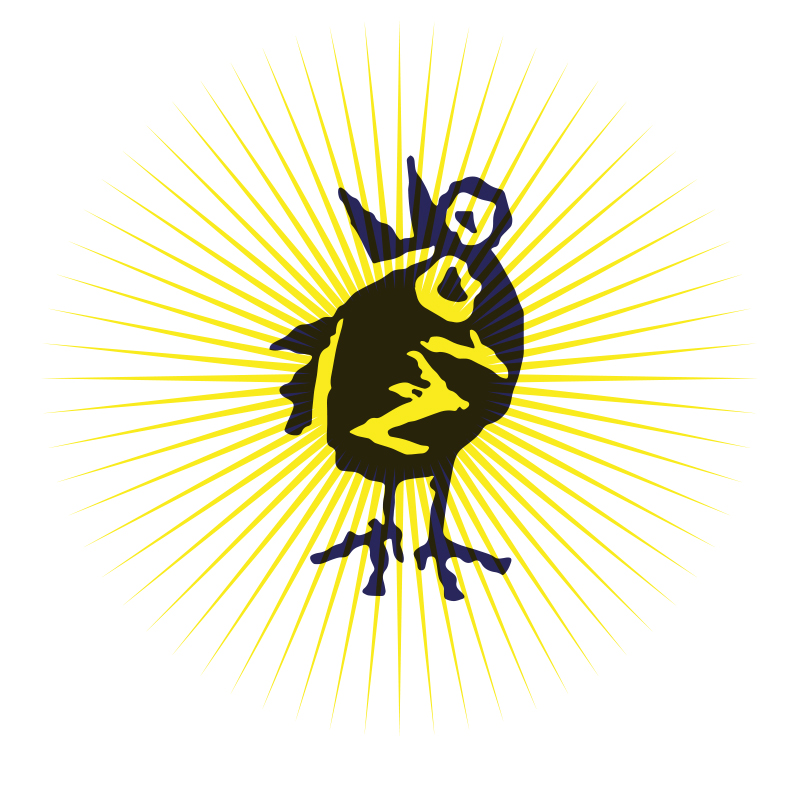 It feels like a weird privilege to be able to experience the day to day changing of the season on Eigg right now. Ordinarily, I travel to and from the island quite regularly. I'd be at home for maybe a three week stretch, before taking a trip to the mainland for a fortnight, to do rehearsals and live shows with my band, or promotional stuff, label meetings. When I'd get back to the island, there would be noticeable changes. The hours of sunlight would be slightly different, the weather patterns would adjust, my kids will have grown up that little bit more. During this lockdown I'm getting the chance to live through the changes. We had such a stormy winter, particularly at the start of the year; it's been really pleasant to see the island slowly repair and regenerate. But, for obvious reasons, it's the quietest I've ever seen the island at this time of year.
Life on Eigg is a weird bubble at the moment. The ferry operator – CalMac – isn't offering a service for tourists so it's just us islanders, living here. The virus has hit the Highlands, but it hasn't arrived at our cluster of islands as yet. Although no one has the virus, we're all making an effort to at least pretend to comply with government guidelines. The feeling of community on the island is always really strong and the parties we have up in the Ceilidh Hall are a glorious bringing together of everyone. There are no parties at the moment, right enough. We're all being well behaved, and keeping ourselves to ourselves. Well, most of us. There's an island wide email group and a web forum with discussion on what we can do to help the more vulnerable members of our community. It's nice, but I get the sense that there's a certain proportion of islanders (myself included, to some extent) thinking, "Hey, why can't we just carry on as normal?", I think we're all seeing the horror stories online and complying out of a sense of guilt for our pals living on the mainland. Obviously, the virus is going to hit here at some point – we're not immune. But for the time being, we're in a comparatively blissful state of quarantine, I guess.
Eigg is a tranquil place, but I'm quite an anxious, stressy person. There's a switch in my brain that flicks when I make the journey back home. When I'm on the mainland, I'm hyper-social – seeing lots of people, doing intense meetings fuelled by copious amount of caffeine or booze (usually both, to be honest), showing off on stage. Back home, booze just compounds stress. Since becoming a father, I've realised that any time I have to myself is really precious, and it's increased the pressure to be productive. Walking around Eigg is great for escaping any feelings of unease, or mental exhaustion. There's a path just up from our home that goes up a hill, and bends round the south side of the island, where nobody lives. You can look out to sea, which stretches out to infinity; or turn around towards the south face of the island's mountain, An Sgurr. It's a great way to feel small, insignificant. It's a comforting reminder not to take what you do too seriously.
I'm writing this sat up in our bothy – St Franny's Bothan. I've been up here every afternoon over the past few weeks – catching up on admin, but occasionally distracting myself with my guitar, recording songs soaked in reverb. My partner is a farmer, and in 2018 she was awarded a diversification grant to build self-catering accommodation. The last of the EU money apparently. It's a great space, bespoke design – two single bunks, a mezzanine with a double-bed, and a living area with kitchen, dining table, comfy couch, wood-burning stove, and two ginormous windows that give a panoramic view of the sea reaching over to the snow-capped mountains on the mainland. It's beautiful. There's a separate building just outside, with hot shower / bathroom facilities.
We finished the build in 2019, and in addition to having tourists stay, we've been using the space for Lost Map's residency project – VISITATIONS We invite musicians over to the island for a week long stay, I offer use of my instruments and recording equipment, microphones, etc, and we release the music they make on vinyl, as part of a subscription service. I interview each of the acts that stay, ask them about their experience and the creative process, and we release this as a free podcast (the Lost Map Podcast). It's been a really enjoyable project, and a great way of creating an archive of music from Eigg. The first people to stay in St Franny's were the Los Angeles art collective Arthur King, who counted Jason Lytle (of the alt.rock band Grandaddy) among their number – and they produced a truly cosmic album for VISITATIONS, fusing samples of field recordings from around Eigg with hypnotic, improvised ambience. Immersive!
The current situation has made me realise how fortunate I am. I phone up friends on the mainland for a chat, and they are stood in a two hour queue for the Post Office, or too afraid to go outside for fear of being coughed on by a jogger. Here, life hasn't changed all that much (although I'm having to do a lot more child-care now that the nursery is closed.) Lambing season is about to start, so I'm gonna have even less time to myself, as I'll be looking after our young kids, while Sarah's out on the farm.
In my brain though, I'm currently gorging on a Greggs' pastie at a road-side service station. I'm meant to be on the mainland, on a full-band headline tour of the UK. My new album, Thumb World, just came out late-February on Fire Records, and this tour was really my main income stream for the year. The dates have been rescheduled to 2021, which is fine, I suppose. I did a fundraiser on the Lost Map BandCamp page selling merchandise I was gonna have available on the tour – and folks have been really generous, which has been immeasurably helpful.
Still. A year to wait. People are like 'Oh, you can record a new album in that time'. Thing is, it took 4 years for Thumb World to come out, I really love the songs, and don't want to just move on to the next thing quite yet. Instead, I'm enjoying the opportunity to put life on pause, for a bit. We've had a ton of amazing new music come in, recently – stuff we're going to be releasing on Lost Map over the course of the rest of 2020 – and my own musical aspirations can live vicariously through that, for the time being.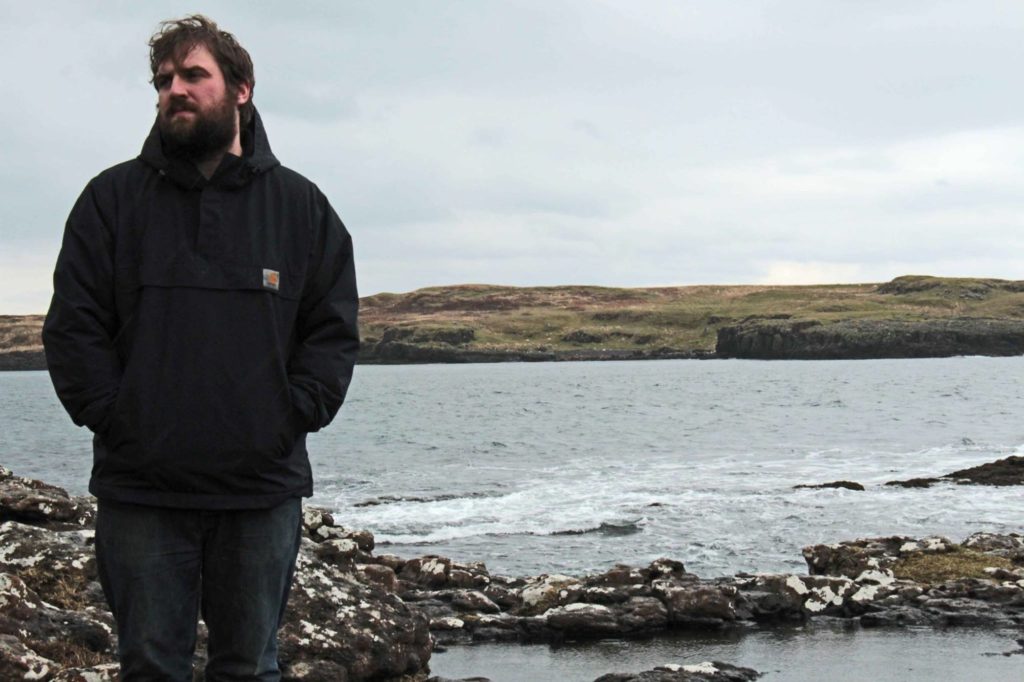 Life on the island goes on. There's a strong DIY spirit on Eigg – it's a community owned island, and we generate our own electricity – and that really attracted me to the place, when I moved here 10 years ago. We are self-sufficient but we also rely on one another. You're either doing a job for Eigg (working for the council, the ferry company, the school, the shop, the electric company, construction, farmers), or you're doing a job that's defined by Eigg (tourist businesses, artists, craftspeople, etc). You have to have a good sense of humility, and not be afraid to ask for help from others if you need it.
I don't know what it's like on the mainland, but everyone up here is smiling. It's a bemused smile, but still a smile. You go to the shelter at the end of the pier to pick up your deliveries from the ferry, and you see other folk – you give them a wave, and start chatting about how surreal this whole situation is. Keeping a social distance, but also half-acknowledging that we're lucky to be living outside of the madness.
I'm not really sure what the future will hold. When the virus arrives, it'll no doubt make its way through the community like wild-fire. God knows when that will be, though. Currently I have an intense urge to give everyone a hug. Our Easter Ceilidh has been cancelled, so the hugging will have to wait until the next one, which will hopefully won't be that far away.
Johnny Lynch