The explosion of digital TV means that, even now, many weeks into lockdown, there is still a massive amount of unwatched, ready to discover televisual wonder out there. It also means that some of those gems suffer the ultimate fate of being cancelled after one or two series, leaving plotlines hanging in the air when audiences – that fickle decider of futures according to numbers generated by (mainly) marketing departments and investors – don't add up. This logic did for the BBC's wonderful 'The Hour', which remains lost from iPlayer, stopped 'The Borgias' mid-story and also cut off Prime's marvellous GOOD GIRLS REVOLT, which only ran to a scanty ten episodes before having the plug pulled with a second series written and ready to go.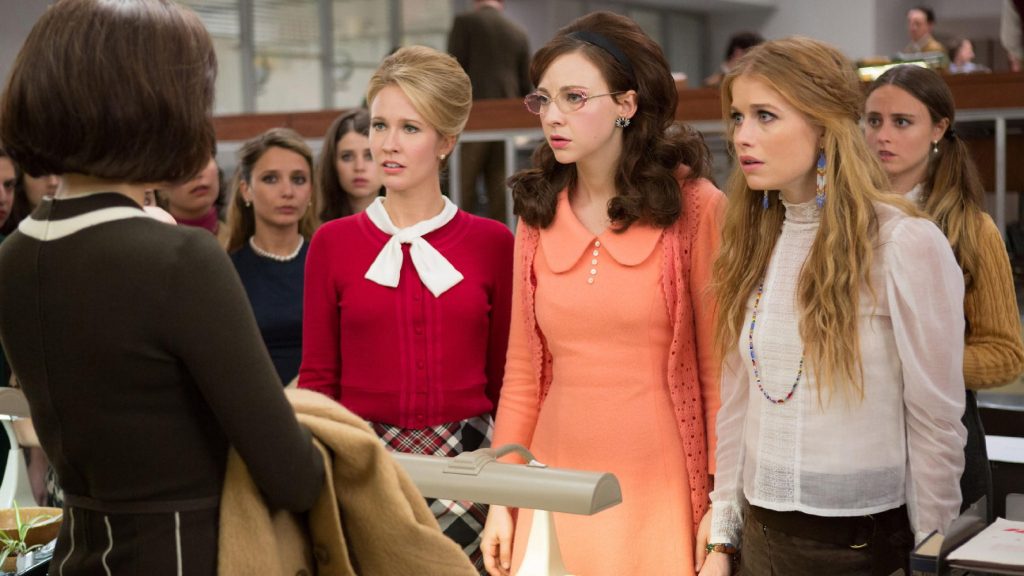 Based around the Newsweek strike of the late '60s which challenged the chauvinism inherent in US media rooms, the series shares a stylish attention to period detail with Mad Men and a female-led cast of engaging, inspiring and – occasionally – beguiling characters. Weaving in the backdrop of 1969/70 to incorporate wider rifts in US society as marines bleed in Vietnam and Huey Newton and the Black Panthers mark a change in tone from the dreams of MLK to the nightmares of ghetto life, on its release the show promised an alternate, female-focused sweep of recent US history to that of Don Draper and co, adding in a heavy dose of social history. The lack of a follow-up series is, literally, a tragic loss to television and the irony that a male dominated decision making process at Amazon was key to the fall of a show about the challenge to male dominated media gives even more meaning to the episodes that do exist. Thankfully, the female voice continues to prosper despite these barriers as the following recommendations for your time prove.
Less inherently feminist in tone but nonetheless directed through the female gaze in the main, Netflix's import THE ROAD TO CALVARY is another example of Russian TV's skill for the sweeping historical epic. Based on Tolstoy's trilogy of novels of the same name, the 12-part mini-series places the Bulaviny sisters at the centre of a five-year period covering the First World War and the Russian Revolution. The revolution and its aftermath seem to be a favourite subject for Russian TV writers at present – or certainly for UK TV buyers of Russian TV – and this adaptation shares many of the attitudes and historical re-evaluations found elsewhere. Unlike Soviet-era treatments, morality is neutral, the revolution is neither positive nor negative, atrocities on both sides are noted and the focus is on the effect on ordinary people of all classes, rather than a grand narrative of delivery from servitude to a glowing, egalitarian future. Nerdy social history aside, like all of Tolstoy's writing, the series is also a thrilling, captivating, eminently watchable drama of love, loss, redemption, realisations and hope, sumptuously filmed and far beyond some of the period drama domestic dross we have to put up with over here. I am looking at you, Belgravia.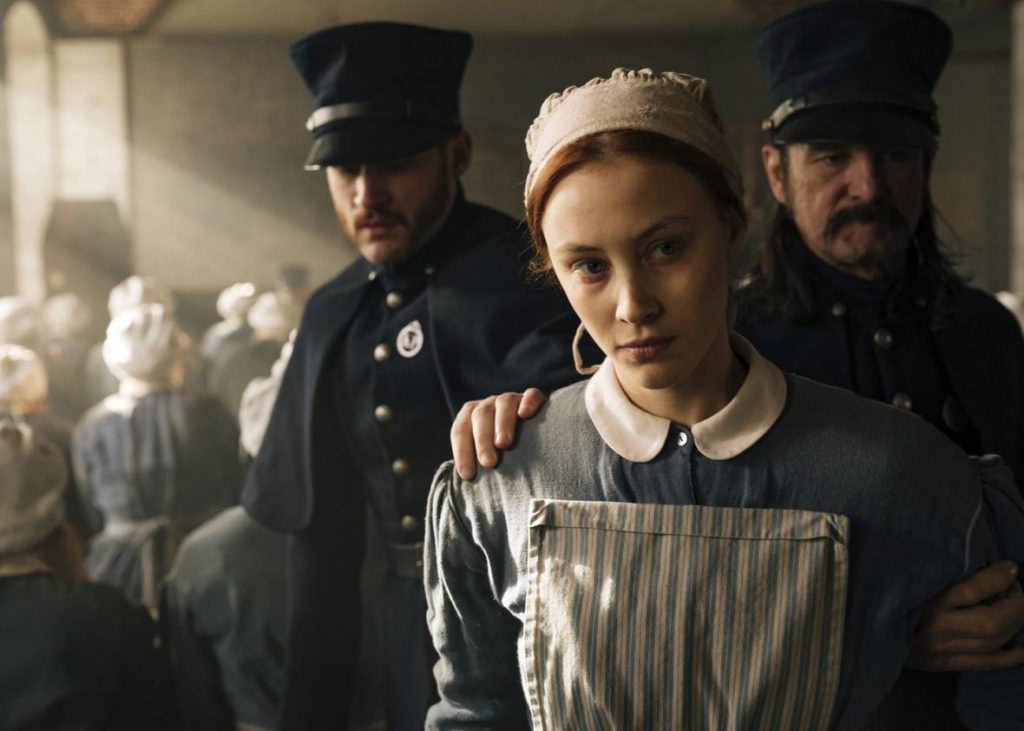 Continuing the female-led, feminist scripted drama, Netflix's adaptation of Margaret Atwood's ALIAS GRACE received a fraction of the praise heaped on HULU's The Handmaids Tale yet is no less worthy of your time. As with much of Atwood's work, the central concern is men's power over women and the power inequalities that place women in positions of peril, servitude and, sometimes, bondage. Centred around the real life case of Grace Marks, a servant accused of the murder of her employer and his wife, the story follows the lead up to, and fall out from, the murder with an onscreen appearance from David Cronenberg, whose work seems to have been a strong influence on the series' use of surrealism to unbalance the viewer and obscure the real truth of events.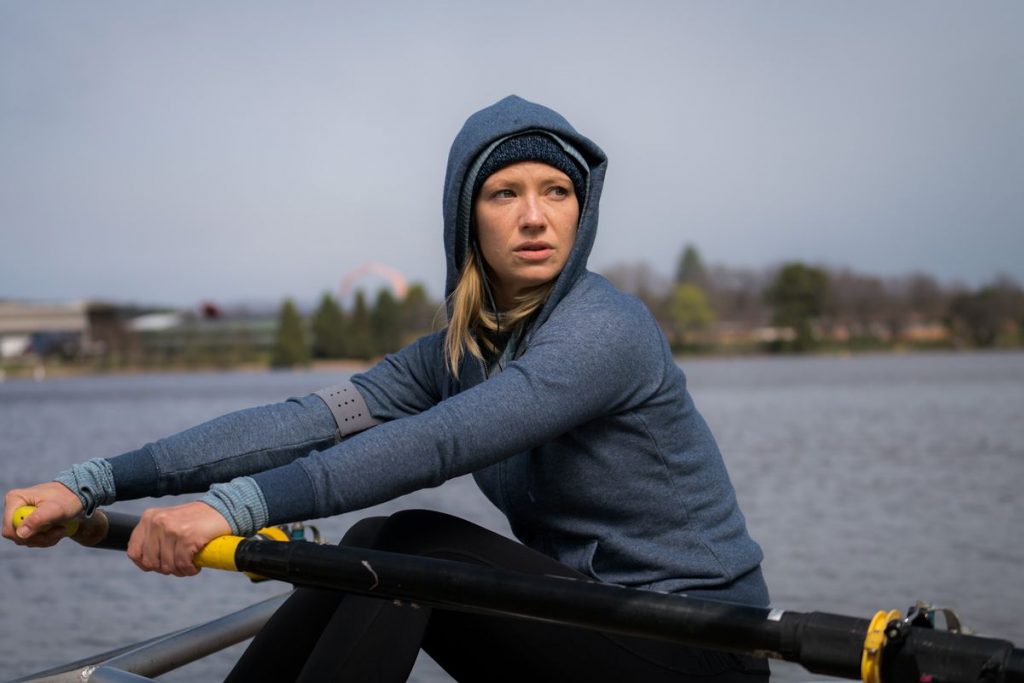 To wrap up the female focus of this week, SECRET CITY on Netflix offers two series of tense, tight, gripping political thrillers that, being set in Australia and primarily concerned with tensions with China, mark a nice step change from our usual diet of Russia – the West narratives. Central character Harriet Dunkley, an investigative journalist (superbly played by Anna Torv, familiar to watchers of Mindhunter) opens series one investigating a washed-up murder victim whose death is shrouded in mystery and official denial. The standard political thriller plot that follows is not remarkably revelatory but the characterisation and propensity for plotline revelation elevate this far above your usual dark deeds done by bad people TV that we see so often. Series Two is, if possible, even darker, taking the political intrigue to new heights and tying the fiction to real world tensions with a skill and finesse that makes this my favourite example of its genre in recent years.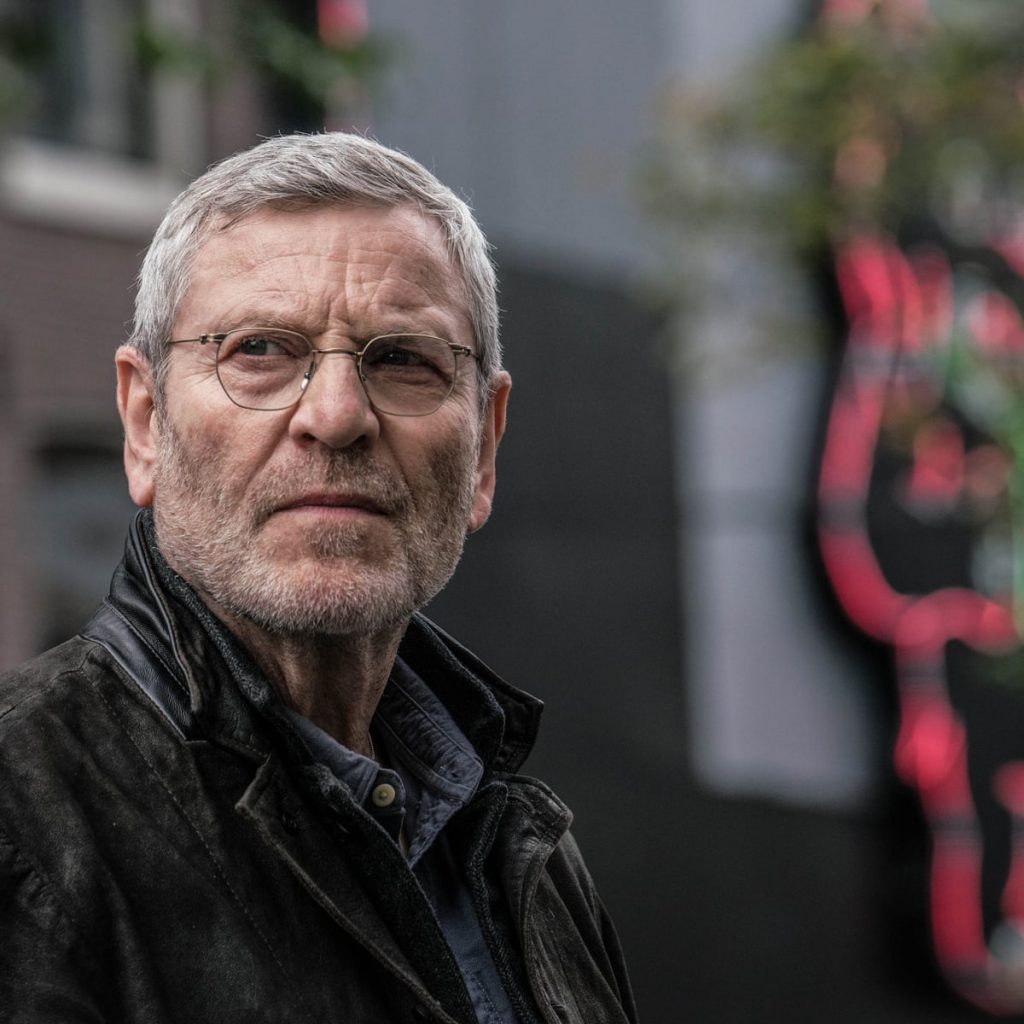 Continuing with the dark intrigue, the BBC has again reached into its vaults to return BAPTISTE to iPlayer. A spin off from the hugely successful The Missing, this six part series follows retired detective Julien Baptiste return to duty in Amsterdam, initially on the hunt for a missing sex worker. He's accompanied by her uncle, UK businessman Edward Stratton, superbly played by Tom Hollander. What begins as a missing person case rapidly unfurls into something far more sinister with a tense, noirish feel.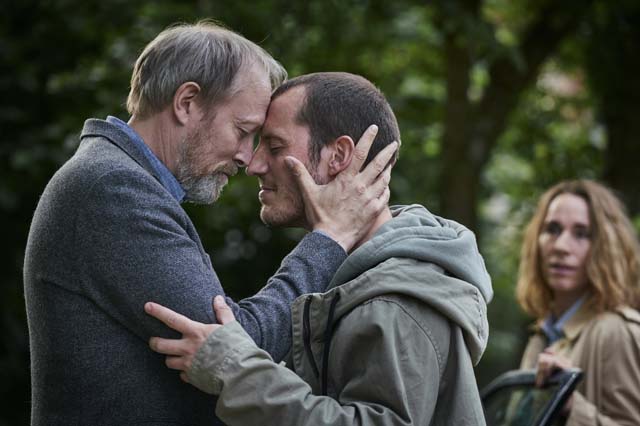 Regular readers will by now have realised that 4 On Demand's Walter Presents strand is a regular go to for me in the hunt for non-UK/US programming. So, the return of RIDE UPON THE STORM has brought out the bunting around my way. Centred around a family of career priests who trace their roots in the church back 250 years, this is, at heart, a family drama but takes in domestic and international politics – Denmark's military presence in the Middle East is a central theme of the series – and develops a story that is rich in the big themes, whether God, family, loyalty or faith. As with so much quality drama from mainland Europe, the pacing is key, there is a space to enjoy and contemplate within a compelling storyline and a belief in the strength of the narrative that results in good directorial and editorial choices throughout. It doesn't hurt to have the wonderful Lars Mikkelsen (The Killing, House of Cards, Sherlock) in a lead role, who delivers another bravura performance as the patriarchal head of the family.
For sheer brutality, Prime's AN UNKNOWN ENEMY / UN EXTRANO ENEMIGO takes some beating if you will excuse the pun. The first series followed the fictionalised rise of Fernando Barrientes, Head of the Secret Police in late '60s Mexico. Against a backdrop of social upheaval, student protests and brutal state repression, the series really focuses on the collateral damage to ordinary people of the scheming of the powerful, not uncommon in other Mexican dramas I have covered including Narcos: Mexico and the still fabulous El Diablo Guardian. A second season is coming although I cannot seem to find an air date. Just get watching now before 8 episodes becomes 16.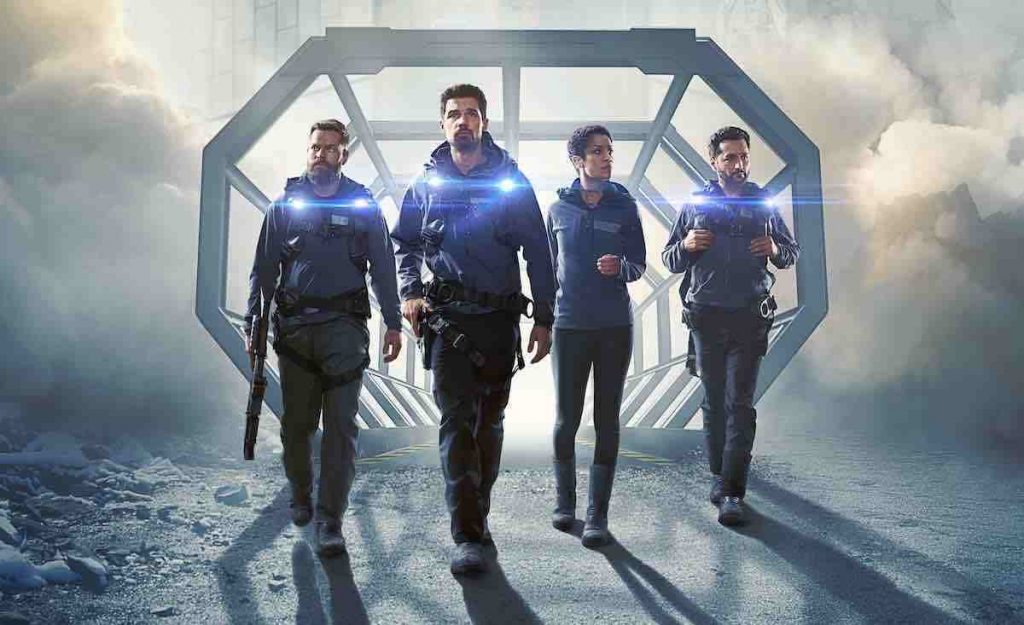 To end the TV carousel this week a word on Prime's THE EXPANSE, which, despite a slew of awards, never seems to figure as highly in discussions as the Star Trek offshoots that pollute much of VOD. A four-series space epic that centres around a future galaxy split between an overcrowded, economically divided Earth (sound familiar), a martially inclined Mars and a Belt between the two full of the poor and lawless, it is essentially a Western put through an Arthur C Clarke filter but has a nice line in displaced real world problems, a great sense of how to navigate multiple plot lines over a lot of TV hours and some beautiful camera work. Maybe the 'belters' weird reggae bwoy accents – a little close to Jar Jar Binks – were a bad call but otherwise, if you are craving a new space adventure and have not been here yet, it's a pretty solid choice.
Contrary to the evidence of this guide, I do not spend all my time watching TV. I occasionally switch on the radio so was excited to see BBC Sounds running a week long adaptation of Pete Paphides' BROKEN GREEK – his excellent memoir of growing up in the seventies in the Midlands. As many of you will know, Pete is a rare music writer with an encyclopaedic knowledge of, and love for, pop. Hearing his voice telling his story is an added bonus that brings a remarkable piece of writing into life beautifully.
Also on BBC Sounds, the sad passing of Tim Brooke-Taylor was marked this week with 47 YEARS WITHOUT A CLUE : A TRIBUTE TO TIM BROOKE-TAYLOR – a moving thirty minute tribute from his fellow comedians that is very worthy of a listen. Alongside his fellow Goodies, colleagues from his record breaking run on I'm Sorry I Haven't A Clue (indisputably the greatest thing on radio ever) recall classic moments and reveal a man of great empathy and humility.
And finally, for those of us of a certain age who grew up with MTV, the uploading of hours of their classic programming to the INTERNET ARCHIVE could possibly mean the end of ever going out again. Headbanger's Ball, 120 Minutes… it is all there and much, much more. Grab a free account and dive in.
Next week is bleak. Rebellion in the hills of Ireland and the highlands of Scotland, murder in the mountains of the Basque country, mayhem in Mexico (for a change!) and the epic and bloody tale of how the USA came into being. As ever, if you have seen something we should know about, drop us a line.
Lewis Jamieson