It was the album cover that caught my eye. The strange mood that the photograph evoked. That's something you don't get with Spotify's Discover Weekly algorithm and their postage stamp-sized artworks. Trawling record shops, reading music publications, and word-of-mouth are still the best ways of discovering those rare, hidden gems.
The album stared back at me from the US Import rack at my local record shop in Barcelona, the appropriately named Ultra Local Records. I lifted the vinyl from the pile and studied the photograph on its front cover. In the background of the photo, there's a whitewashed, low-rise building with a palm tree looming over its roof. The building, perhaps a bungalow, stands against a startling blue sky on what looks like a bright summer morning. A gleaming, turquoise swimming pool disappears out of shot. In the foreground, stands an unlit Tiki torch and a large white kick drum with a shimmying Hawaiian hula girl on its skin—both torch and drum waiting to fulfil their purpose.
Though the cover photo was taken somewhere sunkissed, the image seems strangely melancholic, like that emptiness and confusion you feel waking up in an unfamiliar place still wearing your clothes from the night before. The text is minimal, the cover simply reads: Acetone 1992-2001.
I had never heard of Acetone before I chanced upon this collection of their songs at Ultra Local Records. I didn't even know how to say their name properly. I kept telling friends that I'd discovered this great band called "Ace-tone," which made them sound more like an early '60s surf rock combo. There's not much information online about the band's career. The trio consisted of Richie Lee on bass guitar and vocals, Mark Lightcap on electric guitar and vocals, and Steve Hadley on drums. They formed in Los Angeles in 1992 and disbanded in 2001 following Richie Lee's suicide at the age of 34, after a long struggle with heroin addiction. Those are the bare-bones—sparse as they are tragic.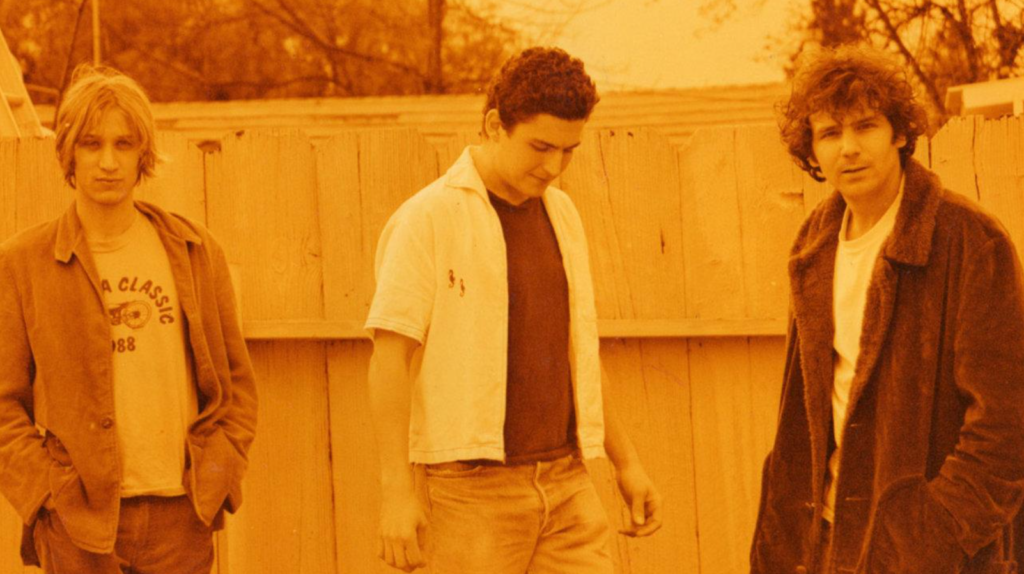 Acetone's ghostly shimmer slipped through the cracks between the early 90s dream-pop movement and the late 90s alt-country scene. They weren't ethereal enough for fans of Mazzy Star, and not rootsy enough for Wilco's audience. Some critics described their music as slowcore or sadcore. But these tags didn't really suit them either.
Spiritualized's band-leader, Jason Pierce, was an early champion of Acetone's hazy, mesmerising music, reminiscent of Big Star's more fragile moments and the third Velvet Underground LP. As a consequence of his advocacy, Acetone found themselves taking their slow-burning live set out on the road with the swaggering mid-'90s British invasion, touring with bands like Oasis, The Verve, and Pierce's own group.
If Richie Lee's name rings a distant bell, it might be from the title of Jason Pierce's tribute to his friend, Spiritualized's 2003 song, The Ballad of Richie Lee. Pierce said of Lee and Acetone, "Their music reflects who they are, and that's so rare in music today. It's a soul music thing."
Acetone signed to Vernon Yard, and later for Neil Young's Vapor Records imprint, but across their four albums and two EPs they never found the same size of audience as contemporary low-fi cult heroes like Sparklehorse, Elliot Smith, or Grandaddy. At the time, guitarist Mark Lightcap said of this: "We kinda relish our role as the underdog on the one hand, but I'd be lying if I didn't say there was some envy there."
Acetone's albums are all long out of circulation, with copies changing hands for hundreds of dollars online. But their small, dedicated fanbase has kept the flame of their legacy burning. All of their records have been uploaded on YouTube. And then, in 2017, a collection (mostly consisting of demos and non-album cuts) was released by Light In The Attic Records, alongside Hadley Lee Lightcap, a "non-fiction novel" loosely inspired by the Acetone story, written by LA-based author Sam Sweet. For those new to the band, Acetone – 1992 – 2001 is a great starting place on your journey into their music.
The early records veer between a more direct buzzsaw garage sound and the woozy Pacific Coast shimmer of their later releases. On their third album, If Only You Knew (1996) Acetone had added the folk-tinged harmonies and open road expansiveness of bands like The Byrds and Crosby, Stills, Nash & Young to their musical landscapes. By their final two records, Acetone (1997) and York Blvd. (2000), the band had perfected their sound, blending their influences and originality into something truly special, music that surges and glows with quiet intensity.
Perhaps this gradual evolution of style was part of the plan all along. In an interview to promote their self-titled fourth album, Richie Lee explained: "The new record's helping people understand our other stuff. I can remember when I was a kid, you know, I wouldn't get a band until their third or fourth record, and then I'd understand it all."
A tremolo-rich radiance shines from Acetone's records. The songs aren't propelled by dramatic changes in structure or dynamics, they meander along gently, like a coastal road trip with no clear destination. Sometimes there are vocals, sung in Lee's weary, almost whispered voice, the lyrics mumbled and hard to make out; other times he seems to forget to sing altogether. There's a sense of unwillingness to follow the conventional paths of songwriting. Compelling hooks and melodies are introduced and then quickly abandoned in a sighing collapse. And yet, somehow, after a few spins, these spectral songs start to haunt the listener. And there are surprises, too, like the slow-motion surf rock cover of the theme from Midnight Cowboy (maybe they actually are called Ace-tone); or the Prince-esque wah-wah guitar solo that comes blistering out of the clear blue sky in the closing stretch of Vibrato, a style never to be heard again on any of their other tracks.
In the years since the band's untimely demise, Mark Lightcap has been living in Sierra Madre, recording solo music and collaborating with the dream-pop combo, Dick Slessig. And in 2017, in support of the compilation release, Lightcap reformed Acetone with drummer Steve Hadley, and Hope Sandoval of Mazzy Star on vocals, for a concert in LA. This was followed by another show in London in 2018. There have been no further concerts since.
But Acetone's influence lives on. You can hear traces of their sound in the jangling Americana of Kurt Vile, the delicate harmonies of Real Estate, and the sunset psychedelia of Khruangbin.
Acetone wrote sublime songs in their short time together, and the quiet brilliance of Richie Lee and his band deserves to be remembered and celebrated. The music of Acetone is a whispered secret—one that I hope you will want to share.
James Connor Vincent