When it's a ritual.
Enter the Temple of Gnostic Sonics, a sanctuary of sound from the Music's Not For Everyone shows of 2017. Shows that begin with Andrew Weatherall's ritualistic bidding to don your ceremonial gowns and headwear, huddle around your devices, sisters and brothers (always sisters first), gnostic explorers and fellow lovers of abstract truth, and let invocation commence. Invocation heralded every month by The 'No' Tune, except for the time Andrew left it in his studio. It was as if the priest had left his sacraments behind.
To perform a ritual is to display the visible order of things and the visible order of things is not what it seems round here in Coronatimes. When I don my battered Bowers and Wilkins headphones and set out for the park in the spring sunshine, I am presented with a utopian scene of lycra-clad jogging couples, small groups chatting on the grass, yoga and tai chi moves (how we British have broken out of our shells). And birdsong. In the beginning everyone talked about the birdsong, it's part of the wallpaper now. We know somewhere out there hospital workers are pouring sweat into their hard-fought-for PPE gear and care homes are lonely places of the dying, but in these parts the only way you would know something is wrong is by the wide berth given to you on the street, the silent queues outside the supermarket and the array of masks on faces. Do those people know they are protecting others not themselves? I hope so and I doubt it. Round here it's a dystopian utopia. Or a utopian dystopia.
This is where ritual comes in: one hour of daily exercise, walking the dog. The psychologists' definition of the word is "repetitive action to neutralise or prevent anxiety" – it's unsettling that the clichéd symptom of OCD, hand washing, is the very thing we are told to do every twenty minutes of our day. When fear and anxiety are used as a form of control, we need to be careful of what we buy into and that puts a new spin on the idea of abstract truth. What is the truth of the mask, the latex gloves, the two metres' distance? A ritualistic enactment of acquiescence? We need to choose our rituals carefully when we step out of our homes.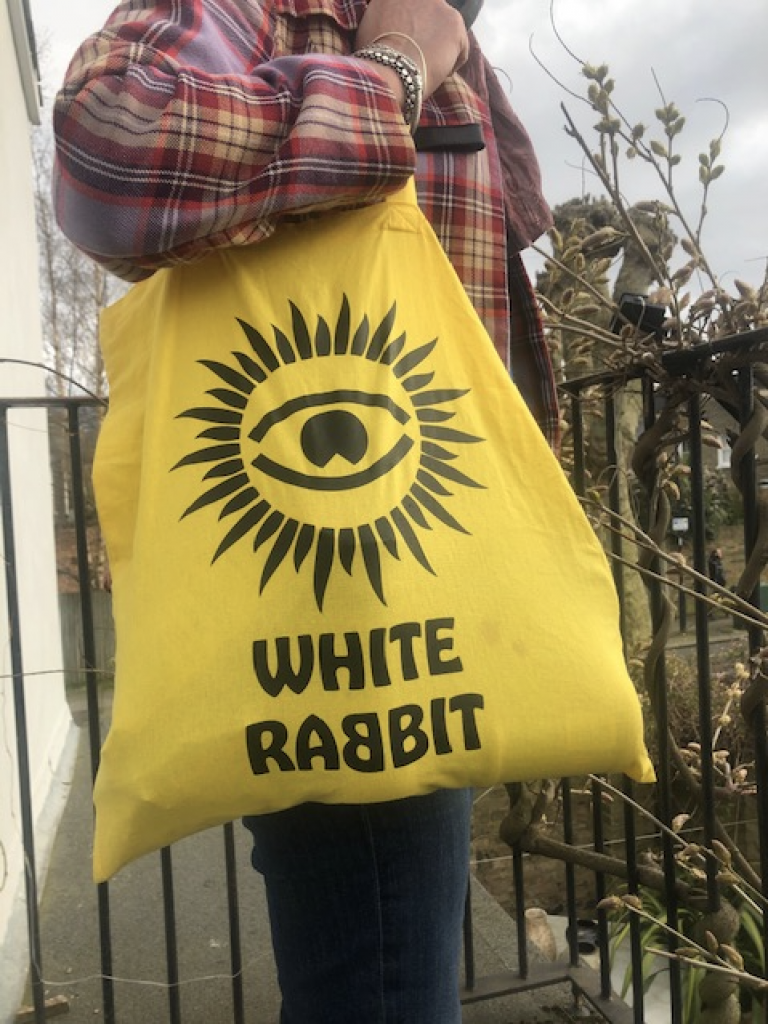 As well as my headphones, I pick up my sun-bright yellow White Rabbit tote bag with its psychedelic eye emblazoned on the side and roll it up into my jacket pocket, or tuck it into the back of my jeans like a gun. At first this was a practical measure in case I came across a shop without a queue, but now the bag has become my talisman, my amulet, I can't leave the house without it. My headphones, my White Rabbit bag, they are my mask and gloves.
I've spent hours in the company of the MNFE 2017 tracks and am still getting to know them. Among the dub you'll find King Tubby's ("What time is it kids? It's Tubby time.") melting version of I Shall Be Released, called Release the Dub and, surprisingly, an 'ambient translation' of Bob Marley's Rebel Music by Bill Laswell. At the ambient end there are also two achingly beautiful tracks by A Winged Victory of the Sullen from their album Atomos and John Hopkins' gentle crescendo, Light Through the Veins. There's a great Weatherall remix of Mark Lanegan's Beehive, serendipitous in the publication month of Lanegan's excruciatingly compelling memoir Sing Backwards and Weep– order it here. The wildcards include a visitation from our controllers in Big Brother – The Answer by Danny Alias; the Turkish electric saz music of Asij Emrah in Bu Eellerden Göçüp (Andrew didn't attempt that pronunciation either); Melody by Tariverdiev which sounds like it has been lifted from a Bond film; and a track I wanted to hate, probably because of its title, but it made the final cut – Bubblegum by Confidence Man.
There's another ritual around the MNFE shows, and I am not talking about the incense of the month: Live Supreme, Frankincense or Opium. I have a suspicion the other ritual has a part in Andrew playing Fatma's Cirklar at the wrong speed and taking nearly a full minute to realise; a moment that had me doubled up in laughter, as he quickly dedicates the incident to the memory of John Peel and says "In my defence that track sounds good at any speed". If you are feeling a bit down, go back to the live show to hear it: 19th January 2017 at one hour, six minutes, thirty-three seconds.
The final word comes from Spring in Lowtide: "None of these days are just like the others." That can be hard to believe in these ritual-bound days, but if you get out there with your headphones and take the sacraments of MNFE, things may look different.
Catherine Eccles