Turquoise eyes, cherry lips, jelly bracelets, twist-a-beads untwisted, lace leggings, black heels, slick clip-on plastic hundred dollar bills; a nice touch that we used a cut piece from my homemade yellow crop top for the bandana, I was stoked on that for sure. We, is my mom and I. We always made my Halloween costumes. Outside of Girl Scouts, it was our only creative activity together. Besides dyeing Easter eggs.

I've kept my wedding dress, but I wish I'd kept my Halloween outfits too, especially this one, me as Madonna, a wish image that's haunted me all my life. I always wore something of my mother's when I dressed up. The most precious was her teenage peace sign medallion, the shape more a teardrop than a circle, weighted cold steel that bruised my chest while I tricked-and-treated. I was pissed when later it was stolen by one of my best friends, Dee Dee, in middle school. The little bitch cut class early and broke into our house before anyone got home … she knew we often kept the front door unlocked.

Even now I try to zoom in on the photo to detect more detail in the necklace, maybe I've forgotten a damaged edge, some stain or imperfection, a clue to the past, secrets I can't remember.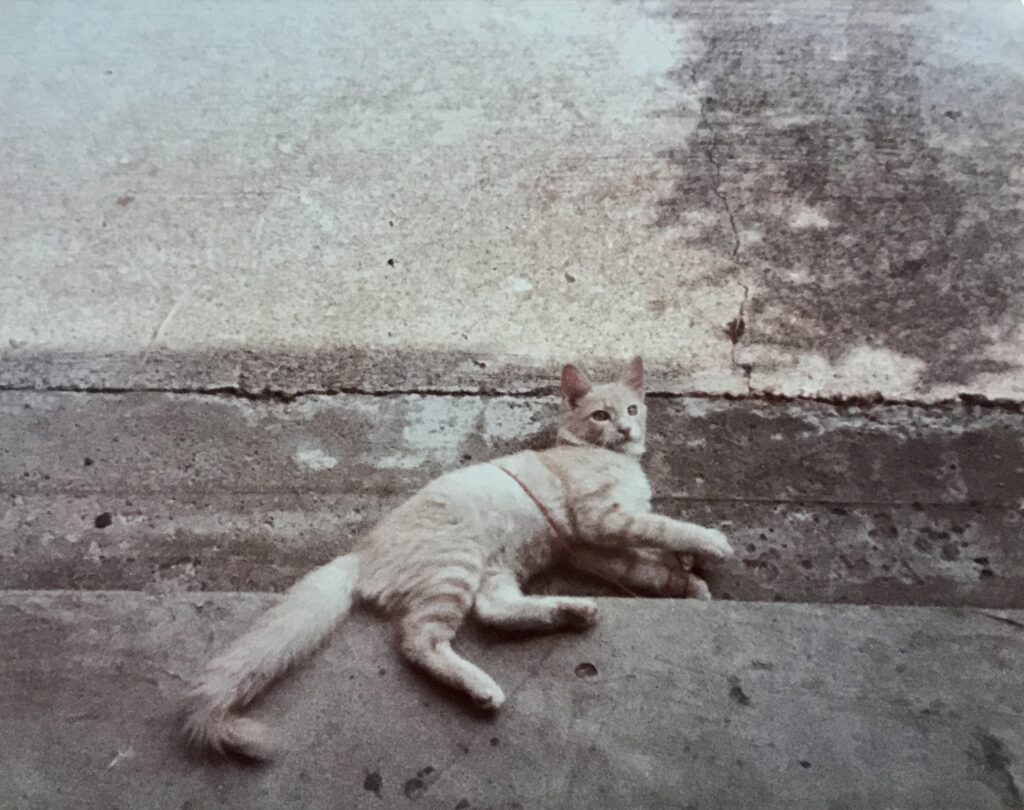 The door behind me leads to the garage. The garage where I had to sit all night with my dinner on a TV tray in front of me if I refused to clean my plate. Damp. Oil on the floor. The garage where neighbours saw Bob slapping me. I could always see the pity on their faces when I roller-skated down the street the next day. I didn't give a shit. The garage with the cat flap on the door so the pussy Bob loved most could come and go as she pleased. Her name was Samantha, though we called her Fatty Watty. Never made sense to me because she wasn't even fat, though her tail was too long. I still feel guilty about chasing her around the yard and spitting on her. I was just jealous of the way 'Sir' – that's how I had to address Bob – rocked in his wooden chair with the pussy on his lap, slowly stroking her orange fur and her far too long tail while gazing into my eyes. The way he made her purr.
Why would you ever harm my baby angel? The way he made her purr. I stood still on that gaudy rusty rug in the hallway while he drilled me, still sticky with the spit he'd spat in my face as punishment for what I'd done to her.

I've stared so hard at this photo all my life, stared into my own eyes. My body as symbol, slight shadow, Shiva. I smile at myself, give myself permission. Though I don't know what it is I'm looking for. My life was a horror. I loved horror. Love whore. All I wanted to do was dress up and live inside scary movies, I couldn't understand why Halloween couldn't be every day. I'd seen ghosts. Sure, I'd seen ghosts. There was a tarantula in my bedroom.

Slumber parties were the perfect excuse to be a bimbette. High Star was the street where Katy lived, just around the corner. Doctor Who was always on the television, on PBS, in the dark. It was always dark in her house, Tom Baker's face beaming at me from a glowing screen, in the dark, pure Poltergeist, his piercing eyes froze me.

Can I dress up now? Later, Katy snaps back, you can dress up later, she says. What's up with your friend? I hear one of the other girls say. She seems a little weird. I don't care, and I don't wait. I change. No one takes much notice of my transformation. I tell them I can speak with the ghost of my father. We get horizontal on the floor, stare up at the popcorn ceiling. I arch my back like Linda in The Exorcist once she's possessed and I feel demon, heaving and contorting my voice, calling to my dead father. Silence. Only the ceiling fan. The hum of the ceiling fan. The phone rings. It's Katy's older sister's boyfriend. He wants to talk to us girls. He'll tell us some jokes. I'm handed the Trimline receiver. Do you know what a Polack is? I'm shaking. Sweating. Yes, I whimper. Yes, I know what it is. Is he serious? Is this really happening? He's talking to me about his penis? I didn't hear anything else after he said that sick word. Only Polack, echoing, so dirty.

Click, click, click of my heels on tile. I'm on Willow Beach Drive. At Dee Dee's. Just around the corner from my place on Bellerive. A fuzzy VHS copy of Faces Of Death is playing on the television. Monkey brains. The sound is turned down. We're dancing to "Houseman" by Voyou. I bought the Razormaid mix from Record Rack with money Dee Dee told me she'd found stashed in Bob's closet. I didn't know about the stash until she broke in. I'd looked through that closet so many times for something forbidden, but the only enticing thing I'd ever found was an old dusty blue medical textbook with a hefty section on sexual positions. Black ink-drawn bodies, it seeded my love for underground comics. I was careful not to take too much money at once, but of course later I discovered Bob was sadistically keeping track of all the bills that went missing and was just waiting for the perfect moment to nail me. Whatever happened, it was worth it to build my record collection.

Dee Dee's taunting me; she's wild and Brazilian. Her mom waitresses at Cadillac Bar til 3am so we've dropped acid, raided her mom's closet, and have all of her lingerie and sex toys all over the floor. The hot pink dildo matches the Voyou record cover. Dee Dee puts on her mom's 'Frederick's Of Hollywood' charmeuse teddy. Soft and sleazy. She's dancing close, her arms raised in a Madonna stance, my mom's stolen peace medallion round her neck. She covers my arms in flavoured sex gel that tingles. Then she shaves me. She shaves my arms. That's how I got caught.

A few days later Bob forces me into the hammock with him in the backyard. An awkward cuddle. He strokes my arms. Why don't you have any hair on your arms? His grip twists and tightens, an Indian burn. I tell him it's Dee Dee, it's Dee Dee who shaves her arms and told me that I should too. That hair is there to protect you, he says. And why do you always walk over to her house with records? he asks me. Who do those records belong to? He'd already asked why the glass-fronted Sears record cabinet had more records now besides Culture Club, Thriller, Billy Squier and Saturday Night Fever. I pin it all on Dee Dee. She stole the money, she bought the records, I've just been borrowing them. He drags me back to Willow Beach Drive. Dee Dee's mom answers the door. It must be three in the afternoon, but we've clearly woken her up. Dee Dee broke into our house, Bob says, calmly, but somehow psycho at the same time. She's stolen heirlooms and money. Dee Dee's mom doesn't care, I have no money, she shrugs. Dee Dee can come and work for you, she says, she can come and be your maid, she suggests. Dee Dee is listening in the background, peering over her mom's shoulder. I'm sure we both like the idea. I can smell the flavoured sex gel.
Heather Leigh