Hate to say it, but Joe fucking bloody bastarding Wicks
The Red Book by Jung: always
The Terror
Luke Unabomber's occasional Worldwide FM extravaganzas
Supporting English products which have survived other pandemics. William Whiteley has been making scissors in Sheffield since the 18th century and is still making scissors in Sheffield. Never mind the bucket list, an apocalypse prompts us to admit we have always owned shit scissors. Let's at least get this right before the end. William Whiteley. We'll cut our way out of this.
Independent record shops everywhere
DJ Randall (Isolation Sessions). Hugely important soundtrack to Lockdown One. Drum and bass and jungle has inspired and energised me more than any other music since March 2020 – Sherelle, Naina and Hooversound Recs, Special Request, Clipz and loads of new DJs and old mixes I've only just discovered.
Cragg Vale Woods. I walk my dog up there every day and barely see another soul. The bluebells are starting to poke their heads through the soil. It's the best place in Calderdale to clear your head (especially if you've been writing all morning).
Lovecraft Country and Perry Mason on Sky Atlantic
Watching re-runs of Bottom on Netflix. Waiting for Godot meets Loony Tunes. We all need a bit of anarchic slapstick in our lives. It never fails to make me laugh. Totally puerile, outrageous and rude. The perfect antidote to depressing news.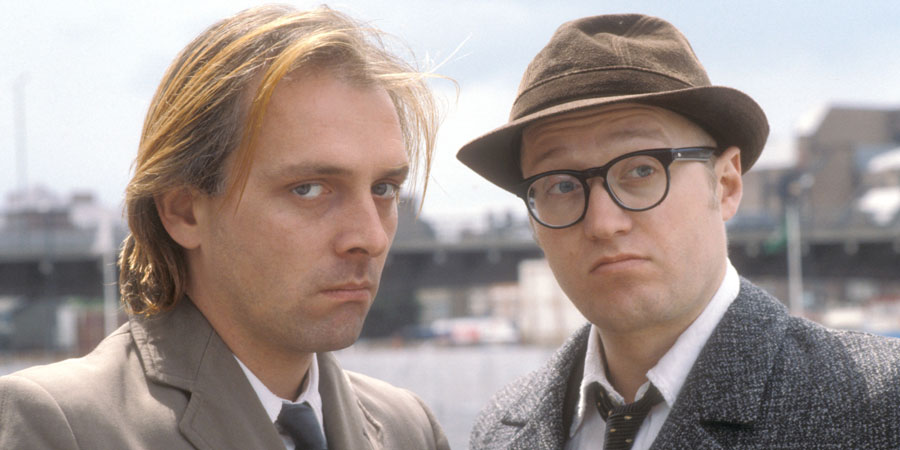 John Higgs' The Future Starts Here
AstraZeneca shot, 5pm March 19th Ashton Gate Stadium
Wearing hats indoors. Because we could 
E M Cioran, learning to pick a guitar, that series the Terror, occasional magic mushroom bouts, bath time, that series the OA, extremely long walks, manically tapping out the number seven with my fingers, learning how to cook a few dishes other than spaghetti bolognese, lots of books and last but not least the new hydrogen fuel cell Hyundai.
Karl Hyde's solo guitar tracks on Instagram (heavy Groundhogs/Brain Donor action here)
Boxset of the TV Series The Prisoner – it seemed pretty normal compared to what was going on outside.
Rinse / NTS / Reprezent FM – all incredible
Fresh tulips
Wearing manbuns to meetings: because who gave a fuck.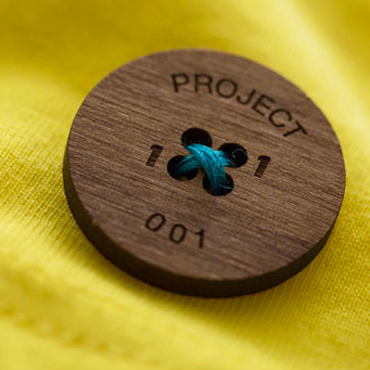 The community that's built through 1 of 100's t-shirt collaborations have been an inspiration all through lockdown. Things like that feel like the way forward – collectively putting our heads together to make great things rather than staring at a blank page on your own. 
Iain Banks' Culture books got me reading again
Bristol is blessed with multiple brilliant breweries – great for lockdown, bad for waistline. This year, Lost and Grounded won out for me thanks to a core range of mind-blowing beers and free same day delivery – try their Helles for a precision masterclass in quality lager. The fact that beers always came accompanied by an unannounced bag of pickled onion Space Raiders helped massively during the misery months. 
Twitter friends
That Elton John performance of I'm Still Standing
News free Sundays
I've gotten into birds and bird spotting linked to that listening to audiobooks when walking. Nothing too heavy, light autobiographies, morning and evening walks accompanied by Alexi Sayle at the moment (brilliant). And me bike.
Erol Alkan's eternally updating Bugged In 18 hour playlist on spotify
@HornimanMuseum & Gardens…they kept open pretty much the whole year…ran and walked around it, drank beers and coffee in it and learnt to look up, not down x
A major support for my randomly fragile mental health has been the weekly online workshops run by Manchester Street Poem. Up to a dozen different people meeting in the Zoom room every Monday to tell our stories of life in lockdown – the good, the bad and the trudging. A wide range of personal experiences from people who have witnessed everything from homelessness to the life threatening 'live gig withdrawal'.
The group quickly became friends, a support network that's always there whenever one of us has gone down the hole. In the process, we've been making fantastic artworks on pieces of salvaged cardboard, created two installations in Salford Quays, run workshops with young people who've experienced homelessness first hand and workshops helping female asylum seekers to tell their stories in vibrant words and pictures. It is life-affirming stuff.
Whenever my head goes to that place where the sun don't shine, two hours of workshopping with friends who really know what it's like to have come back from the depths of despair is like my shitty head being cleaned by the bog brush of love. Yeah, that sounds cheesy right, but it's worked for me every time. I'm happier coming out of those workshops than going in.
Bloody love Manchester Street Poem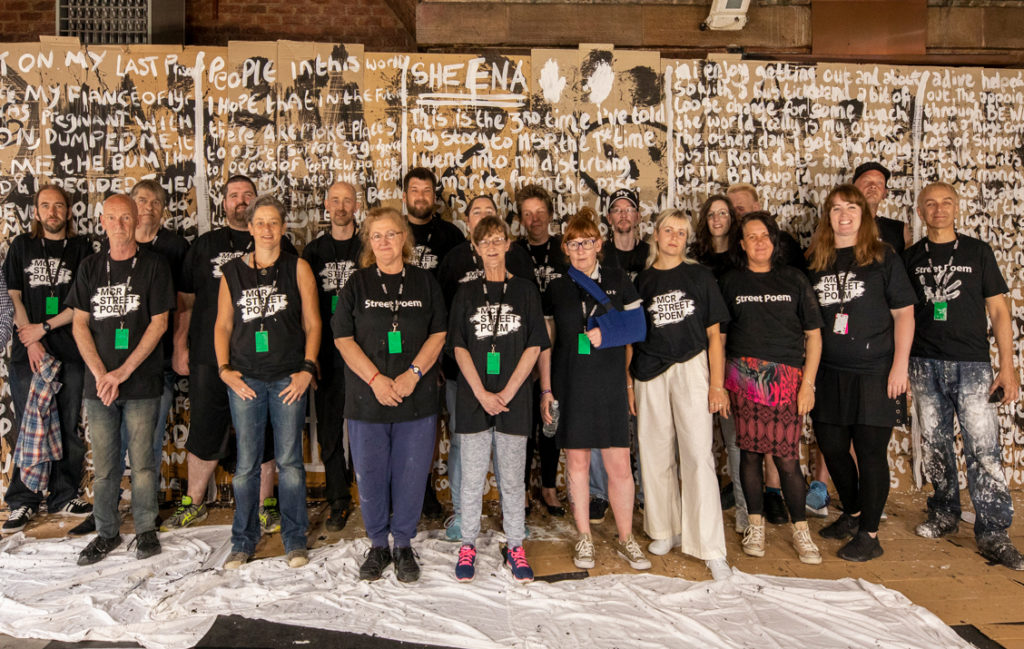 A Kimono: because thou shalt not wear sweatpants unless you are the only human left alive or you are actually doing exercise. 
Going for a walk, riding my bike, ordering books and records, staying in touch with friends and family, and your post-work drinks, of course
Life, Death and the Foghorn by Jennifer Lucy Allan
Writing cards to friends, re-discovering my love for books, revival pilates, the radio, therapy, buying nice clothes to go out in, walking. Twitter music and literary friends <3 xx
The London Pirate Radio Adverts 1984-1993 are particularly fascinating.
One Pot, Pan, Planet by Anna Jones – absolute game-changer.
Daffodils
The Laurel Canyon documentaries
Michael O'Shea, an Irish drifter and nomad, a psychedelic pathfinder, who made a zither-like instrument out of a door and played it all over Europe (and outside Covent Garden tube) until he was hit by a post office van and died in London, in 1991, at the age of 44.
The novels of George Simenon. With seemingly no end in sight for weeks on end I found myself increasingly turning to crime fiction and in particular the works of George Simenon. Both the so-called Roman Durs 'hard novels' and the countless books featuring his detective Inspector Jules Maigret. All of them are short and Simenon supposedly wrote a chapter a day and was known to have turned books round in ten days. Since he was also astonishingly prolific, there's an almost – but not quite – inexhaustible supply of his titles to choose from, and in a period when shortages were predicted, I found that strangely comforting. I wasn't really finishing much myself, work-wise, so it felt good to be able to finish someone else's books comparatively quickly. And read novels where most of the ends get tied up at the end too. Simenon wasn't all that bothered about plot and some of his endings are quite perfunctory, or feel hastily arranged to call time just on time, as it were.
There was probably also a post-Brexit and lack of travel element in this too, denied access to the continent I wallowed in a world of French canals, bistros, bars and seedy hotels and even seedier characters. And taking that early evening aperitif seemed a gesture in keeping with these books toward European cosmopolitanism rather than lockdown desperation at the actions of the Johnson government.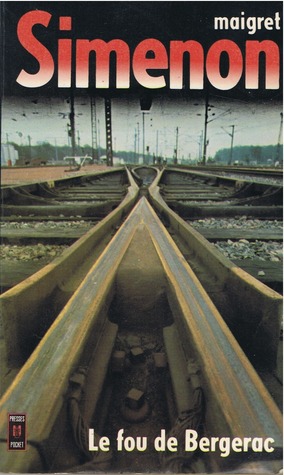 Walks on the beach with @stephlashartist, 6pm Social drinks playlists, @Tim_Burgess listening parties, @Carl_Cox Vinyl Sessions, @WhiteRabbitBks publications, parcels from @weare1of100 have all kept me sane in the last 12 months
Treating myself to Cowshed soap and hand cream
Dick Slessig Combo's cover of Wichita Lineman kept me from losing it throughout
Growing potatoes, carrots, beetroot and other horticultural produce
If there is one thing that has sustained me over the last 365 days, it has to be the hoppy embrace of Burning Skies, Arise IPA. It's not flashy or gimmicky, but when the post-fan shit is spattering everywhere, its earthy tones are a true panacea for all ills.
The Pulque Gods – the agave spirits have been my vegetative spirit guides throughout lockdown – Espadin, Tobaziche, Papalome, Pichomel, Barril, Pizorra www.destiladolondon.com
Peter Pomerantsev books
Discovering that I was spending £500 a month on the pub and gigs… Instead of putting that money away, just started buying all the record again… And t shirts to help out the bands that can't, well that what I'm telling myself to justify it.
Visual pleasures elevate my mood: @oakroyd posts great photos of old Glasgow and @JohnMcKissock posts great photos of new Glasgow. @lostcont posts superb illustrations.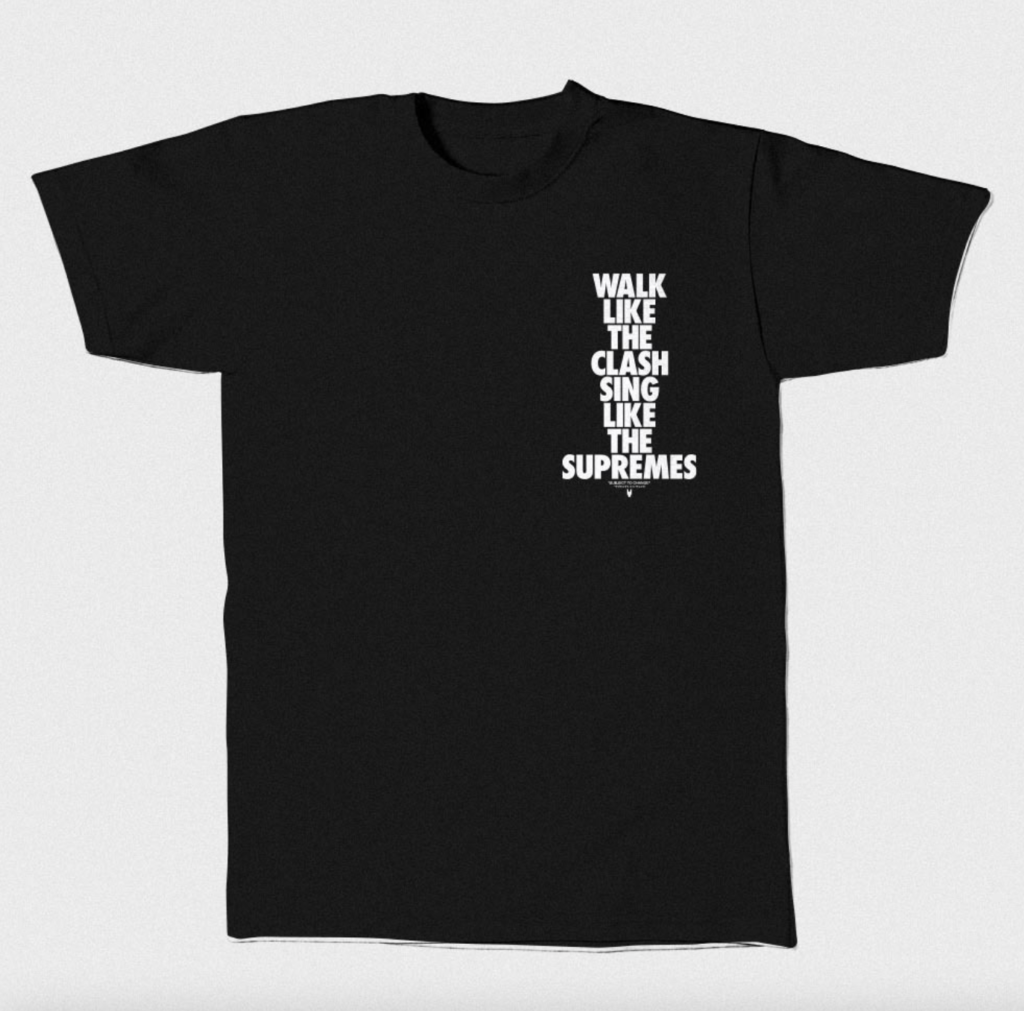 If ever there was a credo to live you life by, surely Walk Like The Clash, Sing Like The Supremes is it. Borrowed from The Redskins for a fully staunch t-shirt created by Social Gathering logo designer and all round genius bloke Mark James. Shirts and prints are available from Mark's shop.
The joy that @petefowlerart's Friday night sessions
All Vocation beers and their unbeatable delivery service
Our children
Learning to mix. Started in April last year. Nothing comes close in terms of it helping me make it through, mentally.
Zakia Sewell's My Albion on Radio 4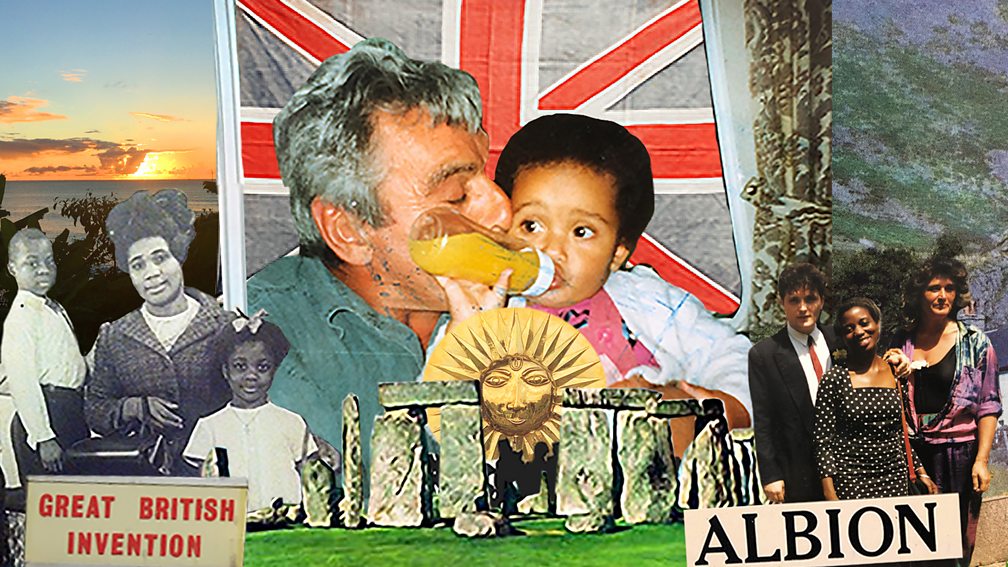 Seeing how the lads at @HomesVitality have adapted. There is always hope. Always.
Spacemen 3 on Spotify
Re-watching the entire first series of Auf Wiedersehen, Pet and committing to embrace life in the style of Gary 'Wayne' Holton once lockdown is over.
Beer from @beershoplondon, the mighty @Purple_Radio, my back garden (not code), Walter Presents series on Channel 4 and a substantial PPI refund from Nat West.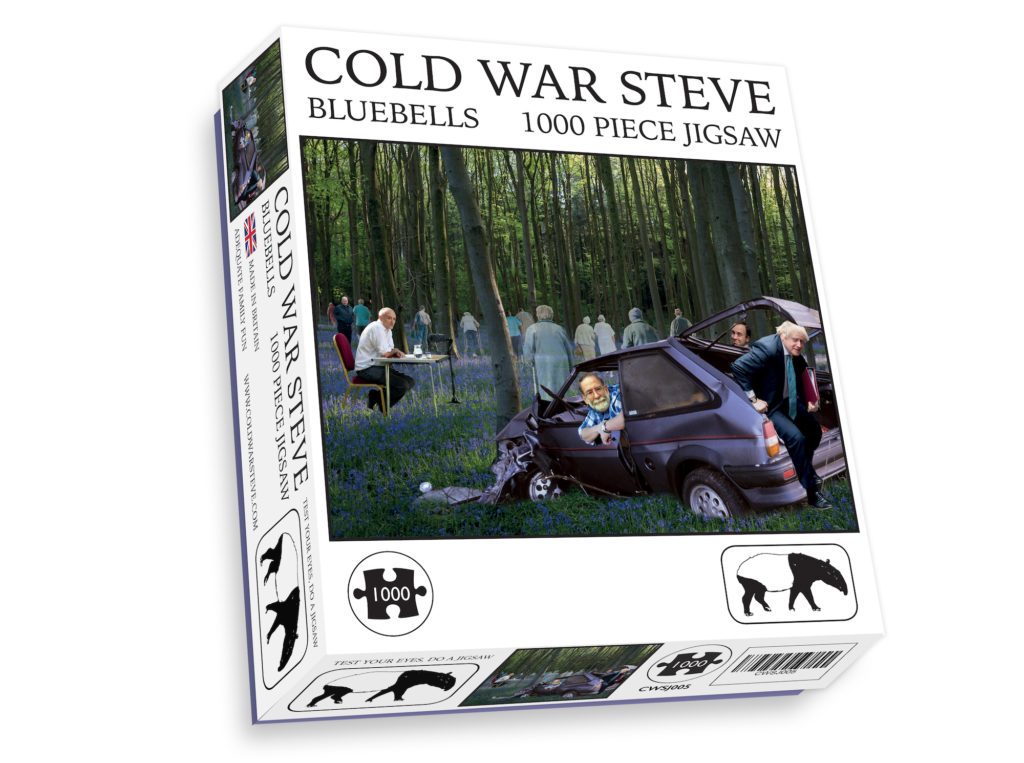 Jockey Slut's tribute to Andrew Weatherall
The books of @reversediorama and these guys: @memorialdevice and @thecommonbreath and @thiwurd
Sign o' the Times 17 vinyl boxset
I have been increasingly applying the healing music of @MrRichardNorris to calm racing thoughts and convey me to a dream state.
If you're a fan of the Marvel Cinematic Universe (I am – fuck you, deal with it), the year long delay caused by the pandemic was the first time since the '00s that there hasn't been new content released annually. And that wait was massively frustrating, especially after the scale and madness of Endgame. The arrival of Wandavision on Disney+ in January ended that wait. Nine episodes of properly trippy telly that deals with one person's overwhelming grief that somehow became appointment telly for my family. With Wandavision – and now the equally promising The Falcon and the Winter Soldier – Marvel has shown it can develop longer, odder, less frantic stories for TV of the exact same quality as the films. Annoyingly, that seems like another great excuse to never leave the bloody house again.
Everything on Rough Trade Books
@TentChillout has helped our crew stay sane. Making stuff and making new friends.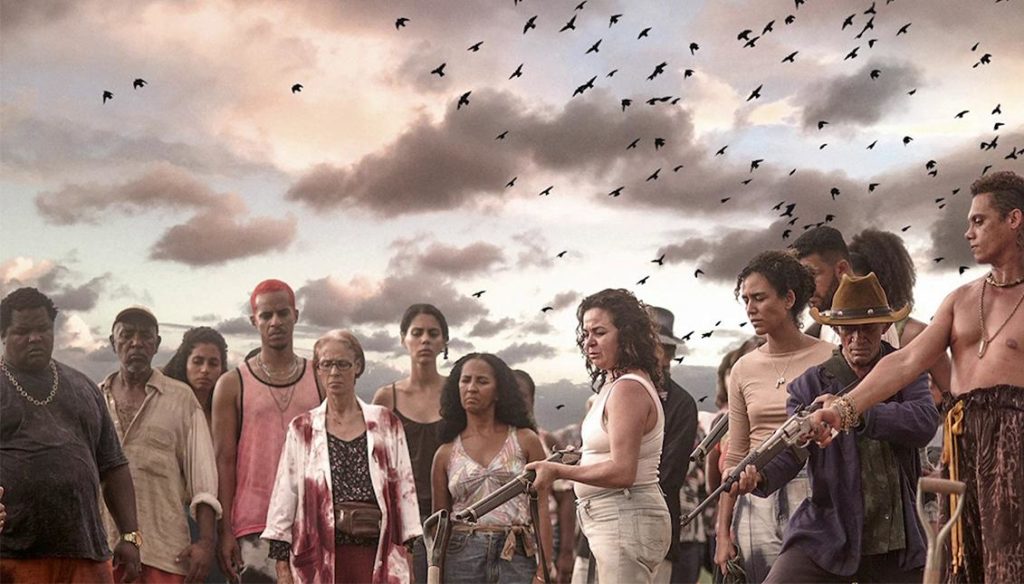 Bacurau: twisted redemptive Peckinpahesque Brazilian horror shocker
The Picture Mushroom app. Not the answer I would have expected to be giving if you'd asked me in March 2020, but it's been a portal into a whole new world. Is that a non-fungible token?
YMC tshirts (XL)
Memorial Device 'National Treasures'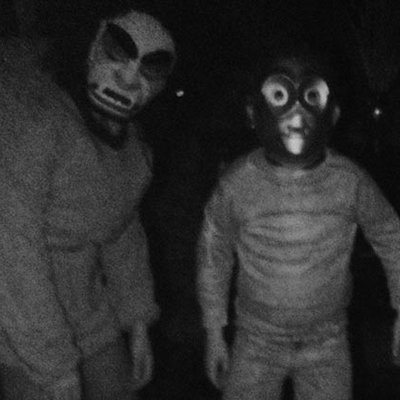 Walking while listening to Whitenoise Collective on Hebden Bridge's Recycle Radio Station (It's not rubbish).
Trump's public madness. Thinking about the film to come.
Yellow cars
I never leave the house without my bright yellow White Rabbit tote bag in my pocket, or tucked into the back of my jeans like a gun. A practical measure for local shopping, but more than that: its emblazoned psychedelic eye has become my talisman. Like the evil eye, it deflects malevolence. And the perennial joggers!
Heavenly Recordings, the Heavenly Book and Heavenly Jukebox Soho Radio show
Culture's Two Sevens Clash: Wherever, whenever, however you listen, this is one of the greatest reggae albums ever made, and comes bundled with its own conspiracy theory.
Old Dr Who @BritBox_UK
@reversediorama dream diaries during Lockdown 1 were a revelation and a weekly pick-me-up, leading onto deeper reading inspired by David's literary and artistic references.
Mr Fothergills' Seeds – essential for gardening at home and at the plot.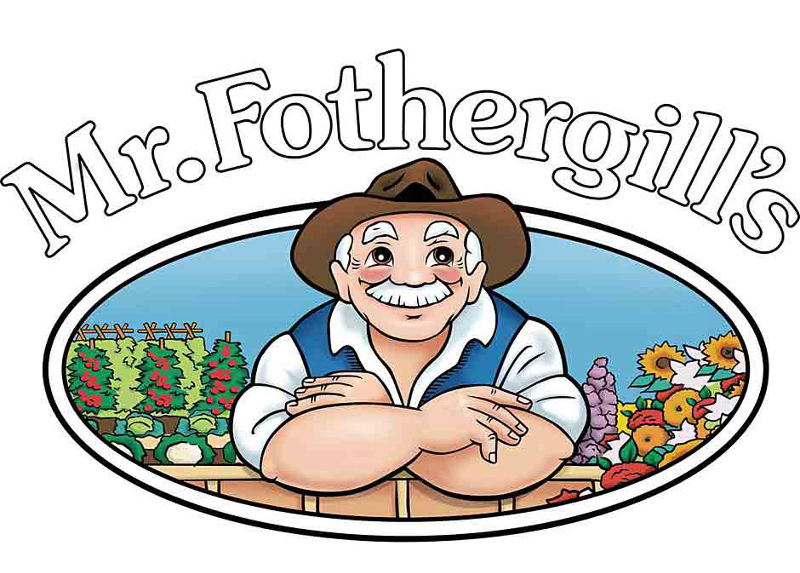 One thing I'd say got me through lockdown is Fitzcarraldo Editions, they're an independent publishing house who publish a lot of novels from around the world being translated into English for the first time and they seem to be incapable of publishing anything other than pure gold. Minor Detail from Palestine and Hurricane Season from Mexico are two of the best books I've read in the last five years, although not necessarily for the faint of heart…
Walking the dog three times a day
Ordering a weekly loaf from a new bakery gave me something to look forward to on a Friday. Walking locally, looking at the city with new eyes, learning to appreciate the beauty in the every day.
Audio archivist Luke Owen's 'Death Is Not The End' project is a real treasure trove.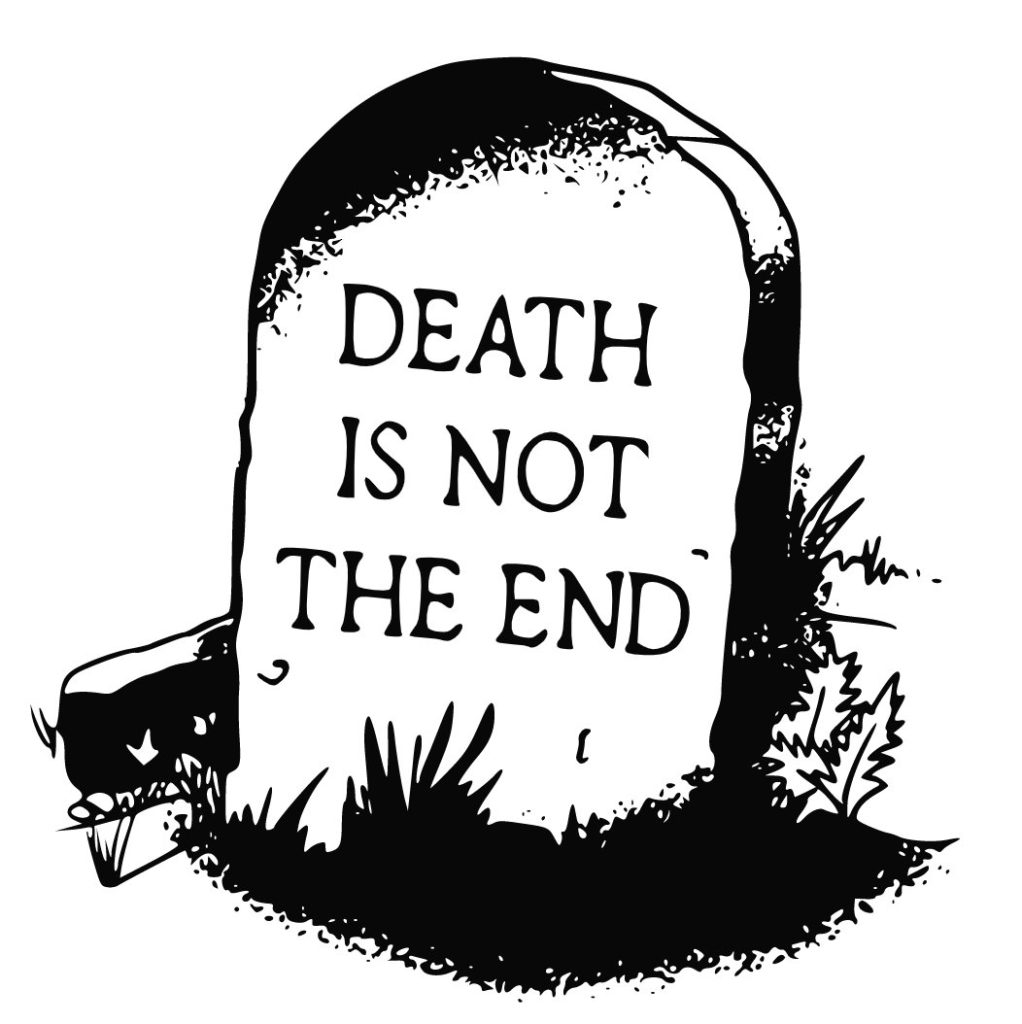 Very understanding neighbours on my quiet little village street.
Fruit and veg delivery
Catherine Eccles' heroic hommage to Andrew Weatherall's #NTS Shows
Wearing sartorially 'interesting' combinations from my wardrobe to go to the shops.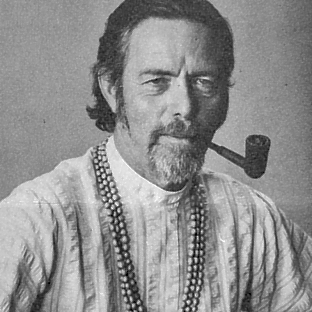 The Alan Watts Essential Lecture Series – Alan's voice is a constant companion, and a source of wisdom and deep joy. (on the App Store)
Having my first coffee of the day in my garden enjoying the surrounding view. Also big up to @leebrackstone for all the rabbit holes
Sean Johnston's ALFOS Broadcasts: the definition of staunch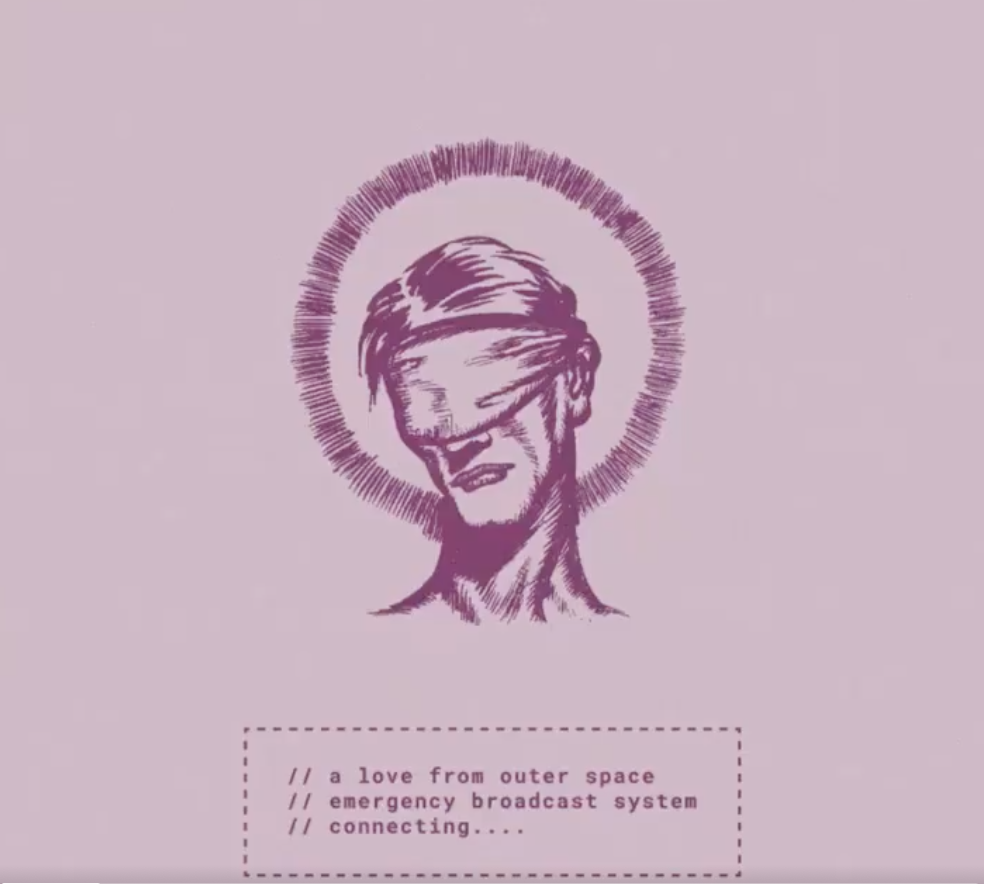 The posts and work of @thecommonbreath are one of the highlights of it for me.
Some bloke delivering artisan bread every week, making me feel like I'm living in some weird middle class urban version of the bloody Good Life.
Philip Hoare's Albert and the Whale: visionary art history
Waking Up App – amazing resource for meditation and enlightenment theory and practice.
Rewatching Anthony Bourdain's tv shows.
Appreciating what is around me. Taking footpaths we've never walked. Spotting the birds in the front garden as I work from home.
Another vote for Social after works, especially @petefowlerart on Fridays (yet to miss one), for the music, but also the lovely crew he has assembled. They have got me through. Big love to all of you.
Drift Records post
ALDI Toro Loco, relearning 90s music wasnt all shite via timstwitterlisteningparty, lots and lots of time finding great new music, the dip in regularity of all this *points*, thankfully not being furloughed or sacked, moaning about Neil Lennon, getting fat and not giving a shit.

A 'teenage reversal': a guilt free return to a remembered torpor. For a brief period wallowing in mid-life ennui, a life of 'meh', indulging in a bit of lotus eating, meandering, pointless play, and rejigging meaning. Boredom for the masses, future fear and potential world redress. either that or the joys of dog walking.

@HarrySword Monothithic Undertow" published by @WhiteRabbitBks. It's a perfect book of discovery, history, to enjoy and keep returning to. The playlist sends you down so many rabbit holes as well.
Monorail Music – source of so much joy, LP lifeline, love the mail-outs, true believers.

Watching everything by Werner Herzog
@tweetbytheriver @SteveSnooker @Knifeworld @ElectronicMagUK @ProgMagazineUK @yearinthcountry @TalkingPicsTV @WhiteRabbitBks @LWLies but most of all after work drinks @thesociallondon, with a special mention to @petefowlerart for sorting out the start to my weekend.
Will Oldham and Bill Callahan's joint cover songs did it for me: from late Iggy Pop and Leonard Cohen songs to Billie Eilish's 'Wish You Were Gay', these one-a-week treats brightened up the end of 2020 and the beginning of 2021; I only wish there were more.
Afterwork drinks especially Fridays with @petefowlerart
Mainly keeping The Walled Garden Charity project going but on twitter @thecommonbreath @Common_Weal @lostcont @patbell18144355 @AlanPar46565002 @thiwurd @ahistoryinart @CollettWriter @CarolineLucas @EdwardCarey70
What I Love podcast
Online darts. It's a worldwide phenomenon.
Making risotto properly from scratch, from the stock to the finishing butter.
Would it be shallow to admit the thing that has provided the most pleasure is a delivery of fucking great booze.
All the contributors, drinks DJs, artists, supporters and readers
Daily baths